Dill pickles, with their delectable blend of crunch and fresh zesty taste, are a favorite for many.   Whether you like "new" dill pickles with a lot of crunch and light pickling flavor, or "sour" dill pickles with full flavor, there is no denying their appeal.  Of course, the best dill pickles are homemade, unless you live next door to a New York deli.
But have you ever wondered, "How long do dill pickles last?" It's a good question and one worth exploring. In this guide we will explore the things that affect the shelf life of dill pickles, how to store them properly, and how to tell if they have gone bad.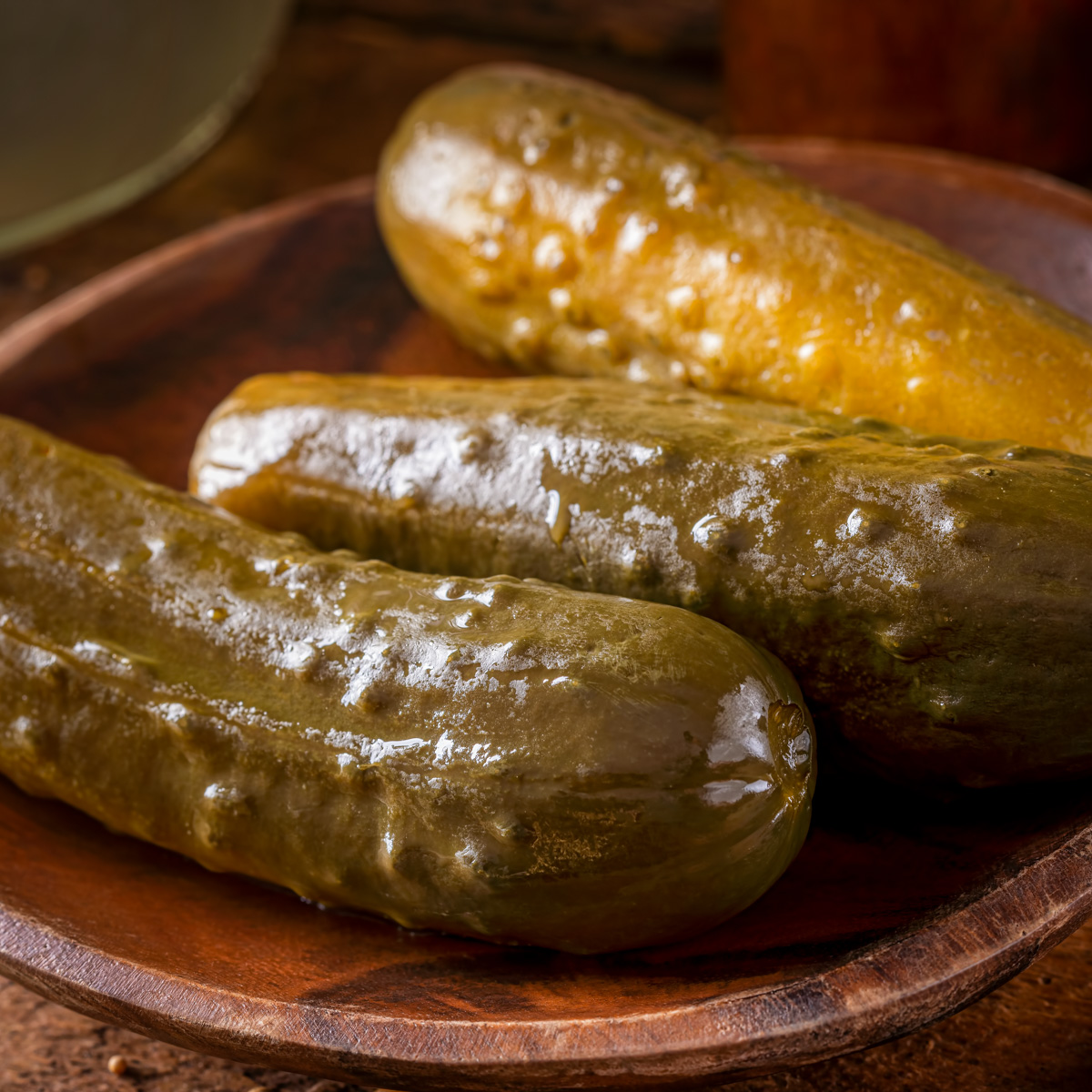 This was inspired by my homemade dill pickle recipe on this site, and pairs really well with the homemade pastrami, also on this site.
Jump to:
Shelf Life
Dill pickles are simply pickled cucumbers, and like most pickled foods they have a long shelf life if properly stored. However, the shelf life of dill pickles can vary depending on a number of factors including the type of pickle, the ingredients used, the cleanliness of the pickling tools and how they are stored.
Type of Pickle
They are really two types of dill pickles:  Shelf-stable dill pickles, like you would find in a grocery store; and refrigerator dill pickles.  Shelf stable pickles are heat processed and can be stored at room temperature for a very long time until they are opened. Refrigerator pickles, however, are not heat processed, have a much shorter shelf-life, and need to be stored in the refrigerator.  Almost all homemade pickles, like my homemade dill pickles, are refrigerator pickles and therefore need to be refrigerated.
Ingredients
The quality of the ingredients used can affect the shelf life of the pickles. For homemade dill pickles, use only fresh cucumbers, fresh garlic cloves and dill, and unopened store-bought spring water or distilled water. I prefer to use Kirby cucumbers, when I can find them, because they are generally regarded as the best cucumber for pickle making. If you can't find Kirby cucumbers, seeds are available online. That is a good alternative because they grow quickly.
All cucumbers need to be properly trimmed. The blossom end of the of the cucumber (with the small bump) needs to be removed because it contains an enzyme that will ruin the pickles. If you can't tell which end of the cucumber is the flowering end, trim both ends, they won't mind. The pickling process is all about encouraging the formation of lactic acid bacteria which will crowd out and prevent the growth of other bacteria detrimental to the pickling process.
In my dill pickle recipe, I used room temperature, unopened spring water.  Because the recipe does not use a canning process, I did not have to use boiling water.  Some homemade dill pickle recipes call for white vinegar, or a vinegar mixture, to make a vinegar brine.  For my taste, the best pickles are made without vinegar.  As for spices, I like to use fresh pickling spice that includes simple ingredients like mustard seed, red pepper flakes and dried dill seed.
Cleanliness of Pickling Tools
The cleanliness of the pickling crock and weights is also very important to both the success of the pickling process but also the shelf life of the pickles.  First, I recommend cleaning the dishwasher using a hot, sanitize cycle with a dishwasher cleaner, like Affresh.  Then, I recommend using a crock designed for pickling and cleaning it and the weights in the dishwasher using a sanitize cycle.  
The pickling weights are used to hold down the cucumbers, which tend to float, and should be cleaned in the dishwasher using a sanitize cycle one day before starting the pickling process.  The reason is that the weights are typically not glazed which means they are porous and should be sealed in heavy food saver bags before use.  They need a day to dry out before sealing them in the bags. The food saver bags will prevent bacteria from penetrating the weights, thereby keeping them clean.  
When the pickles are done fermenting, rinse off the bags, cut them open and remove the weights. Run them through the dishwasher again using a sanitize cycle to ensure they are clean. Let them dry out completely before storing them.
Storage Conditions
An unopened jar of store-bought shelf-stable pickles can last a long time. Unopened pickles should be stored in a cool, dry and dark place. The heat process kills bacteria and enzymes that will cause spoilage and it stops the fermentation process. Hence, the long shelf life.
Many jars of pickles will have a long expiration date printed on the side or top of the lid.  But that expiration date does not mean much after the jar of pickles is opened.   Once opened, a shelf-stable jar of dill pickles must be refrigerated and they should be consumed within one to two months for the best quality.  After that, they may start to lose their flavor and crunch.
Homemade dill pickles will take two to three weeks to ferment. They should then be removed from the brine and stored in an airtight container, like a mason jar, filled with a new salty brine solution, in the refrigerator. Pint jars and quart jars both work well. Fresh pickles are best consumed within two to four weeks of finishing the pickling process.
How to Tell if Pickles Have Gone Bad
Although pickles have a fairly long shelf life, it's important to recognize when they have gone bad and are no longer safe to consume. Signs of spoilage include:
Odor – An unpleasant or off odor is a strong indication of spoilage.
Texture – Pickles should have a crunch. They should not be soft or mushy. This can happen to homemade dill pickles if they are left in the brine too long. It can also happen if the ends are not properly trimmed and the enzymes cause the cucumbers to breakdown.
Color – Pickles should be fairly uniform in color. Discoloration can be a sign of spoilage.
Bubbles – Bubbles in the pickling brine are a sign of undesired bacterial growth. If this occurs, discard the pickles.
Taste – If the pickles have an off taste, that is an indicator that they have gone bad and should be discarded.
Maximize Your Pickle Shelf Life
In order to maximize the shelf life of your homemade dill pickles, follow these tips:
Fresh Ingredients – Use only fresh, crisp cucumbers and trim the ends. Use fresh dill and garlic cloves. Use bottled water (spring or distilled), never tap water.
Cleanliness – Make sure the pickling crock and weights have been properly cleaned in a hot dishwasher using the sanitize cycle.  Seal the weights in clean food saver bags.  Wear gloves when handling the cucumbers before fermentation or removing pickles from the pickling brine.
Process – Check the pickles everyday while they are fermenting. Remove any scum that has formed on top of the pickling brine.
Storage – Store pickles that have finished fermenting in new pickling brine in clean mason jars in the refrigerator.
Making homemade dill pickles is fun and rewarding, especially if you crave a good deli-style kosher dill pickle. Whether you are a kosher dill pickle nut, like me, or just looking to try your hand at pickle making, knowing how to keep your pickles fresh and safe to eat is an important part of pickling process.
Related
Looking for an awesome recipe? Try these: