Make great NY deli style kosher dill pickles at home. They are easy to make and just need a little patience. Yum!
Great NY deli style pickles are really easy to make. They just take a few simple ingredients and a few weeks to ferment. Give this a try.
Select the Right Cucumbers
Most markets and some farmer markets carry small cucumbers that are the right size for pickling. Kirby cucumbers are generally considered to be the best for kosher dill pickles, but they can be difficult to find. If you are unable to find suitable cucumbers, think about growing your own. Kirby and other pickling cucumber seeds can be found online. Seeds take less than 90 days to grow and develop cucumbers. A word of caution: If you grow you own cucumbers check them everyday after they flower. Cucumbers grow fast and can easily overgrow. Cucumbers can absorb too much water and then will be misshapen and will turn yellow.
Prepare the Cucumbers
First, wash your hands well and rinse the cucumbers under cold water. Feel each one and discard any that feel soft in the middle or are starting to wrinkle. Only use fresh firm cucumbers.
Second, it is very important to trim off the flowering end of the cucumber, that is the end that has a little raised bump. If you can't figure out which end is which, trim both ends because the flowering end contains some enzymes that will just ruin the batch.
Load The Pickle Crock
Pack the cucumbers vertically in a pickle crock or other suitable vessel that has been cleaned in a hot dishwasher. Pack them tight and add the garlic cloves and pickling spices. You can make your own pickling spice but why bother? Pickling spice is available online and that is what is used in most commercial kosher dill pickle preparation.
Next, mix the the salt in the water and stir until it is completely dissolved. Important: All kosher salt is NOT the same. The size of the crystals varies quite a bit. Use only Diamond brand kosher salt. You can find it online.
Pour the water over the cucumbers until they are completely covered and then add another one inch of water. Lay the dill across the top of the cucumbers.
Lay the weights that came with the pickling crock across the top. I like to seal my weights in FoodSaver bags to keep them clean.
Be Patient
Cover the crock and let it sit at room temperature for three days. After three days, open the crock and remove any foam or scum that forms with a spoon and discard. Put the lid back on and move the entire crock into your refrigerator. Now wait. You will have "new" pickles in 8 – 12 days and "old" pickles in 14 – 20 days. Sometimes, you will get pickles that are mushy in the middle. Throw those away. It seems to be related more to the type of cucumber used rather than anything that went wrong in the pickling process.
If the liquid develops a colored scum or smells off, discard the pickles and start over. It means something wasn't quite clean enough.
If You Like Deli Food, Check out This Recipe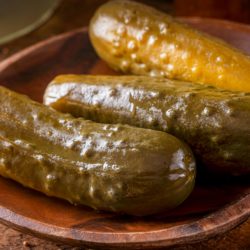 Kosher Dill Pickles
Want to learn how to make great kosher dill pickles? These NY deli style pickles are super easy to make, just takes a little patience. Yum!
Ingredients
10

Kirby pickling cucumbers

2

garlic cloves

smashed

3

tbls

pickling spice

64

oz

water

80

grams

kosher salt

Diamond brand
Instructions
Rinse the cucumbers thoroughly and cut off the flowering ends. Place cucumbers in a pickle crock (vertically).

Add salt to the water in a large pitcher. Stir until salt is dissolved. Pour over the cucumbers. Add garlic and pickling spice.

Add water and cover with dill. Weigh down with weights to keep cucumbers submerged.

Leave covered on the counter at room temperature for three days then place the crock in the refrigerator. Wait three weeks for perfect sour dill pickles.
Video
Nutrition
Serving:
1
each
Calories:
54
kcal
Carbohydrates:
10
g
Protein:
2
g
Fat:
1
g
Saturated Fat:
1
g
Polyunsaturated Fat:
1
g
Monounsaturated Fat:
1
g
Sodium:
3897
mg
Potassium:
542
mg
Fiber:
3
g
Sugar:
5
g
Vitamin A:
282
IU
Vitamin C:
13
mg
Calcium:
80
mg
Iron:
1
mg