There is nothing quite like home-cured bacon. There is nothing quite like home-cured bacon. Delicious, thick-cut bacon with a hint of sweetness and smoky flavor made in your smoker. Home-cured bacon is also one of those rights-of-passage kind of dishes for anyone really serious about using their smoker. In addition to just being fun, when you cure your own homemade bacon you control the seasonings, the wood for the smoke and the thickness of the final slice. Once you try making your own homemade bacon, you may never eat store-bought bacon again.
This recipe is an adaptation of a recipe by Steven Raichlen from his book Project Smoke. While I liked his original recipe, I modified it a bit for my tastes, but the idea came from Steven.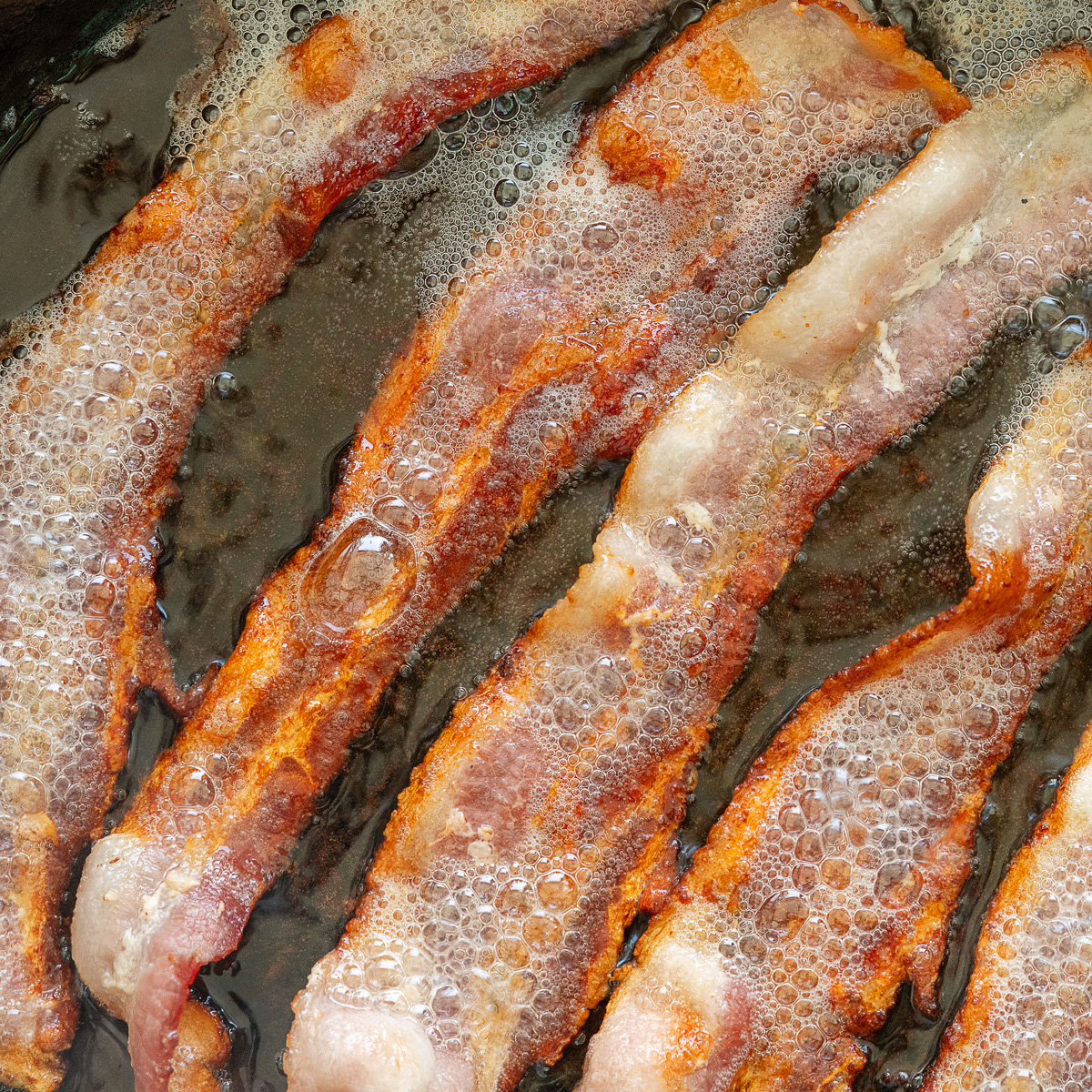 If you like bacon, also try my Homemade Canadian Bacon and Breakfast Sausage recipes.
Jump to:
Ingredients
Home-cured bacon can be made with just five ingredients.
Pork belly
Kosher salt
Brown sugar
Black pepper
Pink curing salt
See recipe card for quantities.
Selecting a Pork Belly
Pork bellies can range in size from about 5 pounds up to 9 pounds or more. My local market carries five to six pound pork bellies, which are actually a good size if you want to make a lot of bacon. For this recipe and video, I purchased a 5.75 pound pork belly, cut it in half and used the thicker part to make bacon. The final yield was just under three pounds of uncooked home-cured bacon.
Pork belly can sometimes have a layer of skin on the fat side that has to be removed before curing. To remove the skin, cut through it with a sharp knife (not too deep) and peel it off.
Curing Pork Belly
Curing pork belly for bacon is really quite simple. It's starts with coating the pork belly with a dry cure rub, that includes curing salt for bacon, and then letting it rest in the refrigerator for a week.
Instructions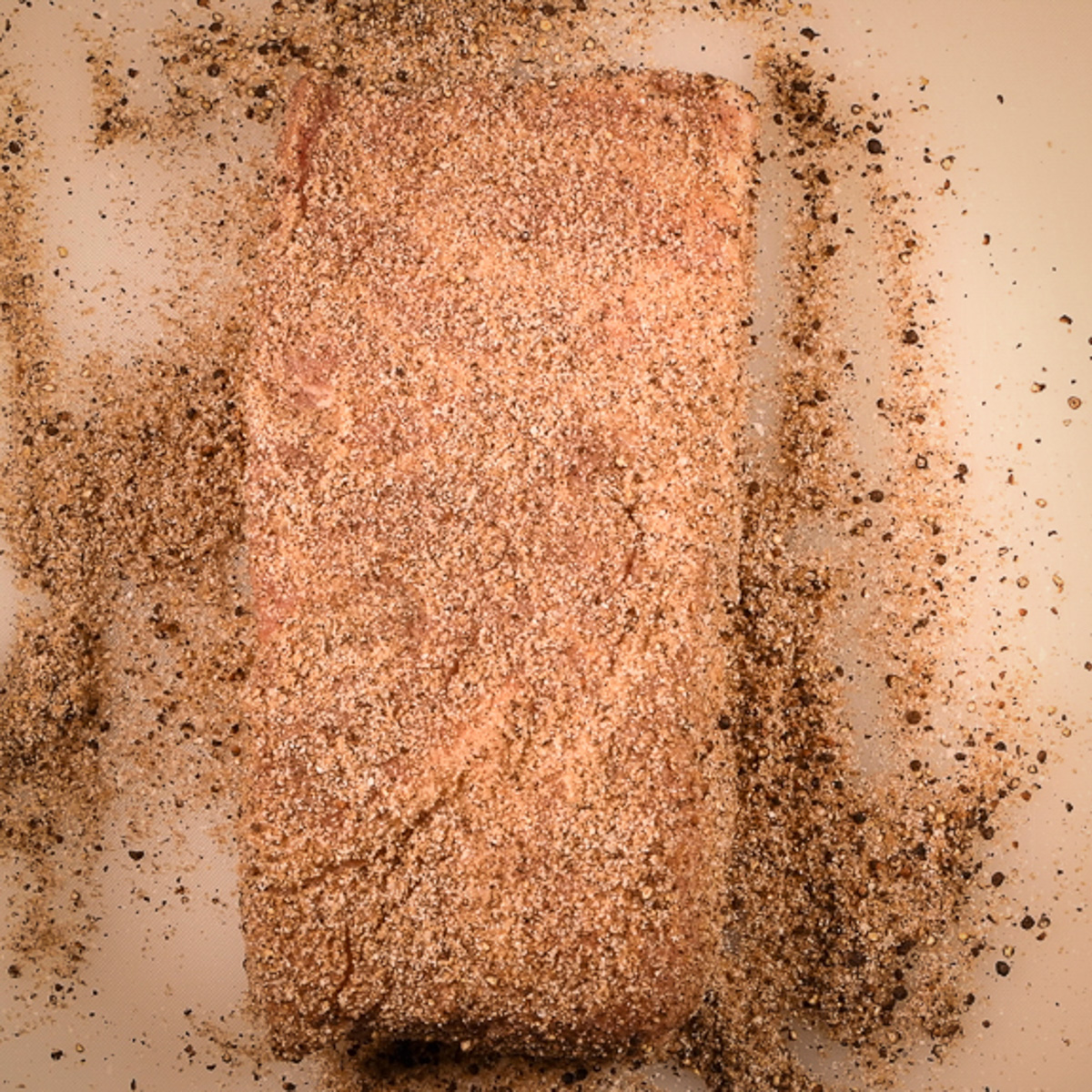 Mix the dry cure ingredients, sprinkle it on the pork belly.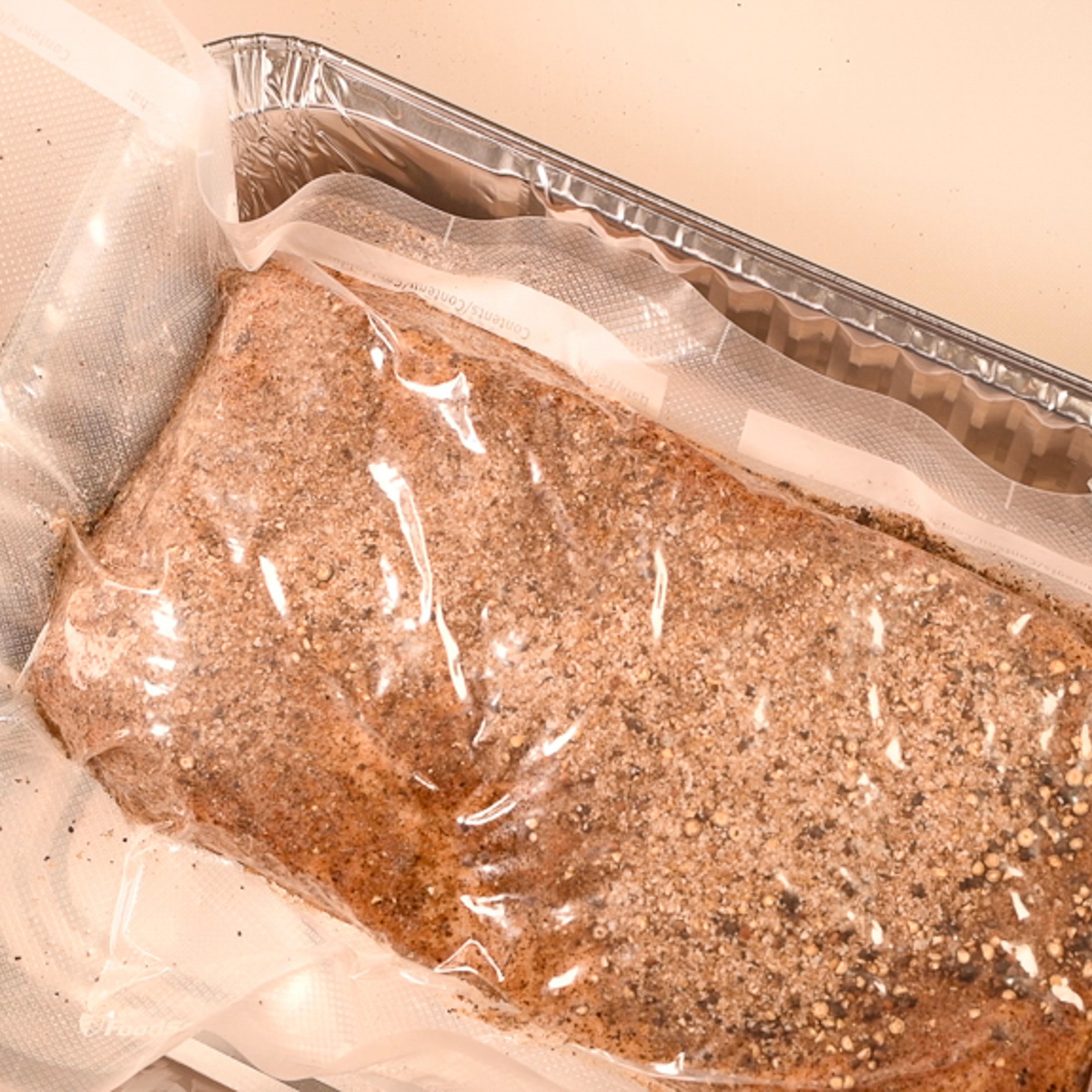 Seal the pork belly in a food saver bag then place the bag in a pan.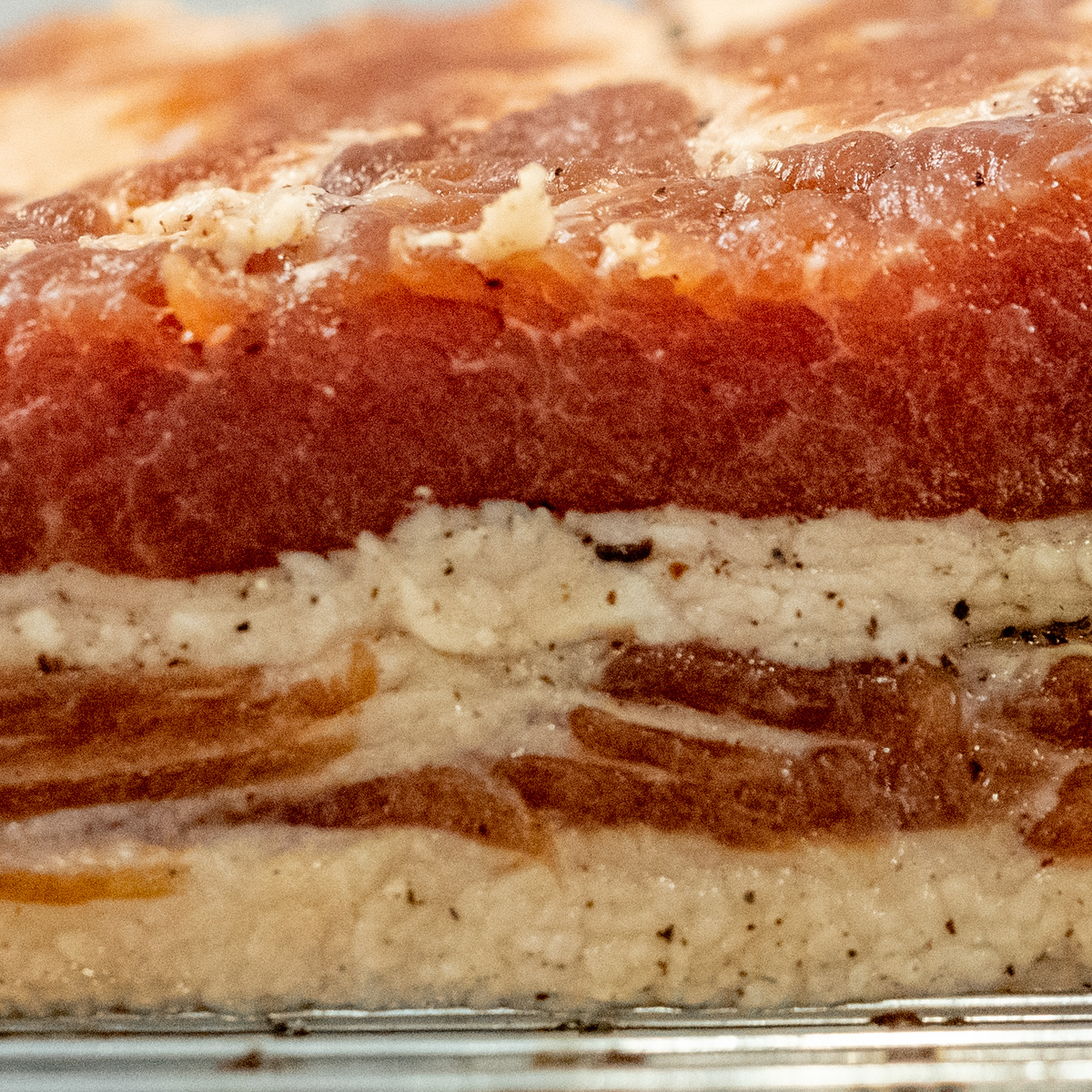 Cured pork belly after 7 days in the refrigerator.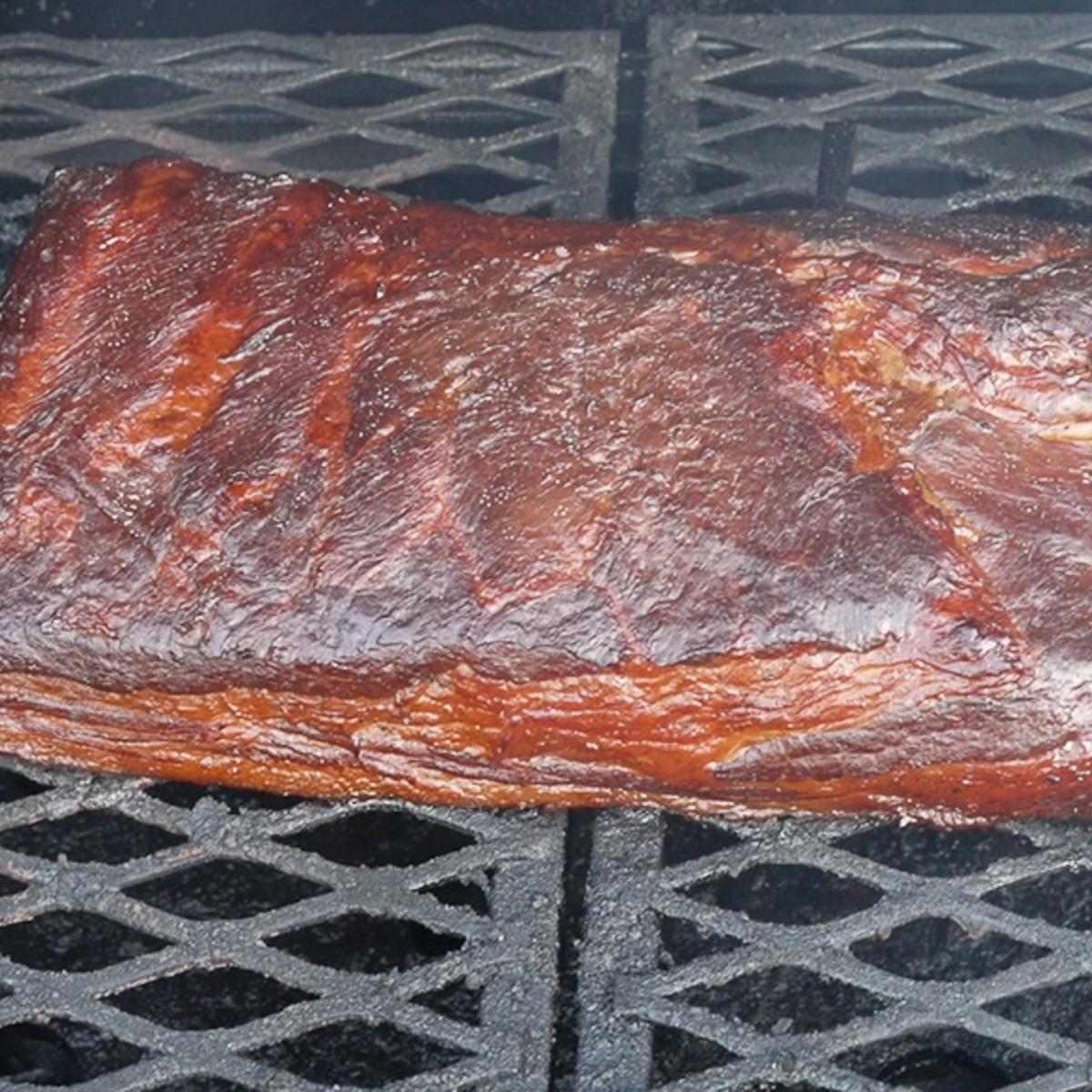 Smoke the pork belly using applewood or hickory.
Important: Do NOT place the pork belly directly in an aluminum tray. The salt in the dry cure will eat a hole through the aluminum in less than 24 hours and ruin the pork belly.
Smoke Low and Slow
The next day, setup your smoker for indirect heat at 175˚F. I used an offset smoker but pretty much any kind of smoker would work including a Kamado Joe or Big Green Egg. Simply add some applewood or some other wood of your choice and smoke the pork belly for fours or until the internal temperature reaches 155˚F.
Remove the smoked pork belly from the smoker, let it cool to room temperature, then wrap it in plastic wrap and refrigerate it overnight. Steven Raichlen believes that this step is important to set the flavor and texture. I would never argue any barbecue point with Mr. Raichlen.
Cut and Fry
Cut the bacon as thick as you like and fry it up. A meat slicer works best for this job. I started out cutting a few slices at 3/16th of an inch. My three year old grandson, who is the official bacon tester in the house, took one bite and threw it at me. It was just a little too thick which made it tough to bite and chew. The next batch were cut at ⅛th inch and the little guy could not get enough.
Variations
Apple and hickory are commonly used in commercial bacon preparation. Cherry wood is not as common, but is also good. Many people find the flavor of mesquite to be a bit too strong for bacon.
Also, try adjusting the spice ratio. Bacon made with black pepper but no brown sugar is popular as it bacon with double the amount of brown sugar.
Related
Looking for other recipes like this? Try these:
Pairing
These are my favorite dishes to serve with homemade bacon: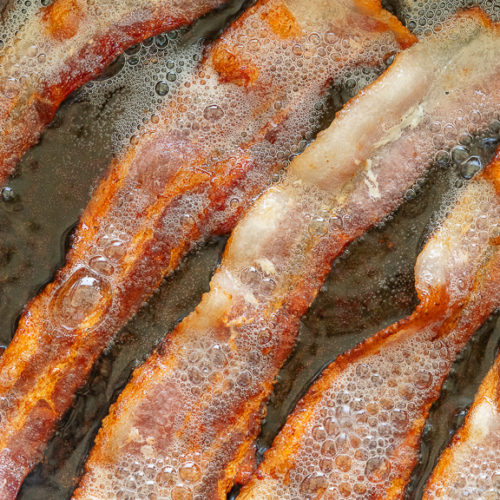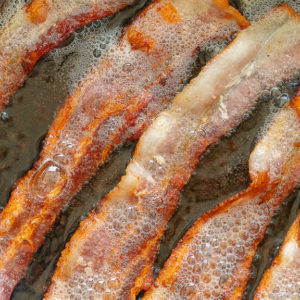 Homemade Applewood Smoked Bacon Recipe
Home cured smoked bacon made from pork belly. There is nothing quite like homemade thick cut bacon. This is absolutely worth the effort.
Ingredients
3

lbs

pork belly

skin removed

⅓

cup

kosher salt

⅓

cup

brown sugar

packed

3

tbs

black pepper

coarsely ground

2

teaspoon

pink curing salt

Prague Powder #1
Instructions
Place the cure ingredient in a small bowl and mix well. Sprinkle the cure evenly over the entire pork belly. Place the pork belly inside a food saver bag and add the remaining cure to the bag. Remove the air and seal. Place the sealed bag in a small pan and place in the refrigerator for six days. Turn the bag over every day.

After six days, remove the cured pork belly from the bag, rinse well and pat dry. Place the pork belly on a wire rack over a rimmed sheet. Now place the uncovered pork belly in the refrigerator overnight.

Setup the smoker for indirect heat at 175˚F. Add a few applewood chunks and smoke for about 4 - 4 ½ hours to an internal temperature of 155˚F.

Remove the smoked pork belly from the smoker, let it cool to room temperature, wrap it in plastic wrap and refrigerate it overnight. This step helps the texture and flavor.

Cut the bacon into ⅛" strips, preferably on a meat slicer, and fry it up.
Nutrition
Serving:
4
pieces
Calories:
1178
kcal
Carbohydrates:
1
g
Protein:
21
g
Fat:
120
g
Saturated Fat:
44
g
Polyunsaturated Fat:
13
g
Monounsaturated Fat:
56
g
Cholesterol:
163
mg
Sodium:
450
mg
Potassium:
424
mg
Fiber:
1
g
Sugar:
1
g
Vitamin A:
24
IU
Vitamin C:
1
mg
Calcium:
13
mg
Iron:
1
mg