Good corn tortillas are a staple of Tex-Mex cuisine. Of course, the very best corn tortillas can easily be made at home with just a few ingredients and a couple of basic kitchen tools.
As a kid, I remember going to Old Town in San Diego. I enjoyed watching the ladies in the windows of the Mexican restaurants make hundreds of tortillas. Eating the hot, fresh tortillas was pure heaven. I will never forget it.
Homemade corn tortillas have only three ingredients: masa harina; water and salt. Mix the ingredients by hand if you must, but I find it easier to let the stand mixer do the hard work. Mix the dough for about one minute. Then, cover the dough and let it sit for 10 minutes. This helps the dough relax a bit and that will translate into better corn tortillas.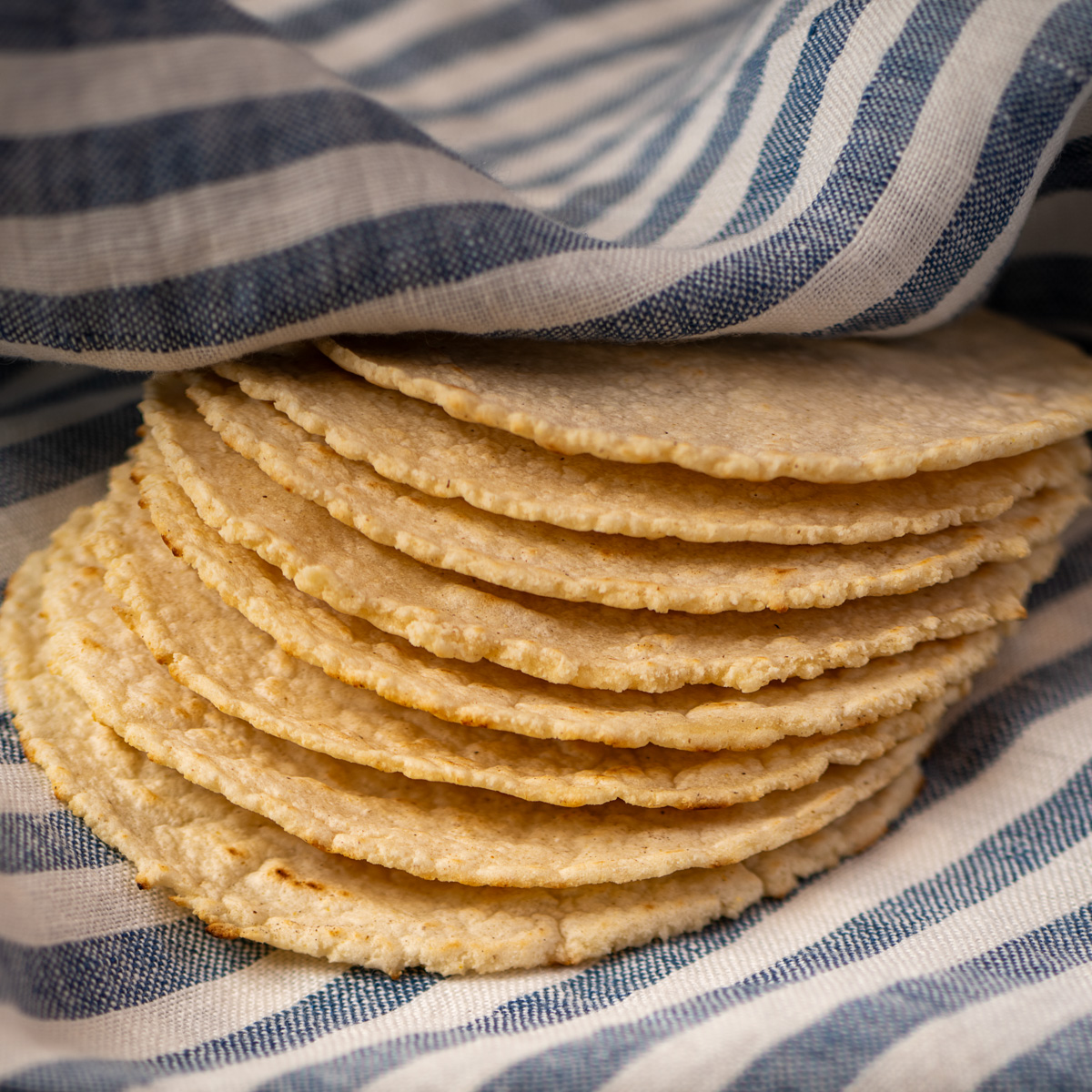 Equipment
A couple of inexpensive tools will help with the tortilla making process.
Tortilla Press
The first tool is a tortilla press. A good cast iron tortilla press can be found online and most major markets these days. They work well, but they come with some caveats. Cast iron tortilla presses are heavy so don't drop them or you will chip your counter top or break a toe. They are also somewhat fragile. I have broken the handle off of more than one cast iron tortilla press. I'm not particularly strong so I attribute the failure to poor materials or workmanship. They may not be durable, but at least they don't cost much.
A wood tortilla press is an alternative to a cast iron tortilla press. They are popular sites like Etsy. Wood tortilla presses look pretty, but I have been underwhelmed by their performance. In my experience, they just don't make a flat tortilla. If the two sides are set apart too much at the hinge end, you will end up with a tortilla that is thick on one end and thin on the other, no matter how hard you press. Most wood tortilla presses are either mass produced offshore or are built by a woodworker in his or her garage. I suggest sticking to the cast iron version.
Food Scoop
The other handy tool is a food scoop. It's like an ice cream scoop with a little rotating band that moves from one side to the other to release the contents. I like using them for making tortillas because I am a bit of a perfectionist and using a scoop makes every tortilla the exact same size. A tall stack of perfect homemade tortillas is a thing of beauty. Use a size 40 scoop for 5 inch tortillas and a size 50 scoop for 4 inch street taco tortillas.
Some people like to use a plastic baggie that has been cut open between the plates of the tortilla press. I find that parchment paper works better because the tortillas are less likely to stick to it. I prefer to use 8" round pieces of parchment paper that can be found online.
Fresh homemade corn tortillas go great with chicken tacos with salsa verde, shrimp tacos in adobo marinade, pork belly tacos, chorizo breakfast tacos and brisket breakfast tacos.
Jump to:
Ingredients
Masa harina
Warm water
Kosher salt
See recipe card for quantities.
Instructions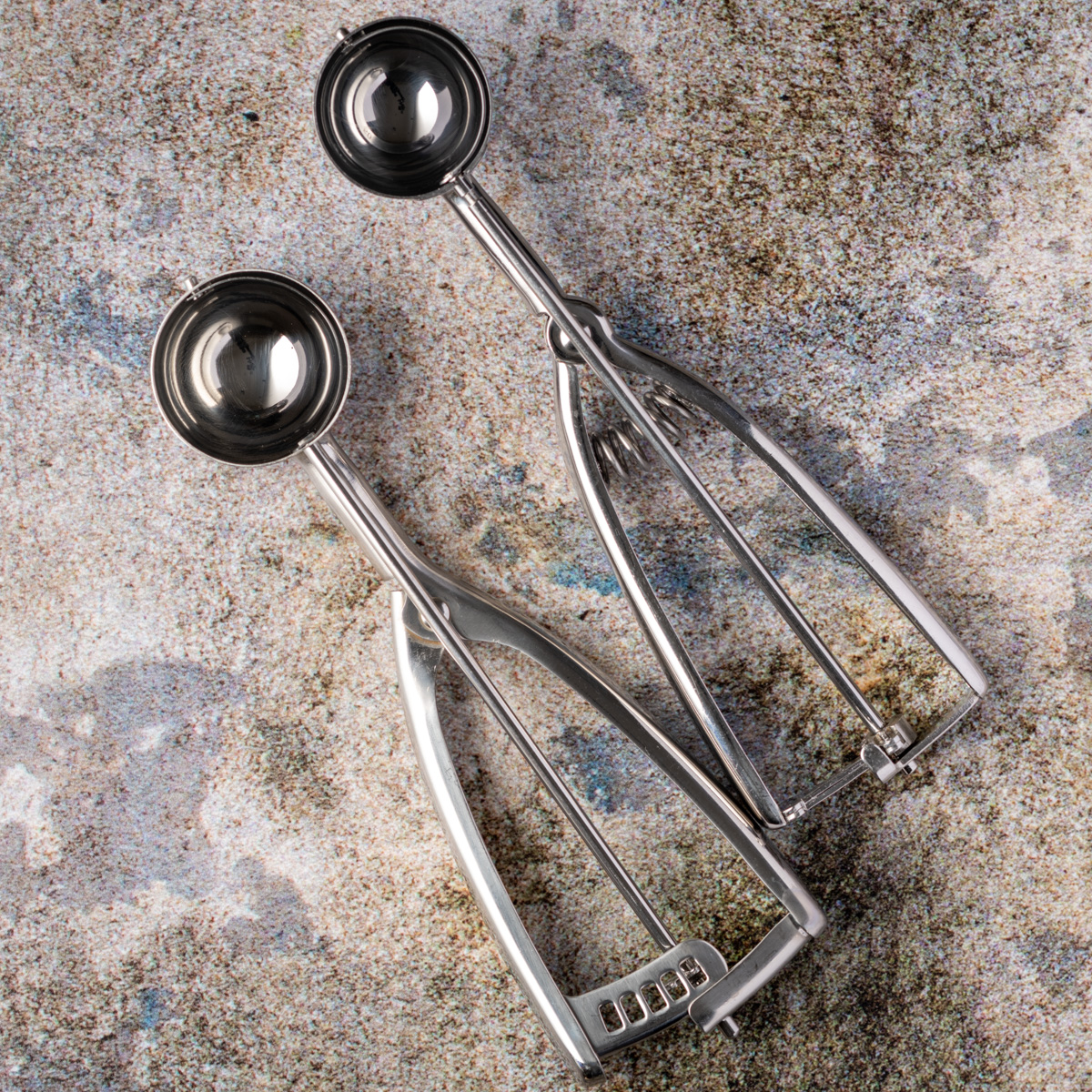 Use a food scoop to make uniform tortillas.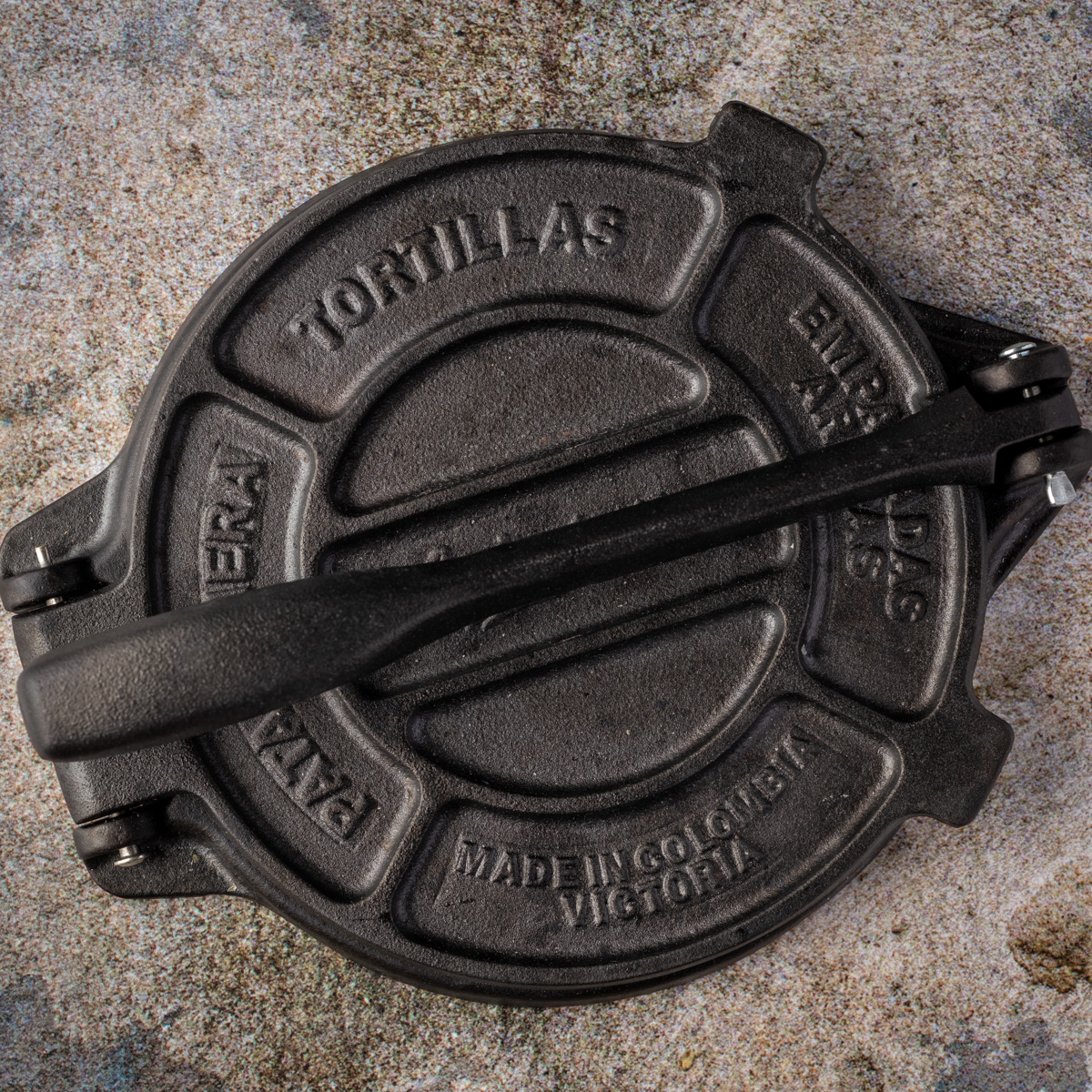 A tortilla press makes the job easy.
Storage
Tortillas can be stored in the refrigerator, wrapped in plastic, for 2-3 days. Reheat on a non stick griddle until warm.
Top Tip
Let the dough rest for a few minutes after mixing. This forms a more pliable dough that makes a better tortilla.
Pairing
These are my favorite dishes to serve with homemade tortillas.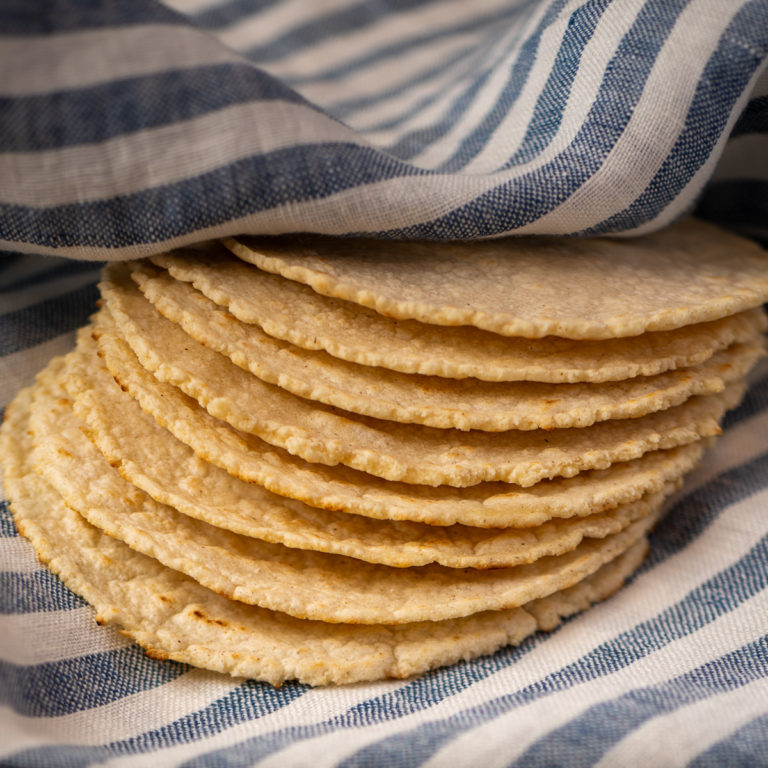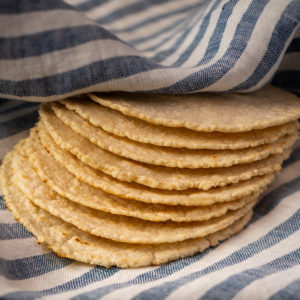 Homemade Corn Tortillas
Good corn tortillas are a staple of Tex-Mex cuisine. The very best corn tortillas are made at home.
Equipment
1 Stand Mixer

1 Tortilla Press

1 Tortilla Warmer

or a kitchen towel

1 non-stick griddle
Ingredients
1

cup

masa harina

¾

cup

warm water

½

teaspoon

salt

scant
Instructions
Corn Tortillas
In a large bowl, mix the masa harina, warm water and salt until mixture comes together and forms a dough. Knead the dough for 1 minute until dough is smooth. Let dough stand for 5 minutes.

Divide the dough into 10 equal balls to make 5 inch tortillas. To ensure uniform tortillas, use a size 40 scoop for 5 inch tortillas and a size 50 scoop for 4 inch street taco tortillas.

Heat, a dry, griddle or non-stick skillet over medium-high heat until very hot.

Cut two pieces of parchment paper to cover the width of a tortilla press. Place a piece of the parchment paper on the press. Place a ball of dough 2" from the hinge, then place the second piece of parchment paper on top of the dough. Close and press down firmly on the tortilla press. Open, peel back the parchment paper and carefully remove the pressed tortilla.

Place the tortilla on the hot griddle and cook for 30 seconds. Flip the tortilla over and cook for 30 seconds. Flip it back and cook for another 30 seconds. Flip it one more time and cook another 30 seconds. Using a griddle will allow you to cook multiple tortillas at a time. Place cooked tortillas in a tortilla warmer or wrap in a kitchen towel to keep warm.
Nutrition
Serving:
2
g
Calories:
83
kcal
Carbohydrates:
17
g
Protein:
2
g
Fat:
1
g
Saturated Fat:
0.1
g
Polyunsaturated Fat:
0.4
g
Monounsaturated Fat:
0.2
g
Sodium:
234
mg
Potassium:
60
mg
Fiber:
1
g
Vitamin A:
49
IU
Calcium:
31
mg
Iron:
2
mg