The Ultimate Taco Made with Braised Pork Shoulder
Carnitas Tacos made from pork shoulder that is first braised then seared. It just makes the ultimate taco.
Carnitas Tacos
Carnitas tacos are very easy to make and will feed a lot of hungry people. Just sear a bit of braised carnitas meat and put out a stack of warmed tortillas and you have a party. Don't forget the beans. Smoked charro beans go great with carnitas tacos
Select a Pork Shoulder
This particular cut of meat has a bit of an identity crisis and goes by more than one name, Boston Butt and pork shoulder. Don't let the name fool you they are same thing.
Use a bone-in pork shoulder for pulled pork where the roast is smoked whole. The bone will literally fall out after cooking. Cook a boneless roast if the meat is going to be cut into cubes before cooking. For carnitas tacos, go boneless. It's just too much work to trim out and remove the bone before cooking.
Braise the Pork Shoulder
Trim off some of the big ugly pieces of fat and cut the roast into 2" strips. Then cut each strip into 2" pieces. Lightly brown the pork pieces then add the spices and extra liquid if needed. Cover and braise for about two hours. Count on the whole house smelling great.
Sear the Carnitas Meat
After the carnitas meat has braised for a few hours, chop a small portion and sear it in a hot pan covered by a cast iron burger press. This helps maximize the contact between the meat and the hot pan resulting in a better sear. Serve it with fresh corn or flour tortillas, preferably homemade.
For a real treat, take one of the soft tacos in a corn tortilla and close the top with a toothpick. Fry the whole thing in 350˚F oil for about one minute. Enjoy!
Other Great Dishes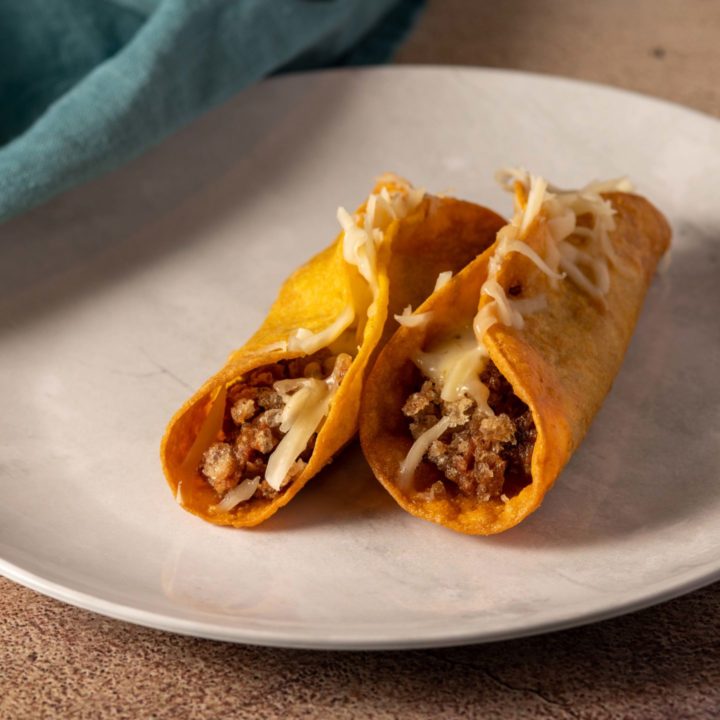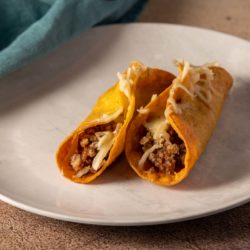 Delicious Carnitas Tacos
Carnitas Tacos made from pork shoulder that is braised then fried crispy. Carnitas makes the ultimate taco.
Ingredients
3

tbs

olive oil

divided

5

lbs

boneless pork shoulder

trimmed and cut into 2" chunks

12

oz

bacon

sliced, cut in half

2

teaspoon

Mexican oregano

dried

2

teaspoon

ground cumin

2

teaspoon

black pepper

freshly ground

2

teaspoon

kosher salt

2

teaspoon

red pepper flakes

or chopped dried chile de árbol
Instructions
Preheat oven to 350°. Heat two tablespoons of olive oil in a large Dutch oven over medium heat. Add the bacon and cook until just softened (about 3 minutes). Add the pork shoulder and lightly brown on all sides (about 10 minutes).

Add water (about 3 cups) until the pork pieces are half submerged. Add the oregano, cumin black pepper, salt and dried chiles. Bring the mixture to a boil, then cover and place in the oven until tender (about 2 hours). Stir every 30 minutes.

Carefully remove the pot from the oven and transfer some of the pork shoulder to a cutting board with tongs or a slotted spoon. Chop the pork and discard the bacon.

Heat a tablespoon of olive oil in a large non-stick skillet over medium heat. Add enough chopped pork to cover the bottom of the pan to a depth of about ½". Press down with a spatula or weight it down with a cast-iron grill press. Cook until crisp and lightly browned (about 5 minutes) Turn over half way through cooking.
Nutrition
Serving:
8
oz
Calories:
529
kcal
Carbohydrates:
1
g
Protein:
43
g
Fat:
38
g
Saturated Fat:
14
g
Polyunsaturated Fat:
4
g
Monounsaturated Fat:
18
g
Trans Fat:
1
g
Cholesterol:
140
mg
Sodium:
538
mg
Potassium:
736
mg
Fiber:
1
g
Sugar:
1
g
Vitamin A:
111
IU
Vitamin C:
1
mg
Calcium:
25
mg
Iron:
2
mg