Brisket is big in Austin, TX. Every barbecue joint worth its salt has brisket on the menu and for good reason, it's delicious. Whenever I cook a brisket, I have a lot of leftover meat so I am always looking for creative ways to use it. Taquitos are a great way to use some of that delicious leftover beef brisket.
Of course, you don't have to use leftover brisket. All you need is some shredded beef brisket to make some great taquitos. Just ask your butcher to sell you a 2 to 4 pound brisket (from the flat) and prepare it in a Dutch oven. Look at my beef brisket recipe for brisket stuffed chile rellenos for instructions on how to prepare a small brisket in a Dutch oven.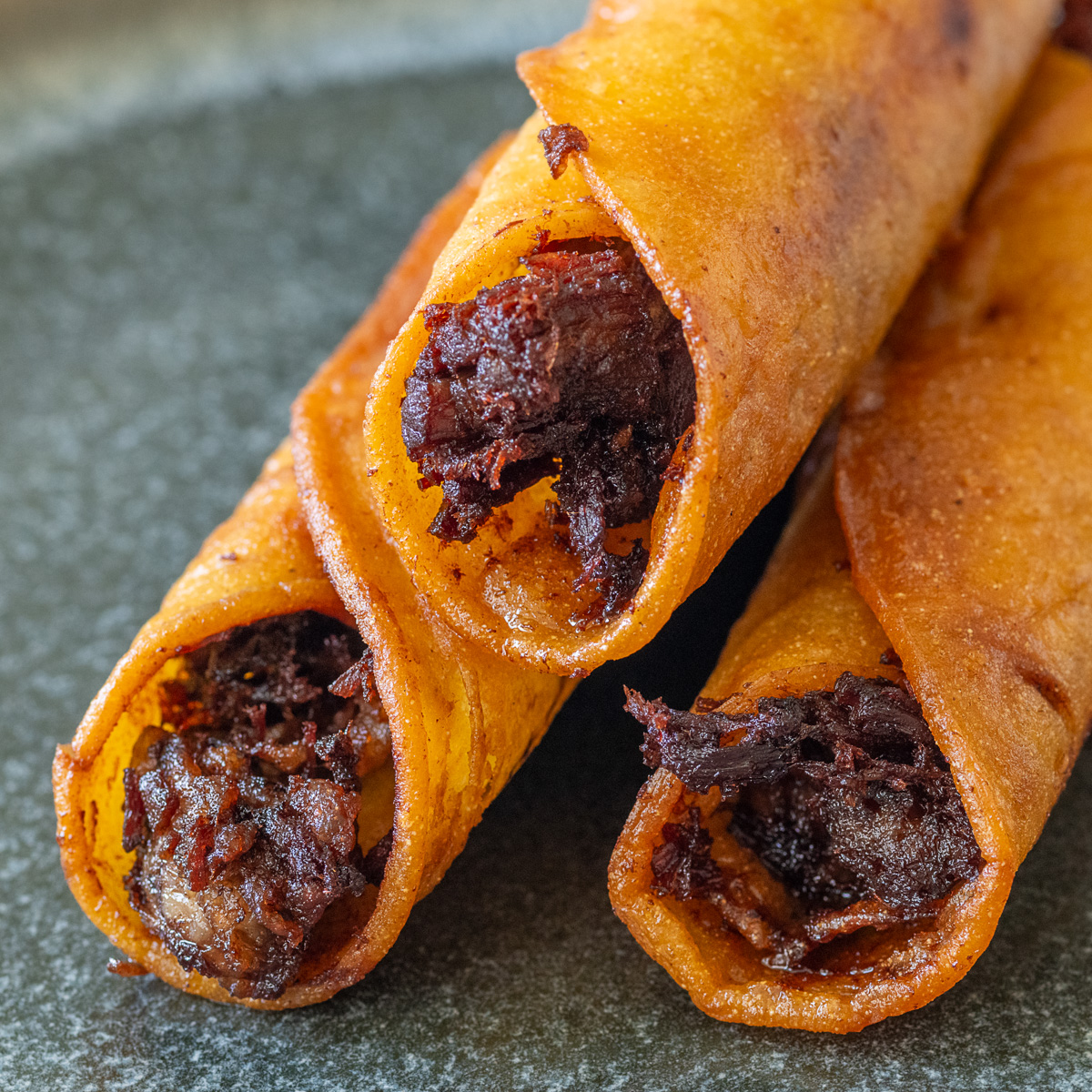 This recipe is pretty simple and assumes that you have leftover brisket. It can be any kind of cooked brisket. Smoked, braised and BBQ work well as long as there is no BBQ sauce cooked into the brisket.
Beef brisket taquitos seemed like a natural follow up to my recipe for crispy tacos from leftover brisket. Taquitos can be topped with roasted tomatillo salsa verde and Mexican crema, or sour cream. Serve them with some kicked-up refried beans or some queso fundido with chorizo.
Jump to:
Ingredients
Other than leftover beef brisket, this recipe needs some good corn tortillas.
Leftover beef brisket
Good quality yellow corn tortillas
See recipe card for quantities.
Instructions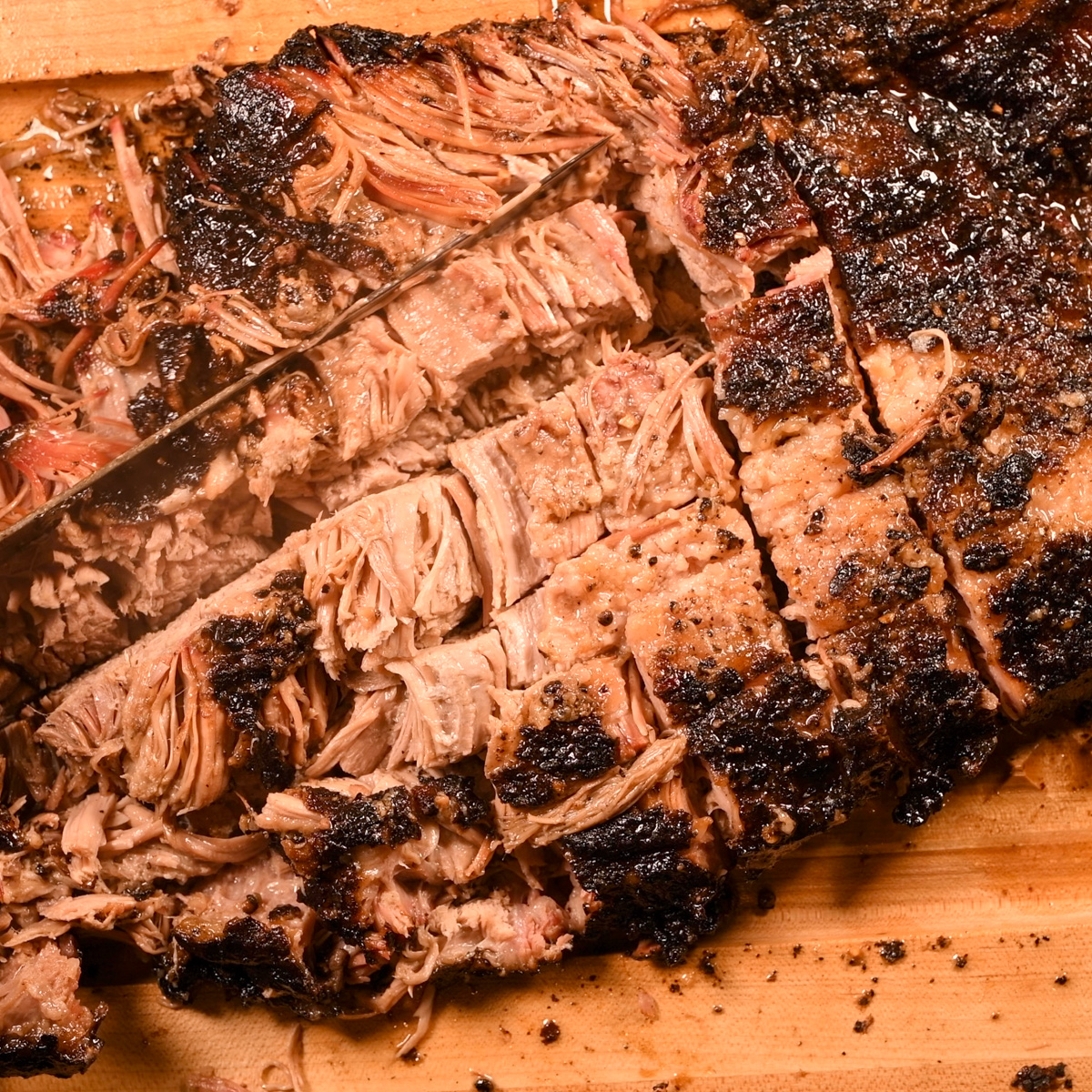 Chop the brisket and reheat it in a saucepan over medium heat. Add about ½" of water to the pan to keep the brisket moist.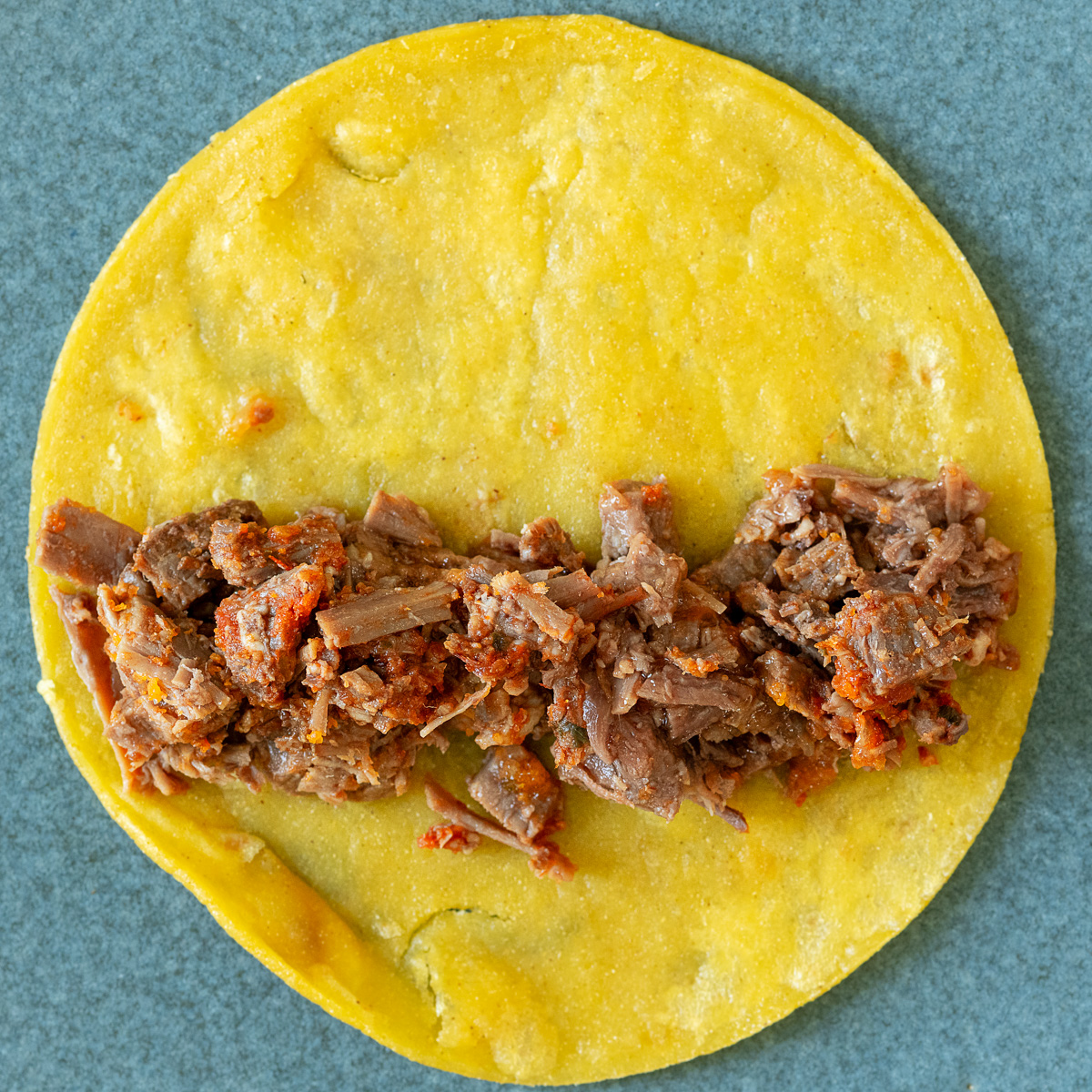 Place ¼ cup of heated brisket in a line in just below the center of a warmed tortilla. See the Top Tip #1 below for instructions on how to warm the tortillas.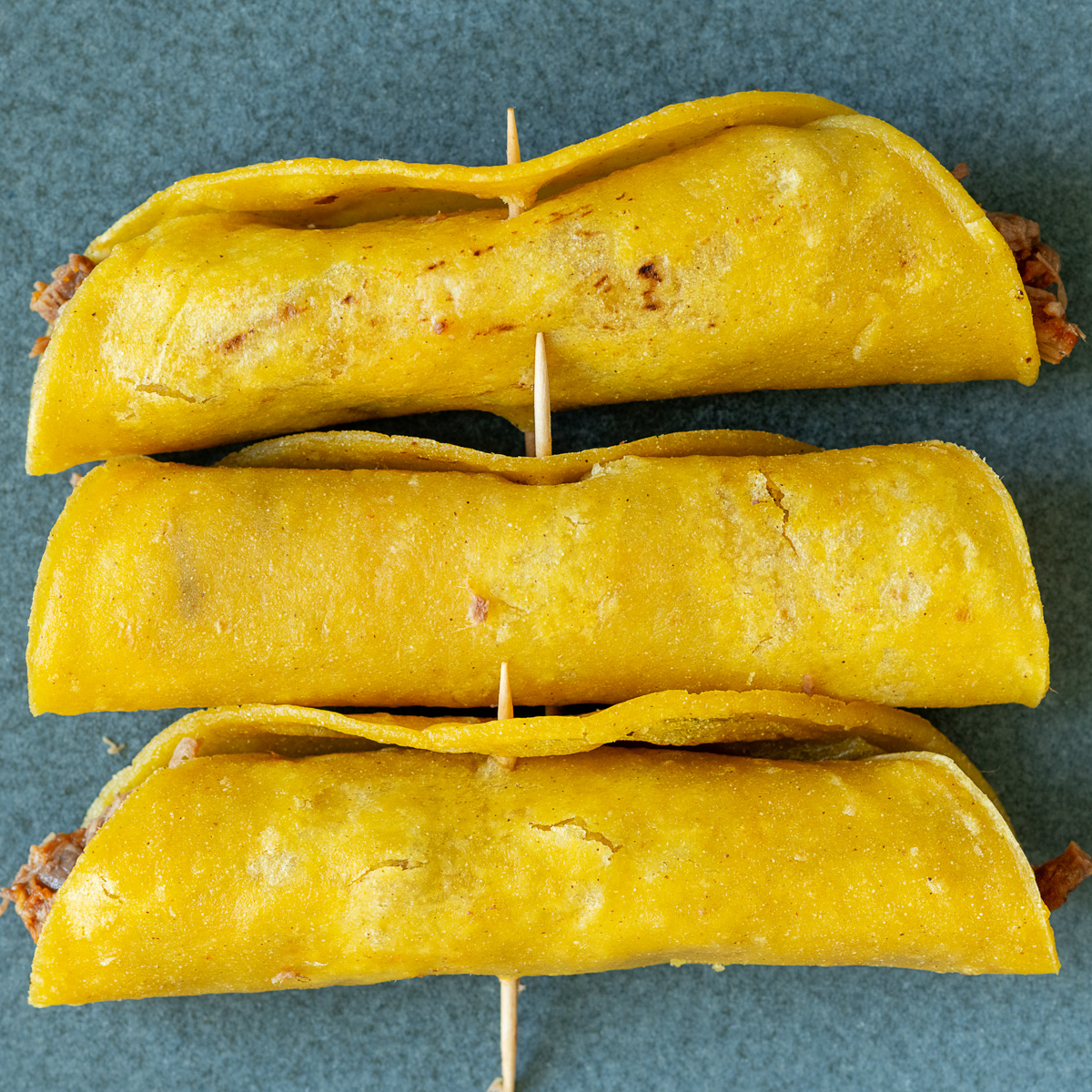 Gently roll the tortilla over the brisket and place a toothpick through the center of the taquito to keep it closed.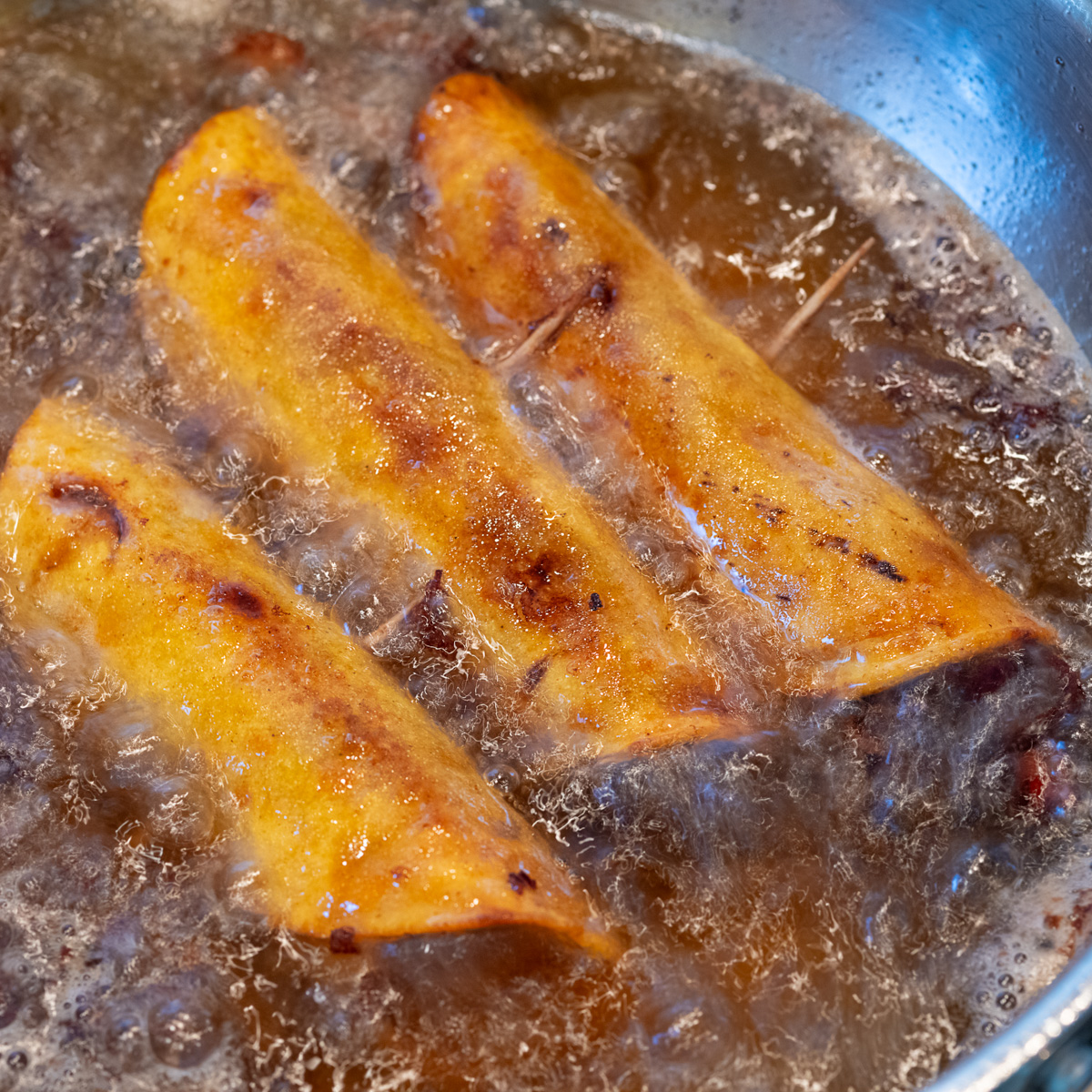 Place the taquitos in hot, 350°F oil for 45-60 seconds. Turn them over and cook another 45-60 seconds.
Top Tip #1
To drain the excess oil from the taquitos, get a little help from gravity. Fold up a paper towel and place it in the bottom of tall drinking glass or mason jar. Then place the fried taquitos upright inside the glass to drain for 30 seconds. This step help keep the taquitos crisp by removing any remaining oil inside that could make the taquitos soggy.
Variations
Good taquitos can be made with just about any shredded meat.
Chicken - Shredded leftover chicken breast seasoned with a little cumin, paprika and chili powder works well.
Pot Roast - Leftover pot roast also makes tasty taquitos.
The key is to use shredded meat, not ground meat. Ground beef, for example, is too fine and a lot of it will just fall out of the tortilla and get burned to bits in the hot oil.
Equipment
Deep frying in hot oil can be dangerous. Therefore, always use a deep-sided pot for frying. Using a short-sided pot risks having oil bubble out of the pot and onto the burner. If you are cooking on gas, that means fire! I have ruined more than a few dinners and several gas burners on my range top this way.
Having said that, I recommend using a small frying pan, rather than a pot, with a small amount of oil to pre-cook the tortillas. The reason is that you need to be able to get the tortillas out of the frying pan with tongs and that cannot be done in a high-sided pot.
Top Tip #2
Use good quality store-bought yellow corn tortillas for this recipe. White corn tortillas can cook unevenly and become blotchy. Also, the tortillas have to be softened so they don't crack when rolling up the taquitos. I prefer to quickly fry them in hot oil for 5 seconds per side. Tortillas can also be wrapped in a dish towel and placed in a 200°F oven for 10 minutes.
Top Tip #3
Be careful when reheating the brisket to avoid drying it out. Keep about ½ cup of liquid (water works just fine) in the pot while reheating and stir often for juicy brisket. Add more water as needed. The brisket should be moist, not dry, when rolling the taquitos.
Related
Looking for other recipes like this? Try these:
Pairing
These are my favorite dishes to serve with beef brisket taquitos: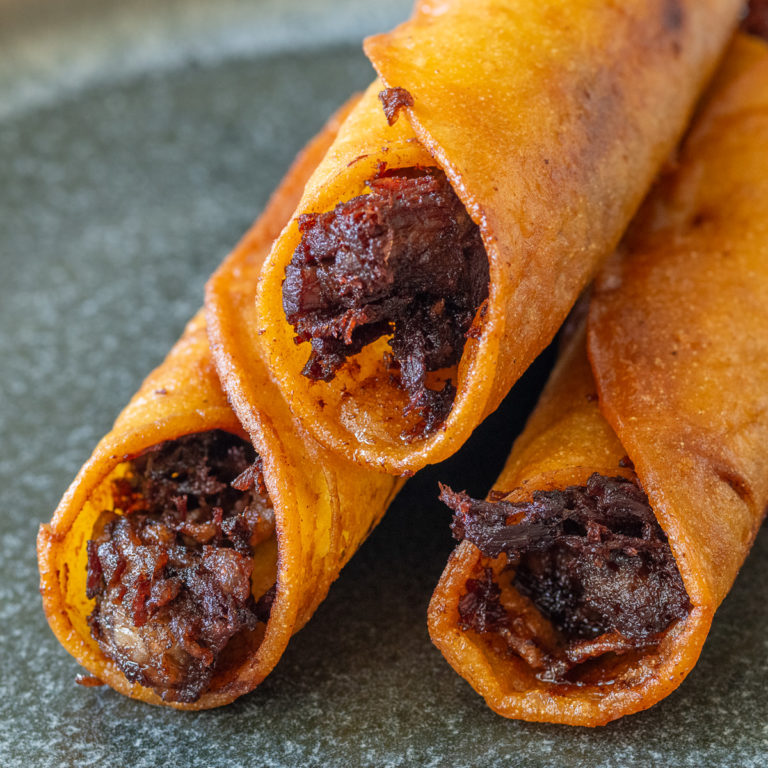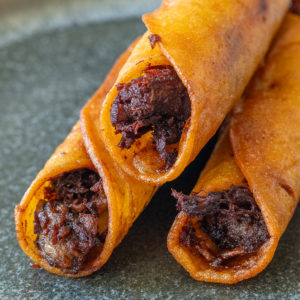 Leftover Beef Brisket Taquitos Recipe
Crispy beef taquitos is a great way to use up leftover beef brisket.
Ingredients
1

pound

leftover beef brisket

chopped

12

corn tortillas

3

cups

canola oil

for frying

2

tablespoons

Mexican crema

optional for topping
Instructions
Heat the leftover brisket in a covered pot over medium-low heat. Add enough water to keep about ½" of liquid in the bottom of the pot. Stir frequently and add more water a little at a time as necessary. Brisket will be fully reheated in about 15 minutes. Remove from the heat and shred the meat with two forks.

Preheat ½" (about 1 cups) of vegetable oil in a small frying pan to 350°F.

Place a tortilla in the hot oil and cook for 5 seconds. Use tongs to turn it over and cook another 5 seconds. Remove the tortilla from the hot oil and place on paper towels to drain. Repeat with the remaining tortillas.

Preheat 1 ½" (about 3 cups) of vegetable oil in deep pot to 350°F.

Arrange the brisket in a line in just below the center of the tortilla from left to right. Starting at the closest edge, pick up the edge of the tortilla and carefully roll it up and over the brisket. Pull it back to tighten it and and continue to roll up the taquito. Make them tight - A rolled taquito should be ¾" to 1" in diameter. Place a toothpick through the center of the taquito about ½" from the end of the tortilla. Anything less than ½" may cause the tortilla to tear when frying. Repeat with the remain taquitos.

Working in batches, drop 3 or 4 taquitos into the hot oil and cook until golden brown, about 45 seconds. Turn them over and cook another 45 seconds. Remove the taquitos from the oil and drain them vertically over a folded up paper towel inside a tall glass for 30 seconds. This will quickly drain the remaining oil and keep the taquitos crisp.

Arrange the taquitos on a plate and drizzle Mexican crema, or diluted sour cream, over the top. Serve with roasted tomatillo salsa verde.
Nutrition
Serving:
4
g
Calories:
369
kcal
Carbohydrates:
35
g
Protein:
28
g
Fat:
13
g
Saturated Fat:
3
g
Polyunsaturated Fat:
2
g
Monounsaturated Fat:
5
g
Trans Fat:
0.01
g
Cholesterol:
74
mg
Sodium:
156
mg
Potassium:
519
mg
Fiber:
5
g
Sugar:
1
g
Vitamin A:
35
IU
Calcium:
81
mg
Iron:
3
mg