Delicious Garlic Rolls Stuffed with Two Cheeses
Easy to make cheesy garlic rolls that are filled with butter and two cheeses and baked until golden brown. So good!
The Back Story
In the 1980's I used to visit a restaurant in Woodland Hills, California called The Pizza Cookery. They had these wonderful, chewy, cheesy garlic rolls that they would serve with whipped butter. The rolls were amazing and I think The Pizza Cookery may have served far more rolls than pizza. I have searched for their recipe for years and never found it. Apparently, it is a closely guarded family secret.
While there is nothing quite like those original cheesy garlic rolls from The Pizza Cookery, these are a pretty darn good knockoff. Give them a try.
Cheesy Garlic Rolls from Scratch
These rolls are easy to make and are a great alternative to store-bought garlic bread. They take a little planning because of the long resting time. Since the rolls are made from an overnight pizza dough with very little yeast, they need more time to rise.
Roll Up the Dough
The key to these cheese garlic rolls is that the cheese and butter is actually rolled up into the dough, much like a cinnamon roll. That is how The Pizza Cookery made them and that's why there is cheese in every bite. Roll the dough into a big rectangle, brush it with butter, sprinkle it with cheese, and roll it up. No need to seal the edge.
Cut the rolled up dough and place the pieces in a greased cast iron skillet. Add more butter and cheese and they are ready for the oven.
Bake at 400˚F
Bake the cheesy garlic rolls at 400˚F until golden brown, about 20 minutes in a conventional oven. I cooked them in a wood fired oven that was a bit hotter so they cooked a little faster. Bet you can't eat just one.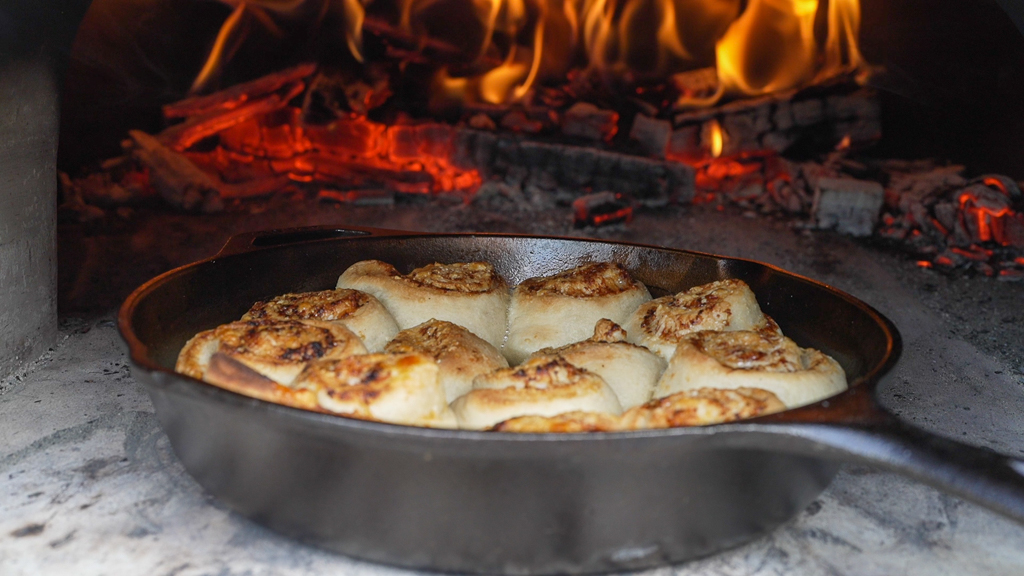 Pizza Goes Great with These Rolls
Try these pizza recipes: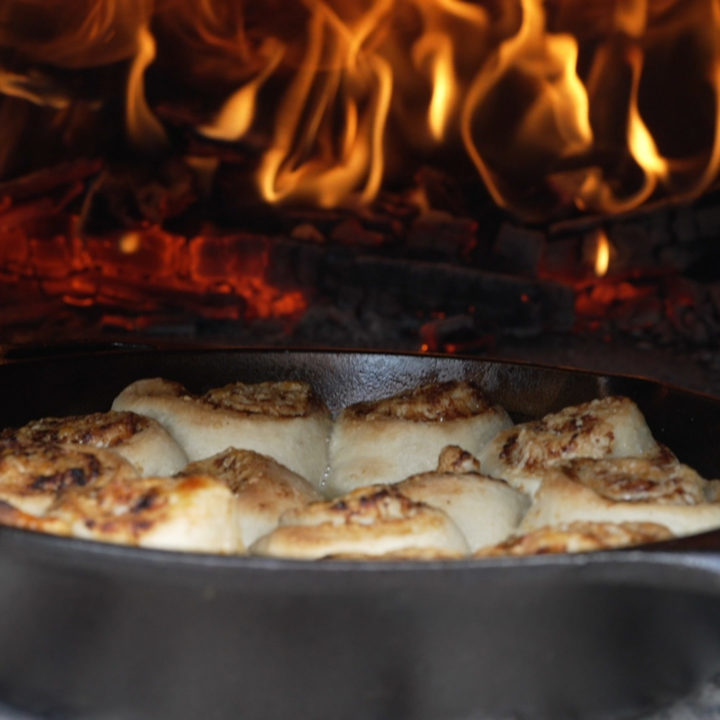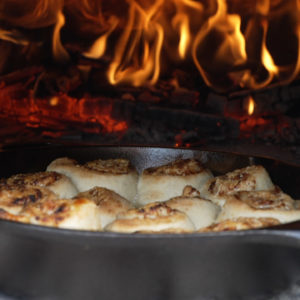 Cheesy Garlic Rolls
Do you like cheesy garlic rolls? Try this cheesy garlic roll recipe. These delicious rolls are easy to make. Don't worry if you don't have a wood fired oven, they are just as good in a conventional oven.
Ingredients
500

g

all purpose flour

(scant 4 cups)

.5

gr

instant dried yeast

(⅛ tsp)

11

g

fine sea Salt

(1 tsp)

350

g

water

(1 ½ cups at 100 degrees F)

¼

cup

butter

melted

¼

cup

parmesan

grated

¼

cup

asiago

grated
Instructions
Place the water and salt to the bowl of a stand mixer and swirl until salt is dissolved. Add the yeast and let it soak for about 30 seconds then swirl to dissolve. Add the flour and mix using the paddle attachment until combined, about 30 - 45 seconds. Remove the paddle attachment, cover the dough with plastic wrap, and let it rest for 20 minutes.

Mix the dough using the dough hook for three minutes on the lowest setting, then mix for another three minutes on the next setting. Remove the dough hook, cover with plastic wrap, and let it rest for two hours.

Place the dough in front of you on a flat surface. Pull the dough to the right and left stretching it out about 12 inches. Then fold the right side back over the center of the dough ball with a ⅓ overlap. Fold the left side over the center with a ⅓ overlap. Turn the ball over and gently form it into a ball. Make sure the seam on the bottom is closed. Place the dough ball into a lightly oiled bowl, cover with plastic wrap, and let it rest for six hours.

Preheat the oven to 400 degrees. Gently roll the dough into a rectangle about ¼" thick. Try to get it as close to a rectangle as possible. Brush melted butter over the rolled out dough and top with a sprinkle of both cheeses. Roll up the dough (starting with the longe edge), then cut into 12 pieces. Place each piece cut side down (so you can see the curled up dough) in an oiled cast iron skillet or baking pan. Top with more melted butter and grated cheese. Bake until golden brown.
Nutrition
Serving:
2
rolls
Calories:
342
kcal
Carbohydrates:
64
g
Protein:
12
g
Fat:
3
g
Saturated Fat:
2
g
Polyunsaturated Fat:
1
g
Monounsaturated Fat:
1
g
Cholesterol:
7
mg
Sodium:
859
mg
Potassium:
111
mg
Fiber:
2
g
Sugar:
1
g
Vitamin A:
82
IU
Calcium:
125
mg
Iron:
4
mg