Giant Beef Ribs with Homemade BBQ Sauce
Dino bones are the beef version of baby back ribs. Smoked low and slow, then braised in beef tallow, these ribs fall off the bone.
What are Smoked Beef Dino Bones?
Smoked beef dino bones are really beef back ribs and are the biggest, meatiest ribs available. Unlike short ribs, which come from the lower portion of the rib cage, beef back ribs are cut from the top section near where a rib roast comes from. They are screaming for a little smoke and BBQ sauce.
Dry Rub
Great BBQ begins with the dry rub. Most recipes will make more dry rub than you need for that recipe. Extra dry rub will store in an airtight container in the pantry for several months.
Basting Sauce for Smoked Beef Dino Bones
Basting is an important part of making great smoked dino bones. First, basting keeps the meat from drying out while being smoked. Second, and perhaps more important, it helps the smoke adhere to the meat. Basting sauces ranges from simple to complex. This one is has only four ingredients but adds a bit in the flavor department. Since it has beef tallow in it, basting actually adds a very thin layer of fat helps protect the ribs. Since beef tallow is a solid at room temperature, it may be necessary to keep the basting sauce over a very lower simmer while the ribs are on the smoker.
Texas Crutch
A Texas crutch is basically a method for braising barbecued meat after being smoked. It is commonly used and is THE secret to ribs that fall off the bone. For example, the 3-2-1 method for cooking pork baby back ribs involves 3 hours of smoking, 2 hours of braising and 1 hour of direct heat. Just place the ribs in a disposable aluminum pan, add some liquid, cover with foil and you are ready to braise. Make sure to use heavy aluminum foil and make a tight seal around the aluminum. If necessary, wrap the entire sealed tray inside a second, larger piece of aluminum.
BBQ Sauce
Nothing will cause a fight between Pit Masters faster than a discussion about which BBQ sauce is best. For me, BBQ sauce is up there with religion and politics. Use what YOU like and don't talk about it.
When it comes to Smoked beef dino bones, I prefer a rich sauce with a bit of sweetness and a touch of bourbon. The sauce in this recipe is an adaptation of a sauce in Steve Raichlen's book, Sauces, Mops and Marinades. It's easy to make and absolutely delicious. Put down the spoon and get a brush. You need this sauce for ribs.
Favorite Side Dishes
Here are some great side dishes to go with smoked beef dino bones: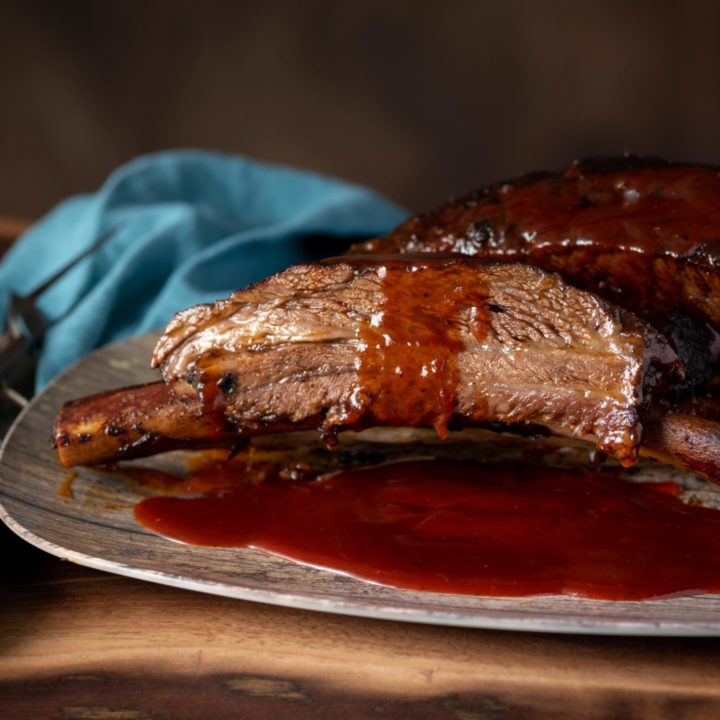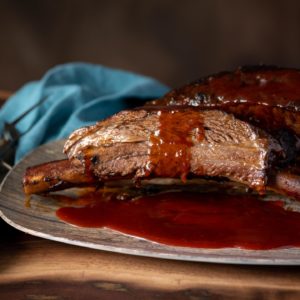 Smoked Dino Bones with Bourbon BBQ Sauce
These are the beef version of baby back ribs. Smoked low and slow, then braised with beef tallow and finished off with a homemade barbecue sauce.
Ingredients
Dry Rub
¾

cup

brown sugar

¼

cup

granulated sugar

⅓

cup

kosher salt

1

tbs

chili powder

1

tbs

onion powder

1

tbs

garlic powder

1

tbs

black pepper

freshly ground

½

teaspoon

cayenne pepper
Basting Sauce
1

cup

beef broth

½

cup

water

¼

cup

beef tallow

¼

cup

Worcestershire sauce
BBQ Sauce
2

tablespoon

olive oil

½

cup

yellow onion finely minced

½

cup

good bourbon

½

cup

brown sugar packed

¼

cup

cider vinegar

¼

cup

honey

¼

cup

molasses

¼

cup

Worcestershire sauce

¼

cup

tomato paste

1

teaspoon

liquid smoke

optional

2

teaspoon

chili powder

1

teaspoon

freshly ground black pepper

1

teaspoon

garlic powder

2

cups

ketchup
Ribs
8

beef ribs

dino bones

1

stick

butter
Instructions
Dry Rub
Mix all ingredients and set aside.
Basting Sauce
Mix all ingredients over low heat until beef tallow melts.
BBQ Sauce
Cook the onion and olive oil in a large, nonreactive sauce pan over medium heat until softened. Add all remaining ingredients. Stir well and bring to a boil. Reduce heat to low simmer and cook, uncovered, for 30 minutes, stirring often. Strain sauce and serve.
Ribs
Sprinkle dry rub over ribs (all sides).

Setup smoker for indirect heat at 250° F. Add a drip pan with water below the grate. Smoke ribs for 3 hours. Baste ribs with basting sauce every 30 minutes.

Remove the ribs and place in a roasting pan. Add remaining basting sauce to the pan along with one stick of butter. Tightly seal the pan with foil. Return pan to the smoker and cook for two hours. Rest ribs for 10 minutes and serve.
Nutrition
Serving:
2
ribs
Calories:
936
kcal
Carbohydrates:
28
g
Protein:
109
g
Fat:
42
g
Saturated Fat:
18
g
Polyunsaturated Fat:
2
g
Monounsaturated Fat:
22
g
Trans Fat:
2
g
Cholesterol:
369
mg
Sodium:
839
mg
Potassium:
2033
mg
Fiber:
1
g
Sugar:
24
g
Vitamin A:
390
IU
Vitamin C:
4
mg
Calcium:
127
mg
Iron:
13
mg