A Sweet Apple Crisp with Bacon from a Charcoal Grill
A delicious bacon apple crisp made in a charcoal grill. Bacon apple crxaisp has a subtle smokiness from cooking over charcoal that is fantastic. It's easy to make and delicious.
Bacon Apple Crisp
Everyone loves a good apple crisp. Take it up a notch by adding some bacon then cooking it over charcoal, in a smoker. While thick cut bacon will work just fine, take this over the top by using guanciale instead of bacon. Bacon apple crisp is so good.
Guanciale in a Bacon Apple Crisp
Guanciale is an Italian style bacon similar to pancetta. The difference is that pancetta is made from pork belly and guanciale is made from pork jowl and and a distinctive flavor. I use guanciale is everything from pasta sauce to Brussels sprouts and even stuffed baked potatoes. In fact, I use guanciale so frequently that I always have some in my refrigerator.
Just dice the guanciale nice and thick and fry it over low heat. The reason for low heat is that Guanciale fat seems to have a low smoke point than bacon or pancetta. Watch it carefully and turn it frequently. There is a fine line between done and starting all over again.
Prepare the Apples
Cut and peel the apples and mix them with the rest of the filling ingredients. The brown sugar, lemon zest and cinnamon will cook down to form a nice, sweet sauce for the apples.
Mix the Topping
The topping i made from smashed vanilla wafers, granulated and brown sugar and a little flour and butter. Most pie crusts are made by cutting in very cold lard or shortening into some flour. This is similar, the butter should really cold, almost frozen, before making the topping. The cold butter will get chopped up in the food processor and incorporated into the the flour and sugars.
Bake Uncovered in a Charcoal Grill
Setup your smoker for indirect heat at 400˚F, using charcoal only, but no wood. The charcoal will impart just enough smokiness. Wood chunks or chips would be overpowering and I prefer to use lump charcoal over briquettes because I think the flavor is a bit better.
My bacon apple crisp was finished in a wood fired oven for a few minutes to give the crust a little more color. This could have been accomplished by leaving it in the smoker ten more minutes.
Final Thoughts
This is one of those desserts that seems to disappear fast. Use the biggest cast iron skillet you have and load it up. You will be glad you did.
Other Great Desserts
Some of our other favorite desserts are: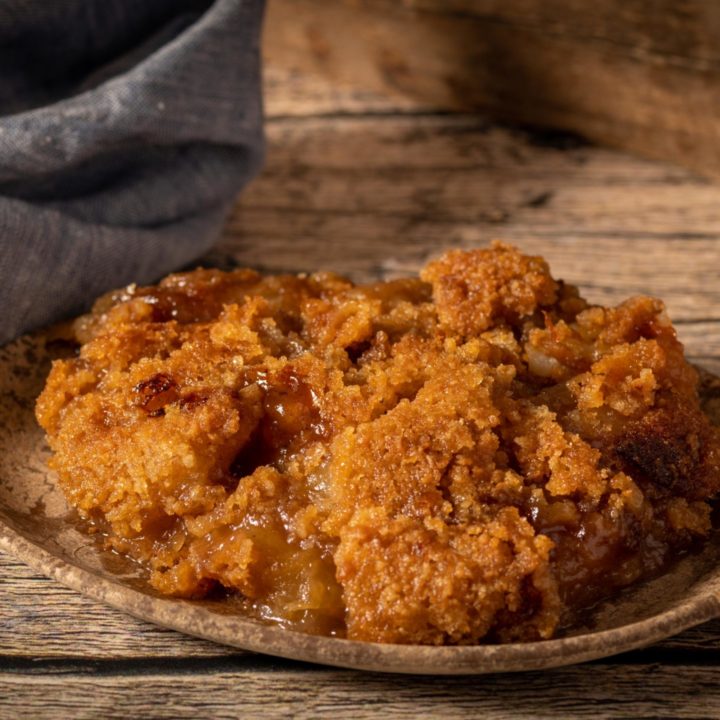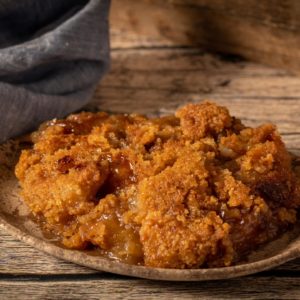 Bacon Apple Crisp
Do you like apple crisp? Try this bacon apple crisp made in a smoker. The smoky flavor is subtle if you cook over charcoal without chunks of woods. It's easy to make and delicious.
Ingredients
Filling
2

ounces

guanciale

diced (Pancetta will work as well)

5

apples

peeled and cored (like Honeycrisps)

⅓

cup

brown sugar

packed

1 ½

tbs

all-purpose flour

1

teaspoon

lemon zest

grated

1

teaspoon

cinnamon

ground

Pinch

salt
Topping
1

stick

unsalted butter

cut into 8 pieces

½

cup

vanilla wafers

crushed

½

cup

granulated sugar

½

cup

brown sugar

packed

½

cup

all-purpose flour

Pinch

salt
Instructions
Setup the grill for indirect heating at 400°. Cut the butter and place into the freezer for at least 30 minutes.

Fry the guanciale in a cast iron skillet over low heat. When crisp, remove the guanciale with a slotted spoon and dice fine. Do not over cook the guanciale. Wipe out the excess fat from the skillet with paper towels and discard.

Cut the peeled and cored apples into one inch pieces. Add them to a medium bowl. Add the diced guanciale. Add the granulated sugar, brown sugar, flour and lemon zest, then stir. Add half of the cinnamon and stir. Add the other half of the cinnamon and a pinch of salt and stir again. Spoon the mixture into the skillet and set aside.

To make the topping, place the cookie crumbs, granulated sugar, brown sugar, flour, salt and cold butter into a food processor. Pulse 8 - 12 times until the mixture is crumbly and resembles sand. Be careful not to over processes. Sprinkle all of the topping on top of the apples. It may look like a lot, but it will be fine. The butter and sugars will melt and become the gooey sauce.

Place the cast iron skillet in your smoker and cook until the top is golden brown, 45 - 60 minutes. Serve warm.
Nutrition
Serving:
8
oz
Calories:
370
kcal
Carbohydrates:
52
g
Protein:
2
g
Fat:
18
g
Saturated Fat:
10
g
Polyunsaturated Fat:
1
g
Monounsaturated Fat:
3
g
Trans Fat:
1
g
Cholesterol:
38
mg
Sodium:
98
mg
Potassium:
173
mg
Fiber:
3
g
Sugar:
38
g
Vitamin A:
415
IU
Vitamin C:
6
mg
Calcium:
33
mg
Iron:
1
mg