Bread pudding is an awesome dessert. But dark chocolate bread pudding is on a different level. Top it with some gooey salted caramel sauce and it's just plain amazing. One more thing, cook it in a smoker or charcoal grill over charcoal and it will pick up just a hint of smokiness. It may well be the best thing that ever came out of your smoker.
About the Chocolate
This recipe calls for both bittersweet chocolate and cocoa powder. Each brings a different chocolate flavor to the party. Be aware there are two different types of cocoa powder. Dutch-process cocoa powder is made from cocoa beans that have been washed in an alkaline solution to neutralize their acidity. Natural cocoa powder is not washed and is acidic and can be somewhat bitter. Most well-known cocoa powder brands available in the United States are natural. Dutch-process cocoa powder is generally available, just read the label to make sure what you are buying.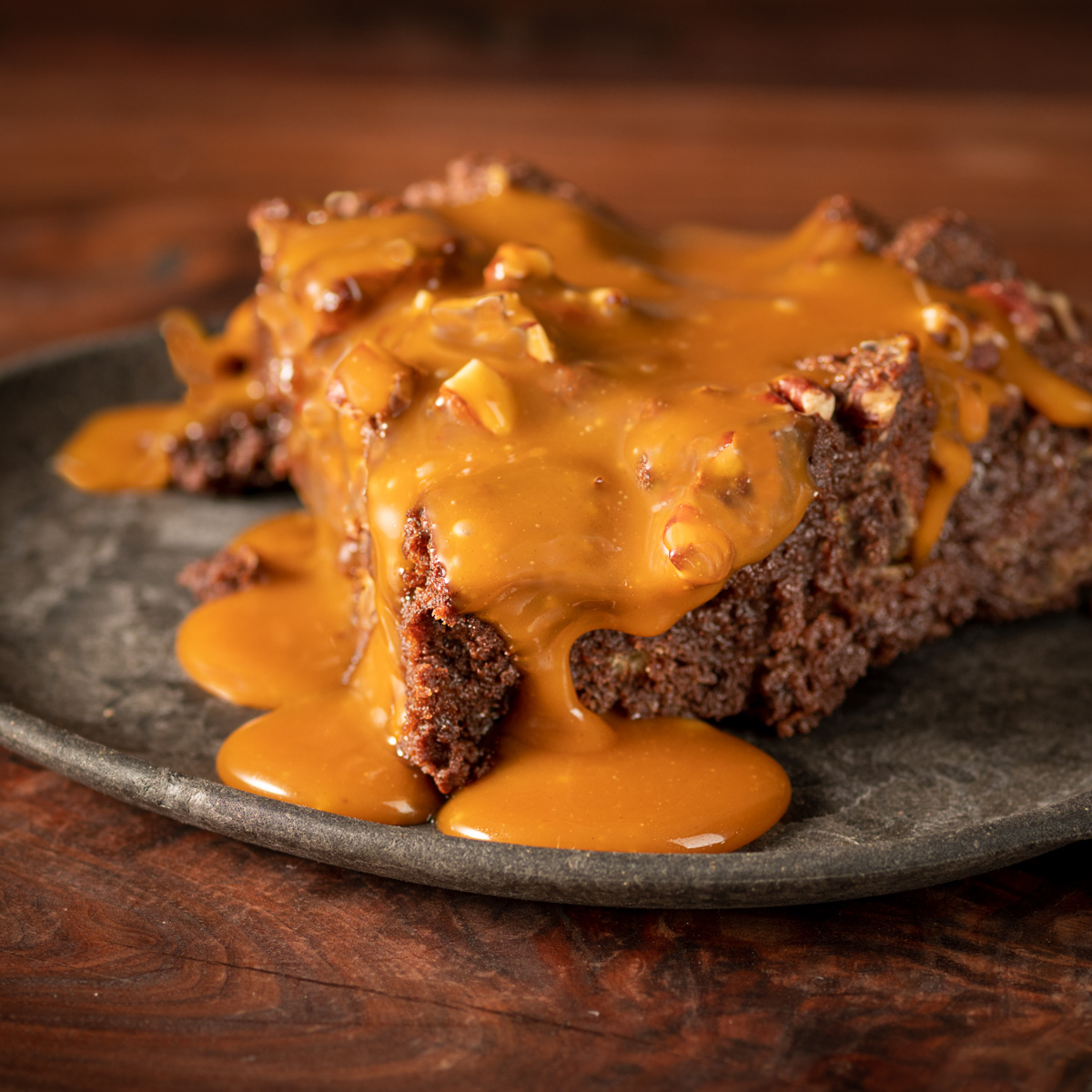 Try these other great desserts made in a charcoal grill or smoker: Smoked Chocolate Chip Cookies, Bacon Apple Crisp and Smoked Blueberry Crisp.
Jump to:
Ingredients
Brioche bread
Heavy cream
Whole milk
Bittersweet chocolate
Eggs
Sugar
Dutch-process cocoa powder
Vanilla extract
Vanilla bean
Sea salt
½ cup Chopped pecans
Salted Caramel
Salted butter
See recipe card for quantities.
Instructions
Choose the Right Bread
The type of bread is important because that is what determines the overall structure of the dark chocolate bread pudding when it is cooked. Bread that is too soft, like most store-bought pre-sliced white bread will form bread pudding that is mushy. Bread that is too firm, like sourdough, will create bread pudding that is too firm and the taste will be off. Thick cut brioche is a good place to start. Many markets carry brioche that is precut to 1". Challah bread is another good choice and is usually sold unsliced. Simply cut it into 1" cubes. In a pinch, use brioche hot dog or hamburger buns. The bread pudding will not know the difference.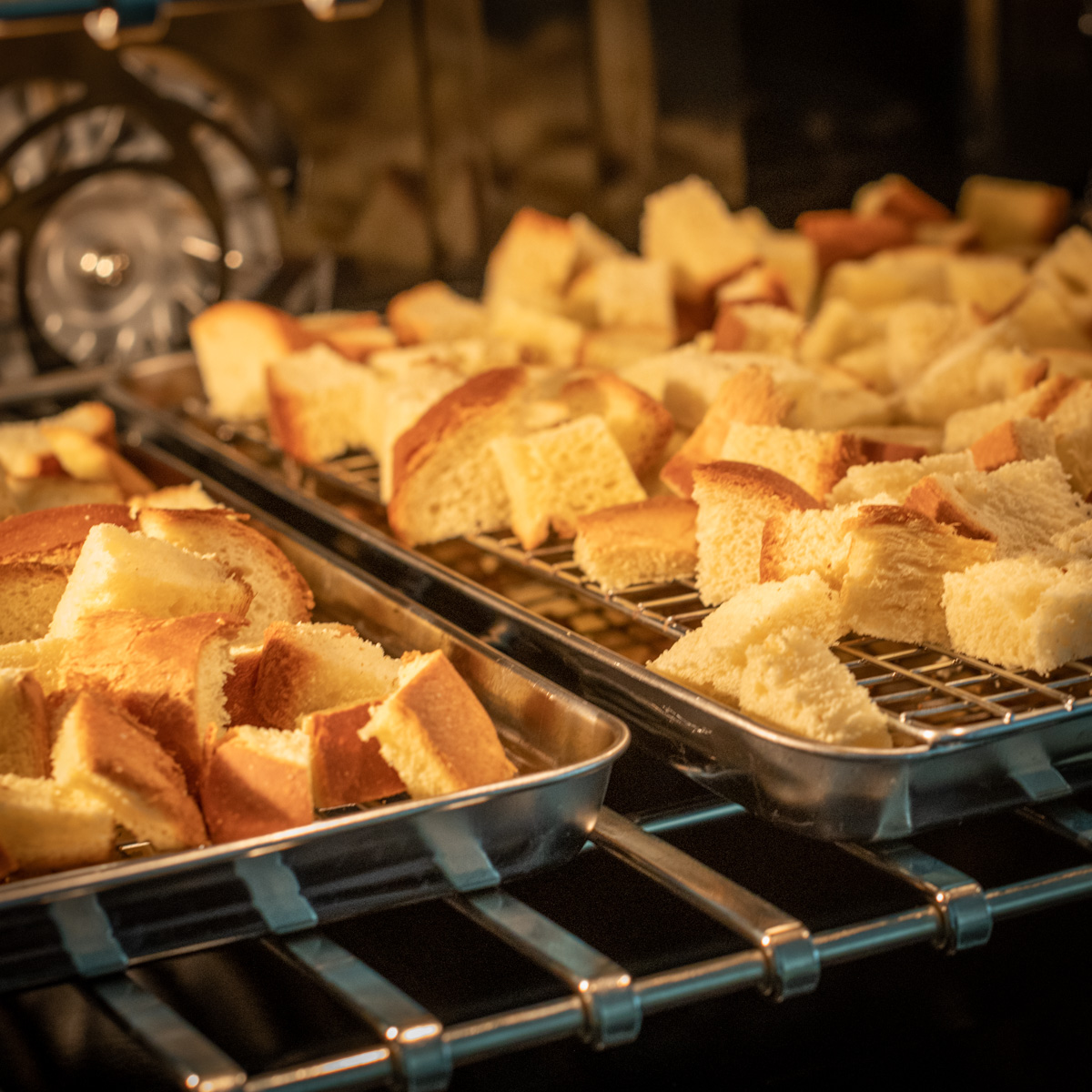 Dry out the bread cubes for about 30 minutes in a 250˚F oven. It's perfectly fine to leave the crust on, it adds to the texture.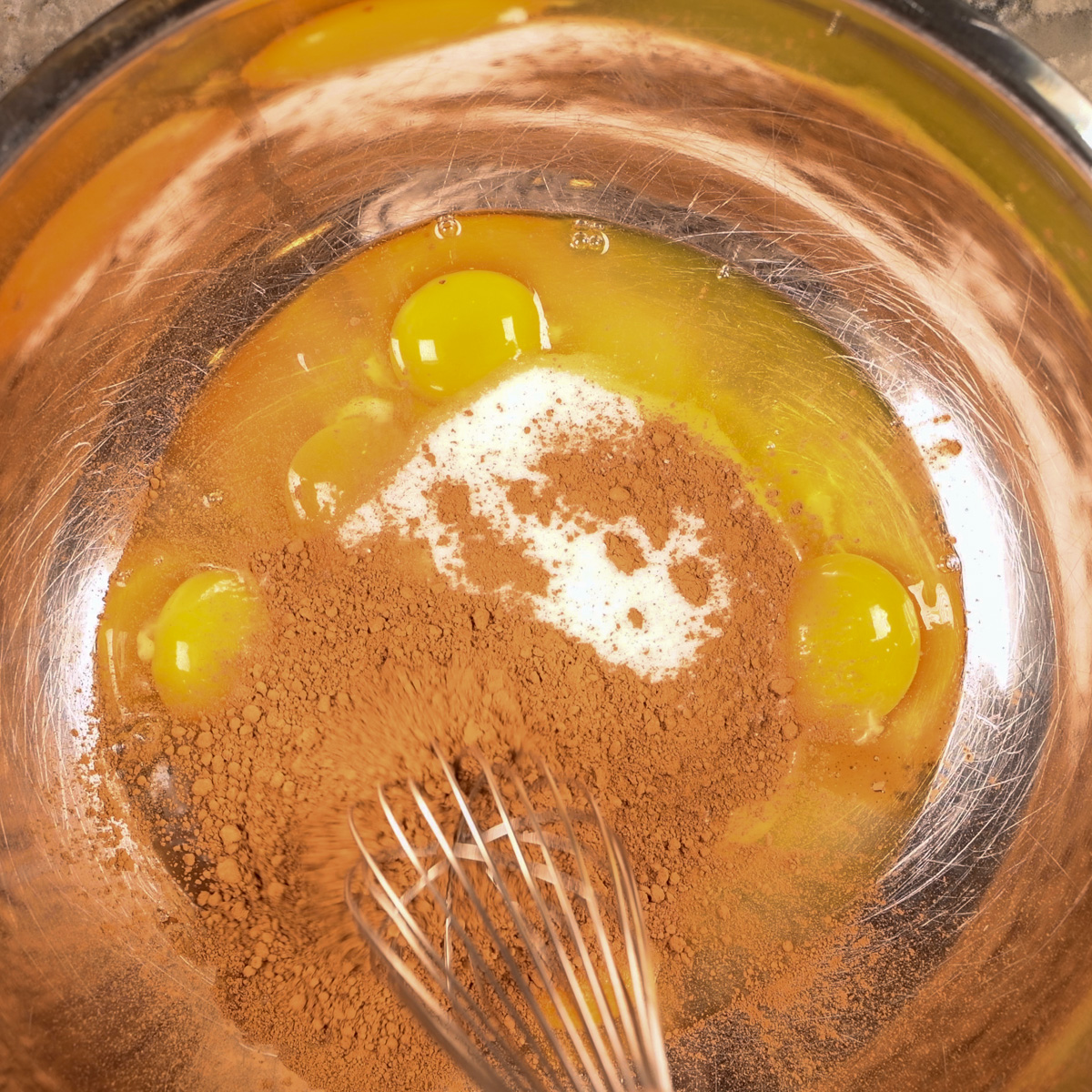 Combine the eggs, sugar, vanilla and cocoa powder in a bowl.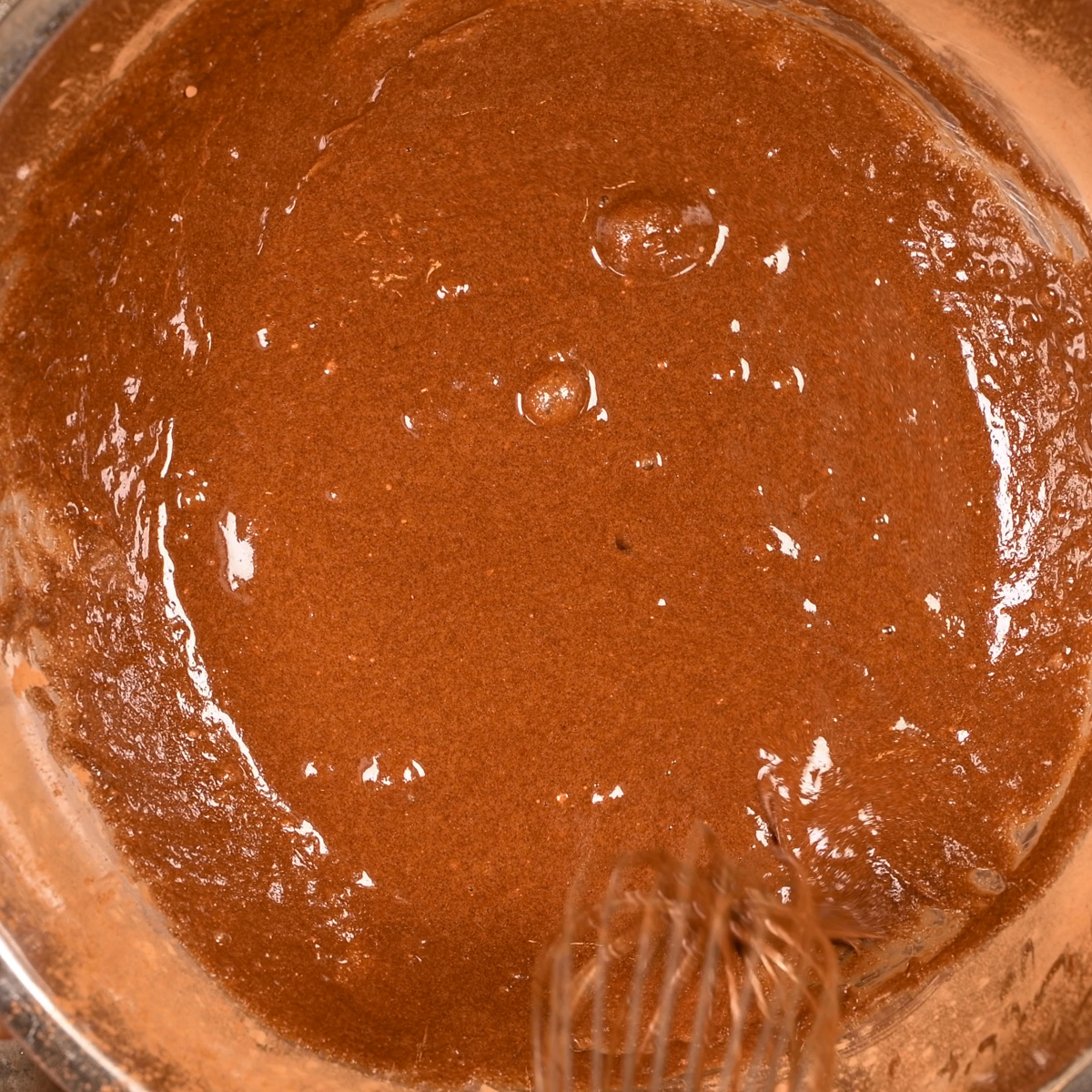 Eggs, sugar, vanilla and cocoa powder after stirring.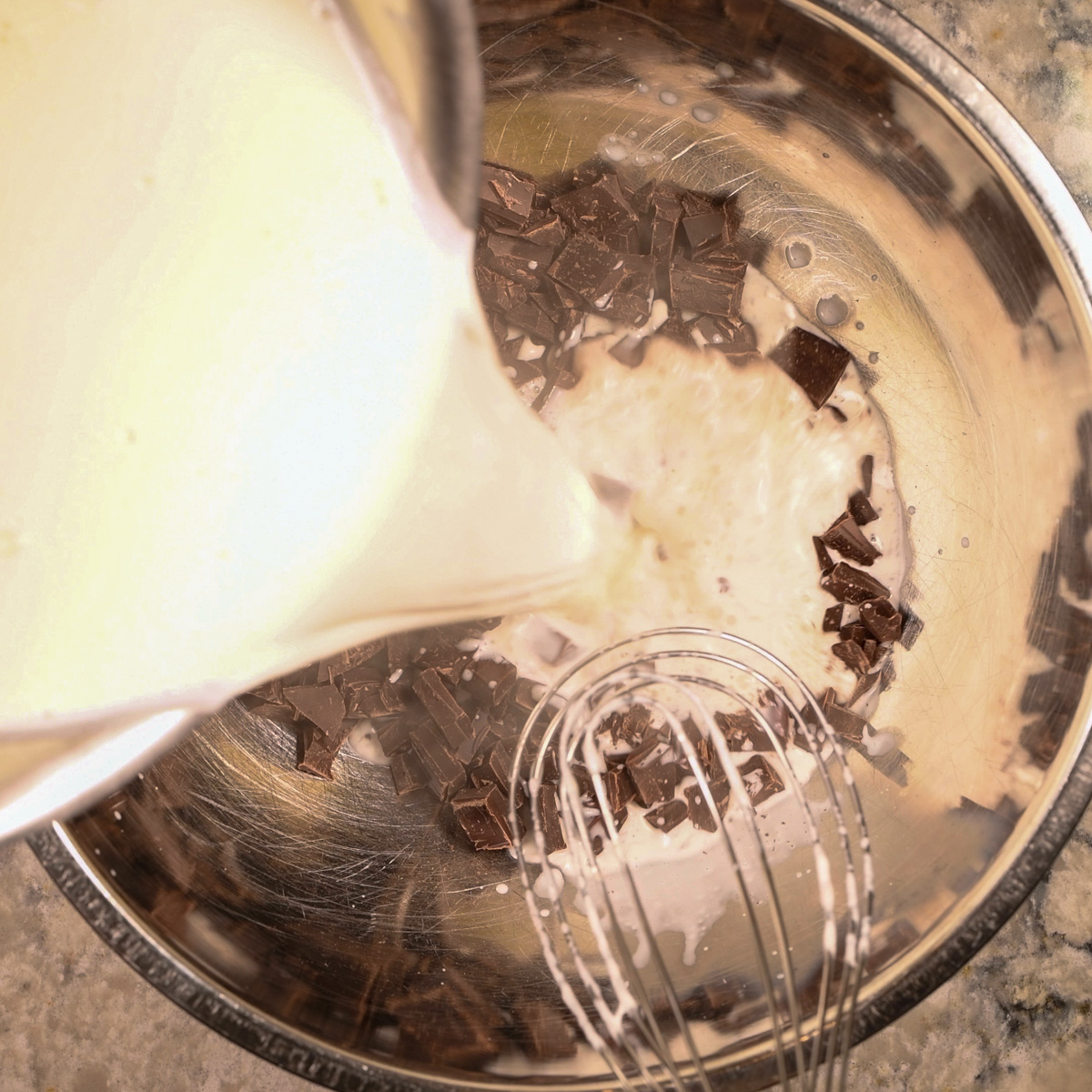 Pour hot cream and milk over chocolate pieces.
Soak the Bread Cubes
It's important to let the bread cubes soak up the chocolate so give it some time. If you rush this step you will have white areas in the bread pudding when you cut it. Those are areas in the middle of some of the bread cubes that didn't soak up chocolate before baking. So, let the chocolate soak in, then let it soak some more.
Eggs, sugar, vanilla and cocoa powder after stirring.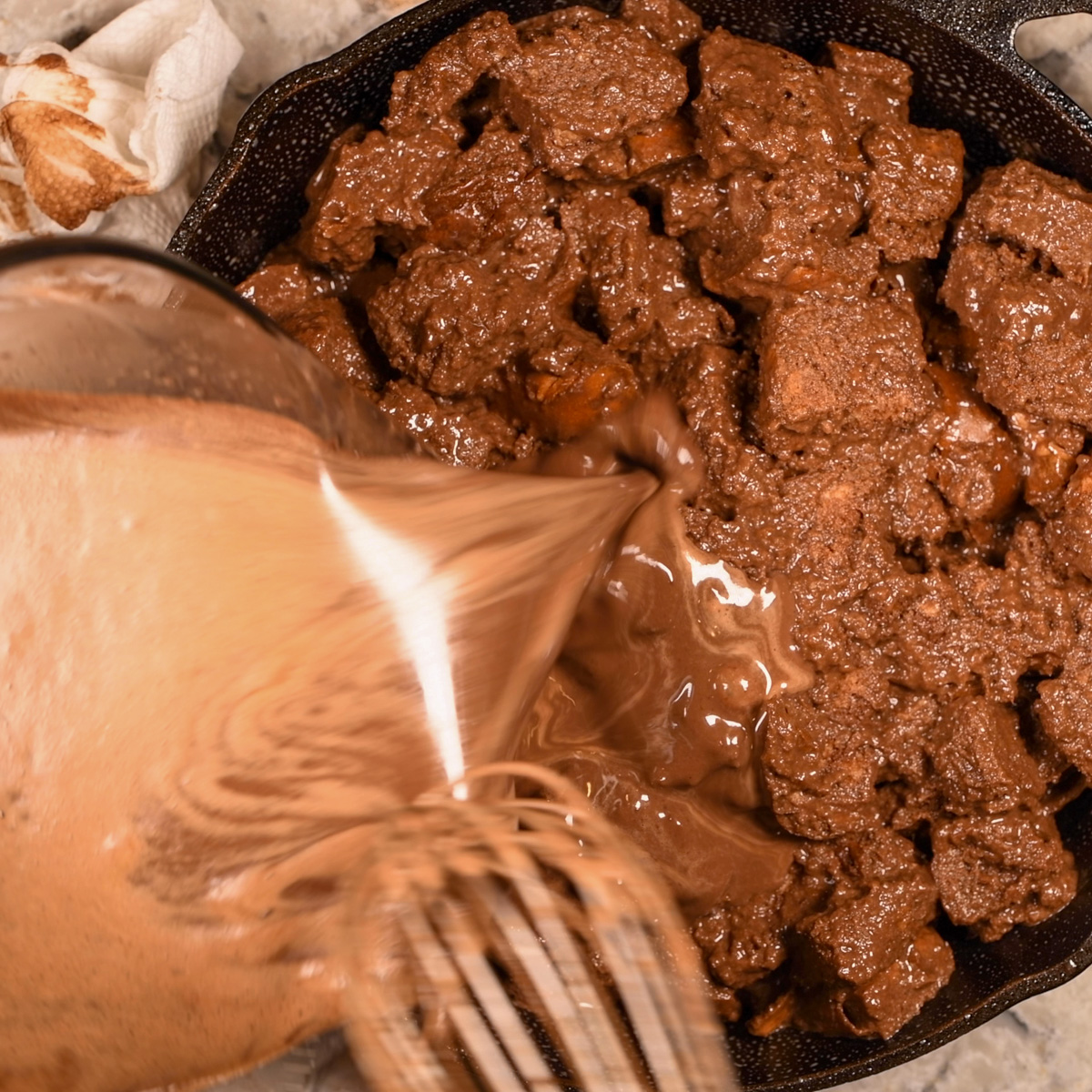 Place soaked bread cubes in a cast iron skillet and cover with remaining chocolate mixture.
Cook it in Your Smoker or Charcoal Grill
Sure, you could cook this in you oven, but charcoal adds a wonderful dimension to this dish. Just don't add any wood chips or chunks. It will pick up plenty of smoke from charcoal. Make sure to cook over indirect heat.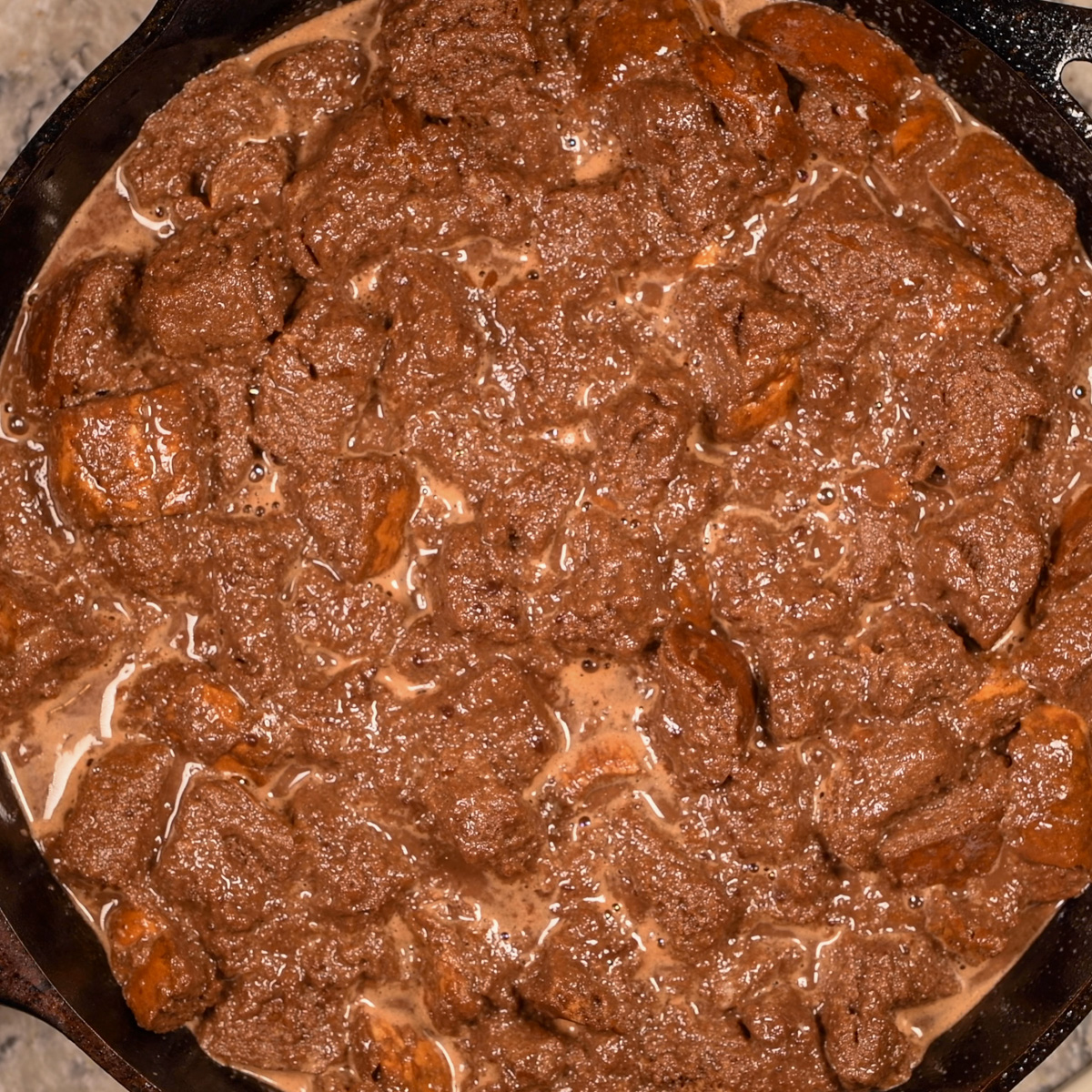 Chocolate bread pudding ready for the smoker.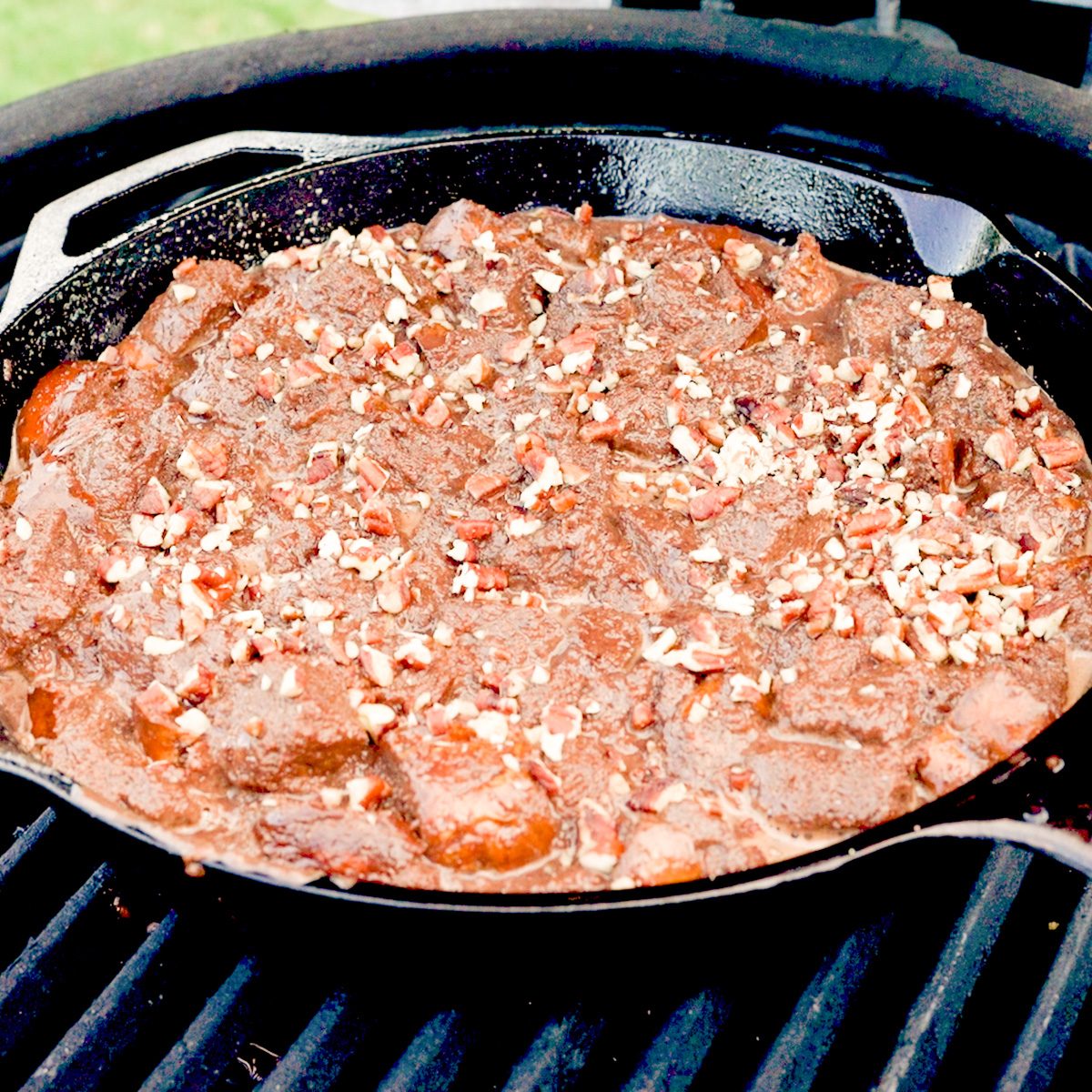 Bread pudding in my Kamado Joe.
Salted Caramel Sauce
The salted caramel sauce just makes this dessert beyond decadent, and it is surprisingly easy to make. Get everything that you need ready (like the milk, cream and butter) because you want to keep stirring the sugar as it melts. Don't stop stirring and don't overcook it once you have added the cream. Cook it for one minute and then remove it from the heat. Add the salt and enjoy.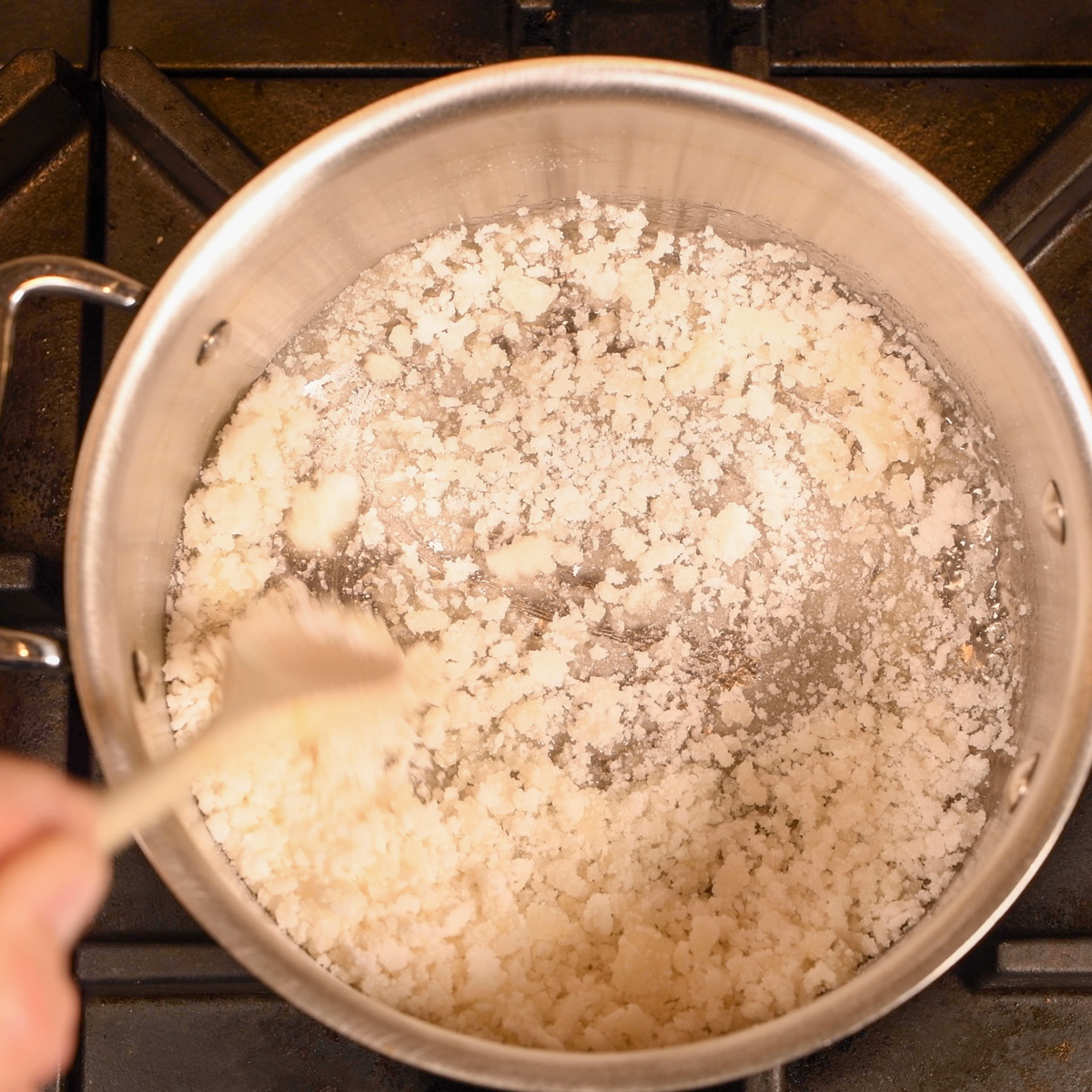 Melt the sugar in a medium saucepan.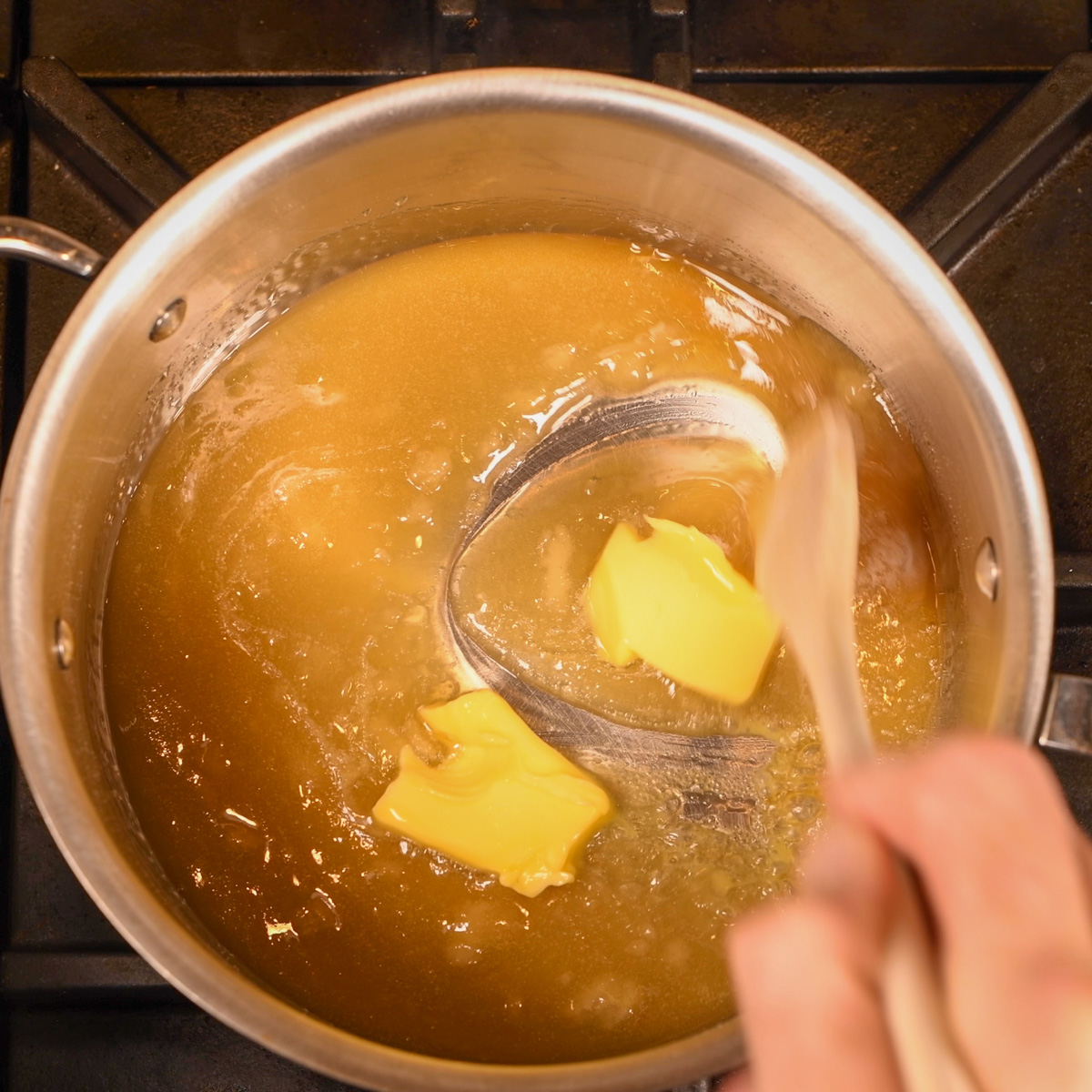 Add butter to the melted sugar.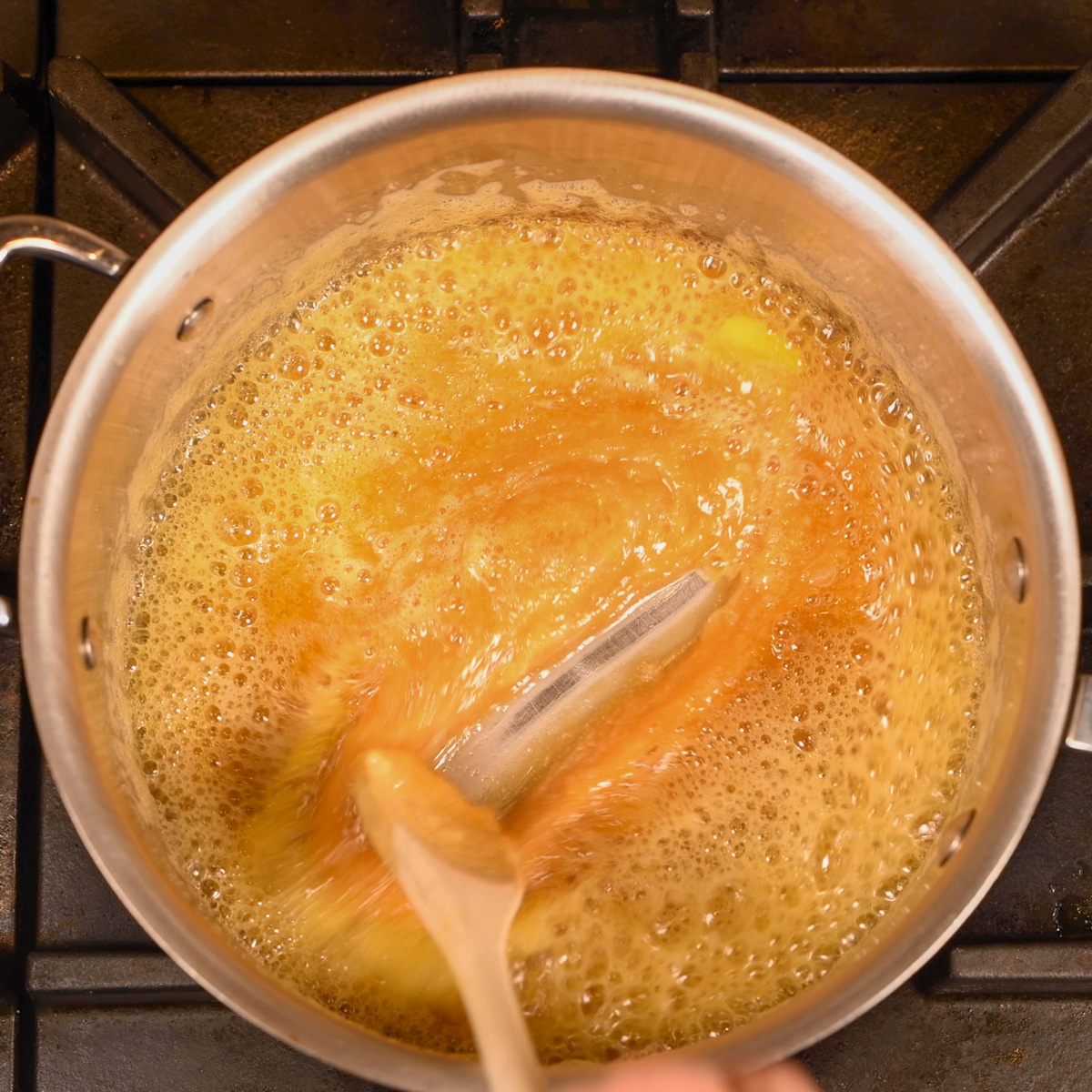 Cook butter and melted sugar stirring continuously.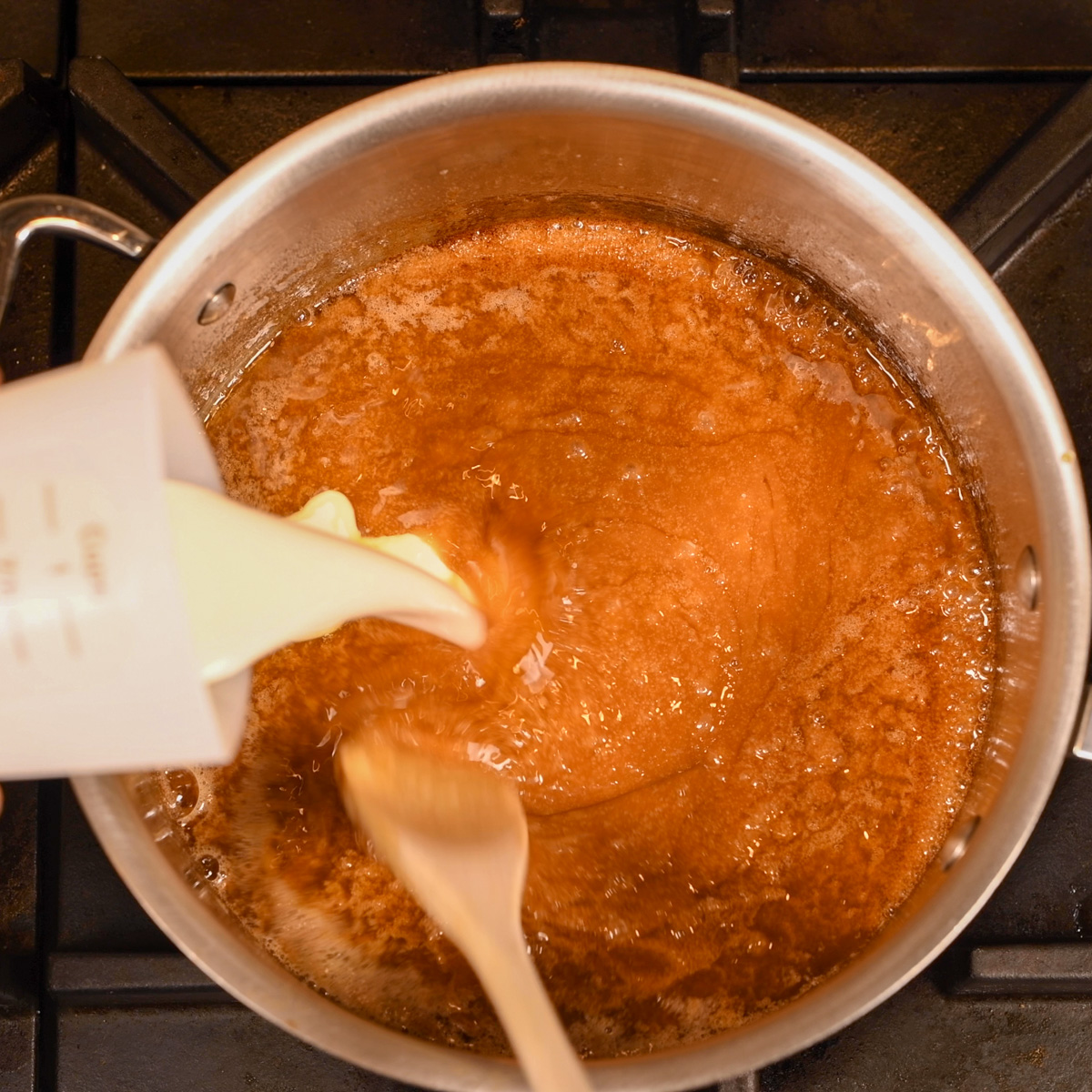 Stir in heavy cream.
Equipment
A cast iron skillet and charcoal grill or smoker were used in this recipe. It could be made in a conventional oven.
Storage
Store leftover bread pudding salted caramel sauce in separate in an airtight containers in the refrigerator for up to three days. Just don't store it sitting in your cast iron skillet (hey, it has happened).
Reheat in 300°F oven for about 10 minutes or until warm inside. Reheat the caramel sauce in a shallow metal bowl place over a saucepan with simmering water inside (basically a double boiler) until warmed.
Top Tip
This dish is best when the bread pieces are chocolate throughout and not white inside. Cut the bread pieces NO LARGER than 1" and soak for the time stated in the recipe. When done soaking, tear open one or two of the larger pieces of bread to make sure they are chocolate all the way through. If not, let them soak longer.
Related
Looking for other recipes like this? Try these: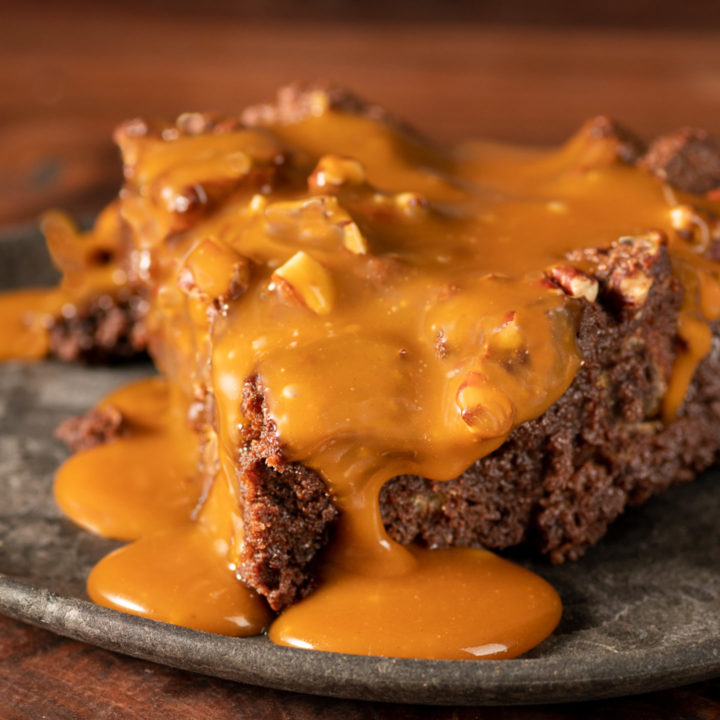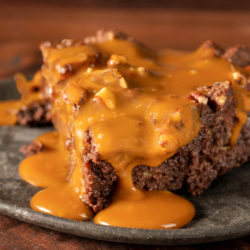 Dark Chocolate Bread Pudding With Salted Caramel Sauce
What could possibly be more decadent than chocolate bread pudding covered with gooey salted caramel sauce?  This is amazing!
Ingredients
Bread Pudding
1

lb

brioche

bread cut into ¾" - 1" cubes

1

cup

heavy cream

2 ¼

cup

whole milk

8

oz

bittersweat chocolate

chopped

5

eggs

large

1 ½

cups

sugar

½

cup

Dutch-process cocoa powder

2

teaspoon

vanilla extract

vanilla bean

split in half and seeded

½

teaspoon

sea salt

½

cup

chopped pecans
Salted Caramel
200

g

sugar

1 cup

112

g

salted butter

½ cup, room temperature

180

ml

heavy cream

¾ cup

1

teaspoon

sea salt
Instructions
Arrange the bread cubes in a single layer on a cookie sheet fitted with a wire rack. Preheat the oven to 225° F. Bake for 30 minutes. Allow to cool.

Heat heavy cream and milk in a medium saucepan over low heat until simmering. Place chopped chocolate in a medium bowl and add the simmering milk and cream. Allow to rest for a few minutes to let the chocolate melt then whisk until combined. Allow the mixture to cool slightly to avoid ruining the eggs in the next step.

Whisk together the eggs, sugar vanilla extract, vanilla bean seeds, cocoa powder and salt until smooth. Slowly add the chocolate cream mixture (in a slow drizzle) while whisking the mixture. Remove ⅓ of this mixture and set aside. Add the bread cubes to the remaining mixture and stir to coat.

Grease a 12" cast iron skillet or 9 X 13 pan. Add the chocolate bread mixture to the skillet and spread evenly. Pour the reserved chocolate mixture over the top. Cover and allow to rest at room temperature for 40 minutes. This step allows the chocolate to soak through all of the bread. Otherwise, the finished bread pudding will have white spots where the chocolate did not soak in.

Preheat the smoker to 350° F (using charcoal but no wood chips) or preheat the oven to 350 degrees F. Cover the bread pudding loosely with foil and bake for 30 minutes. Remove the foil and continue to bake for another 15 - 20 minutes. It will be done when a toothpick inserted is mostly dry, not wet, and the top is somewhat crisp. Allow to rest five minutes before serving.

Heat sugar in a medium saucepan over medium-low heat stirring constantly. When the sugar has melted, add the butter and stir constantly until combined. Cook one minute without stirring, then add the heavy cream. Stir to combine. Cook for one minute then remove from heat. Stir in the salt and allow to cool for a few minutes. Serve over hot bread pudding.
Nutrition
Serving:
8
oz
Calories:
859
kcal
Carbohydrates:
90
g
Protein:
13
g
Fat:
52
g
Saturated Fat:
29
g
Polyunsaturated Fat:
3
g
Monounsaturated Fat:
13
g
Trans Fat:
1
g
Cholesterol:
248
mg
Sodium:
711
mg
Potassium:
356
mg
Fiber:
4
g
Sugar:
62
g
Vitamin A:
1505
IU
Vitamin C:
1
mg
Calcium:
154
mg
Iron:
3
mg