A Blueberry Crisp Made in the Charcoal Grill
Try making this smoked blueberry crisp in your charcoal grill. The charcoal adds just a hint of smokiness that makes it special.
Smoked Blueberry Crisp in a Ceramic Cooker
Ceramic cookers, including the Big Green Egg and the Kamado Joe, do an excellent job at baking. In essence, they are just big convection ovens that happen to be fueled by charcoal. Cooking a smoked blueberry crisp over indirect heat in a ceramic cooker adds just a hint of smokiness from the charcoal, and that is what makes it special. It's a perfect dessert to top off a day of great barbecue.
By the way, try the other smoked dessert recipes including smoked chocolate chip cookies and dark chocolate bread pudding with a salted caramel sauce. Links for both are down below.
Prepare the Blueberries
Rinse the blueberries and place them in bowl. Add the rest of the filling ingredients and stir the mixture well. The sugar and lemon juice will form a wonderful sauce and the cornstarch will help thicken it up a bit.
Add the blueberry mixture to a small cast iron skillet and set aside.
Make the Topping
Stir all of the topping ingredients (except the butter) together in a small bowl. Grate some frozen butter on a cheese grater and cut it into the topping with a pastry cutter. A few lumps are just fine.
Sprinkle the topping over the blueberries and pat it down. This is now ready for a trip to smoker.
Charcoal Only
The hint of smokiness that comes from cooking this over charcoal is more than enough. Do not add any wood chips or chunks because the smoke from burning wood is just too much for this or any of the other dessert dishes featured on Austin-Eats. The smoked blueberry crisp was cooked for about 45 minutes in my Kamado Joe over indirect heat at 350˚ F.
I wanted a little more color in the topping so I finished it in a wood burning oven for a few minutes. But that really wasn't necessary. Serve it hot.
Other Great Desserts
Here are some similar dishes to try:
Smoked Chocolate Chip Cookies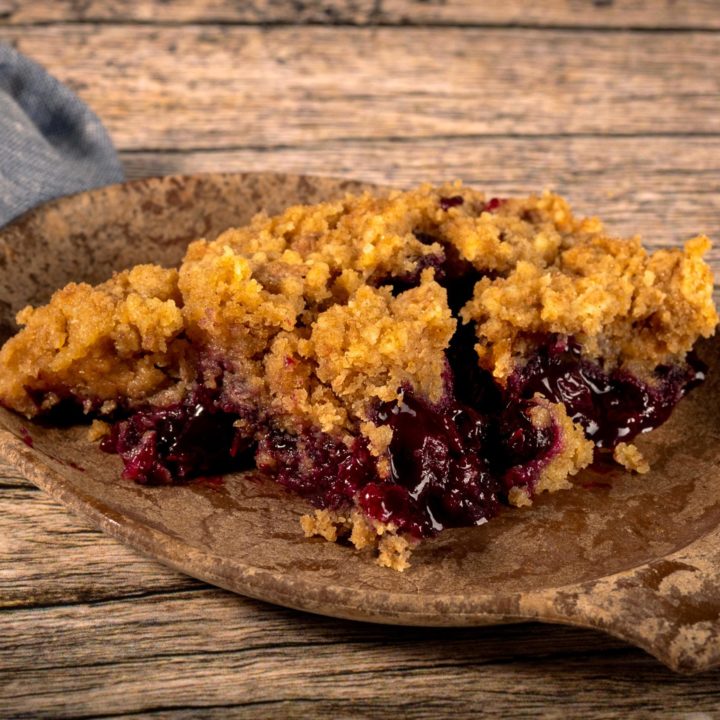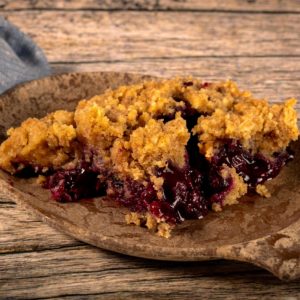 Smoked Blueberry Crisp
Do you like blueberry crisp? Try making this blueberry crisp in your Big Green Egg or Kamado Joe. The charcoal adds just a hint of smokiness. This blueberry crisp is easy to make. I finished mine in a wood fired oven for a few minutes.
Ingredients
Filling
5

cups

blueberries

½

cup

sugar

3

tbs

cornstarch

1

tbs

lemon juice

½

teaspoon

lemon zest

¼

teaspoon

salt
Topping
1

cup

all-purpose flour

½

cup

brown sugar

½

cup

granulated sugar

1

teaspoon

baking powder

½

teaspoon

cinnamon

¼

teaspoon

fine sea salt

1

stick

unsalted butter

frozen
Instructions
Setup the grill for indirect heating at 350°. Cut the butter and place into the freezer for at least 30 minutes. Rinse the blueberries and add to a medium bowl.

Add the sugar, cornstarch, salt and lemon juice and lemon zest. Stir to coat. Transfer to an 8" cast iron dutch oven or baking dish and set aside.

In a small bowl, whisk together the flour, brown sugar, baking powder, cinnamon and salt. Grate the frozen butter on a cheese grater and add to the bowl.

Using a pastry cutter, incorporate the butter into the mixture. Work until the largest clumps of remaining butter are about ¼" wide. Sprinkle the topping over the blueberries.

Bake at 350 degrees for about 40-45 minutes until the top is golden brown. Note: This can also be done in a conventional oven.
Nutrition
Serving:
8
oz
Calories:
330
kcal
Carbohydrates:
56
g
Protein:
2
g
Fat:
12
g
Saturated Fat:
7
g
Polyunsaturated Fat:
1
g
Monounsaturated Fat:
3
g
Trans Fat:
1
g
Cholesterol:
30
mg
Sodium:
205
mg
Potassium:
112
mg
Fiber:
3
g
Sugar:
37
g
Vitamin A:
403
IU
Vitamin C:
10
mg
Calcium:
54
mg
Iron:
1
mg