Fresh Cut Fries Cooked in Beef Tallow
French fries double fried in Wagyu beef tallow are AMAZING! These are crazy good.
Double Fried Beef Tallow French Fries
There are a few things that make these beef tallow french fries truly incredible. Double frying them is a big part of that. The fries are soaked in a sugary solution and fried, then allowed to rest a bit. Then they are fried a second time in hot oil with some Wagyu Beef Tallow. The beef tallow imparts a deep and rich taste to the fries that is just unbeatable. This is how some truly famous restaurant chains made their fries. Give these a try.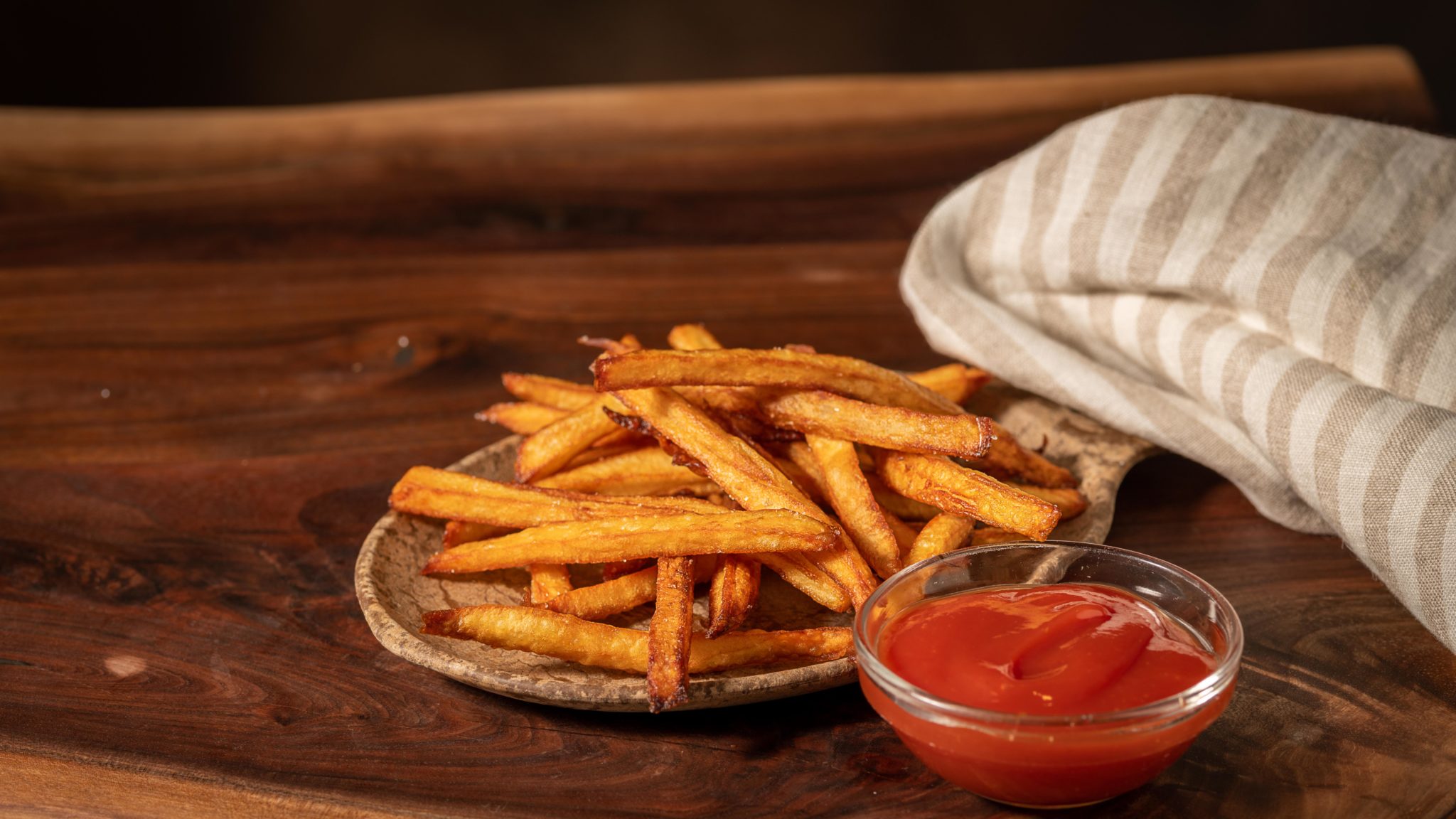 Cut the Potatoes Evenly for Perfect Beef Tallow French Fries
A ¼" cut works great for these fries. They can be cut by hand, but use a mandolin for consistently cut fries. Fries that are all the same width just look better.
Soak the Potatoes
Soaking the cut french fries helps remove some of the starch and makes the fries crispier. The corn syrup and sugar in the mixture help prevents the fries from soaking up oil during the cooking process. Soak them for at least 30 minutes and up to two hours if you can wait that long.
Double Fry the Potatoes
Really great french fries are fried twice. The first fry softens the potatoes and cooks the inside. The second fry browns them and makes them crispy. Double frying is much better than frying just once.
Add Beef Tallow to the Oil Between the First and Second Fry
Add the beef tallow to the hot oil after the first fry will the fries are resting. Be careful, the oil is hot and the beef tallow may splatter. It is fairly easy to find Wagyu beef tallow online.
Some Dishes That Go Well With Fries
Here are some great dishes to try: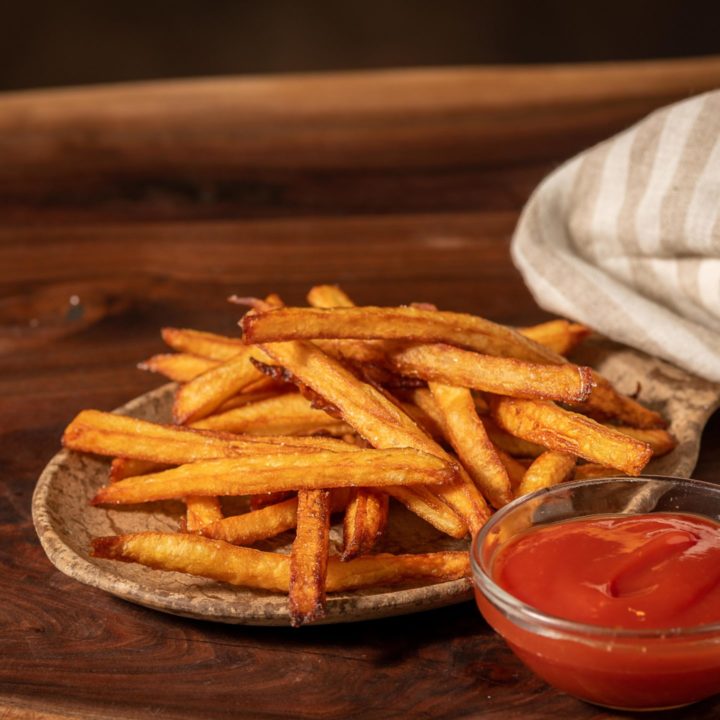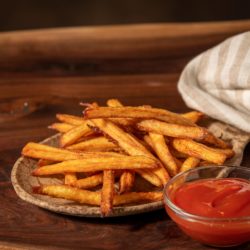 Beef Tallow French Fries - Double Fried in Wagyu Beef Tallow
French fries double fried in Wagyu beef tallow are AMAZING! These are crazy good.
Ingredients
2

russet potatoes

large

⅓

cup

sugar

3

tbs

light corn syrup

2

cups

hot water

6 - 12

cups

canola oil

depending on the size of your fry pot

¼

cup

Wagyu beef tallow per 6 cups of oil

1

teaspoon

Fine sea salt
Instructions
In a large bowl, mix the sugar, corn syrup and hot water until sugar is dissolved.

Peel potatoes and slice ¼" think using mandolin or food processor with a french fry blade.

Place cut potatoes in the sugar water solution and refrigerate for 30 minutes.

Heat oil to 375°. Drain the potatoes and fry for 90 seconds. Remove fries from hot oil, drain on paper towels, and refrigerate for 10 minutes.

Carefully add Wagyu beef tallow to the hot oil. Add partially cooked fries back to the hot oil and cook for 5 - 7 minutes until golden brown. Drain on paper towels and sprinkle with fine sea salt. Bet you can't eat just one.
Nutrition
Serving:
8
oz
Calories:
245
kcal
Carbohydrates:
49
g
Protein:
2
g
Fat:
6
g
Saturated Fat:
1
g
Polyunsaturated Fat:
2
g
Monounsaturated Fat:
4
g
Trans Fat:
1
g
Sodium:
597
mg
Potassium:
445
mg
Fiber:
1
g
Sugar:
30
g
Vitamin A:
1
IU
Vitamin C:
6
mg
Calcium:
17
mg
Iron:
1
mg