Beef Tallow Makes This Wagyu Burger Special
Want to taste an awesome burger? Try grinding your own meat and a Wagyu smash burger cooked in beef tallow.
A Wagyu Smash Burger Journey
I have been on a quest to make the perfect burger at home for many years. It has taken more than a few years to finally make the ultimate Wagyu smash burger. To be fair, I am a bit of a purist. That means I like a good, old fashioned, basic burger. Add some onion, real American cheese, lettuce, tomato and some dressing and I'm good.
I have tried many different cooking methods including grills (both gas and charcoal), a flat top, and even deep frying. I have also tried every kind of ground meat I could find from no-name 80/20 to Wagyu, from brisket to buffalo, I have tried them all. The honest truth is that I was always disappointed, with both the taste and the texture.
Then I saw an episode of Good Eats with Alton Brown where he talked about the virtues of grinding your own meat. I was hooked! I invested in a small commercial grade grinder and I was on my way to burger heaven. Read on for a few tips on making that ultimate burger in your own backyard.
Grind Your Own Meat for the Best Wagyu Smash Burger
The simple step of grinding your own meat will elevate your burger making skills exponentially. There are a few important reasons why.
Food Safety
We have all heard the recommendation that ground meat must be cooked to 160˚ F. That's because commercial ground meat can have impurities like organs, intestines, etc. that can add a whole bunch of nasty bacteria. Food poisoning is no fun. You can avoid that nastiness by grinding specific cuts of meat from a trusted butcher.
No More Well Done
Most cuts of beef can be prepared medium rare with absolutely no health risk. So why not grab one of those, grind it up, and enjoy a juicy burger cooked medium or medium rare? By controlling what goes into your ground meat you can control the temperature that it is cooked to.
Mix Different Cuts of Meat
There is no rule that says you have to stick to one cut of meat for your burgers. Mix it up! I like to use chuck or brisket mixed with a bit of top sirloin. The chuck and brisket bring fat to the party and the top sirloin adds texture and beefy flavor. Also try different grades of meat. The recipe below uses prime top sirloin and Wagyu chuck roast. Yes, it made a difference.
Buy a Decent Grinder
Here is the most important tip, invest in a decent grinder. I have owned several that attached to another appliance, like a mixer, and have been disappointed. They were under powered and poorly designed. The biggest problem with many of these low end attachments is the area where the shaft that pushes the meat goes through the grinding plate. I once used my grinding attachment to grind cheese for a salad and noticed gray crud all around the shaft as it exited the grinding plated. After doing some research, I discovered that the gray crud was actually little bits of metal mixed in with the cheese. Yuck! I never noticed it when grinding meat because the meat was red and the gray was hidden. But it was there!
I found the smallest commercial grade grinder that I could find at on online restaurant supply company for a few hundred bucks. It's does a great job, is easy to clean, and there is no gray crud.
Cool it Down and Grind it Twice
Meat that is nearly frozen is a lot easier to grind than meat just out of the refrigerator. After cutting the meat into cubes, put in in the freezer for about 25 minutes. Also put the business end of the grinder (not the motor) into the freezer. It will be much easier to grind and will be less likely to clog the grinder.
Have at least two grinding plates for your grinder. Grind the meat once at ¼" then grind it again with a slightly smaller plate. All butchers do this for meat they grind in house because it improves the texture and consistency of the ground meat.
Clean the Grinder
Take the grinder apart and clean it well with hot soapy water. A large bottle brush is particularly helpful for cleaning the inside of the grinder attachment. Be careful, many grinder attachments are made of aluminum and cannot go in the dishwasher, unless you want to ruin it.
Try Different Cooking Methods
I have always been a big fan of burgers grilled over charcoal. I like the flavor that charcoal provides. However, different cuts and grades of meat deserve a different approach. Wagyu beef has a high fat content and it would be a huge waste to throw it on a charcoal grill. All that fat is going to end up causing a flare up and will leave a dried out burger. Wagyu makes a better burger when cooked on a flat top. All that fat helps sear the meat and create a wonderfully juicy burger. Try adding a few tablespoons of Wagyu beef tallow to the cooktop to take it up another notch.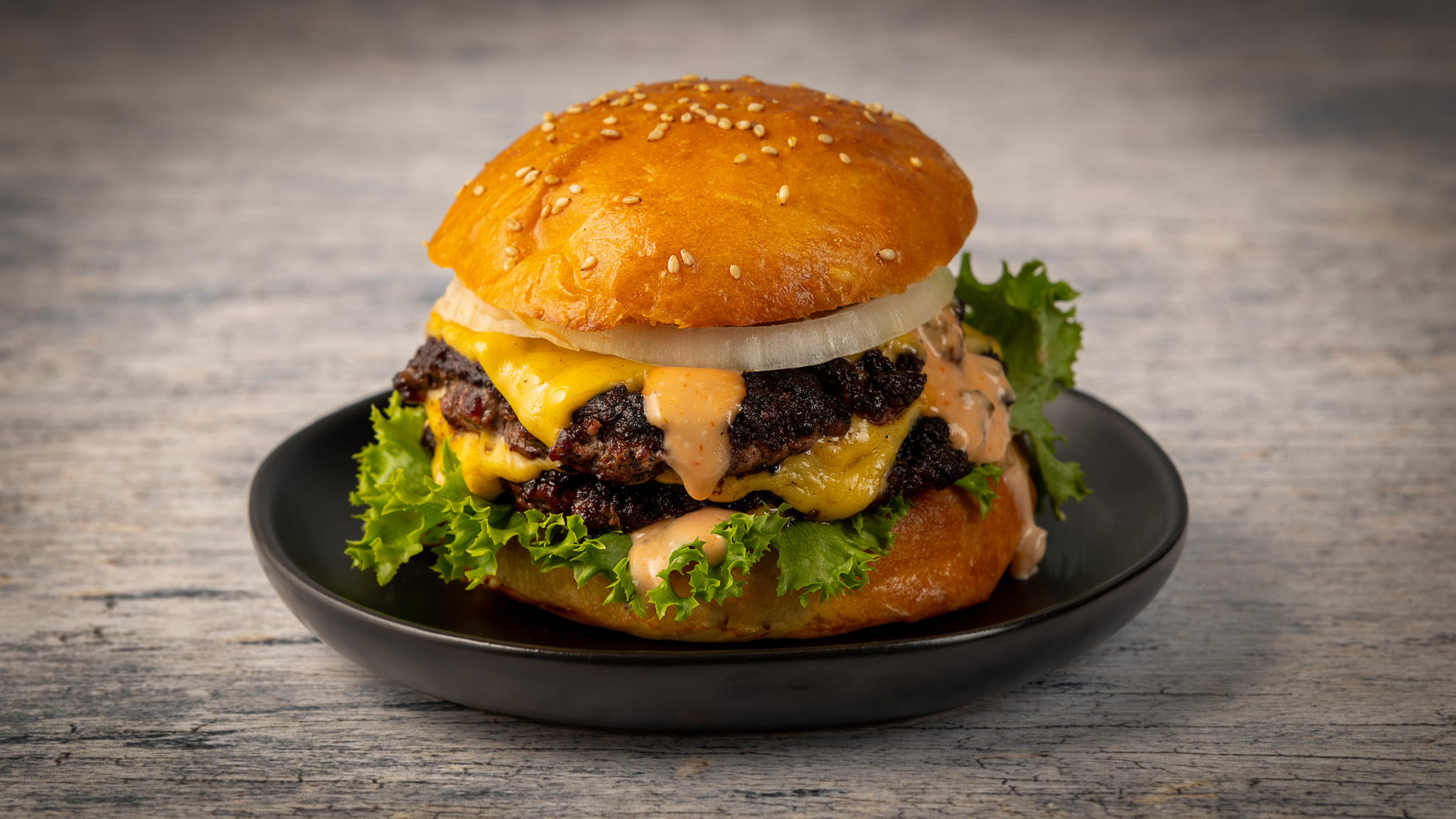 Favorite Side Dishes to Go With a Wagyu Smash Burger
Some of our favorite side dishes to serve with the smoked hot wings are: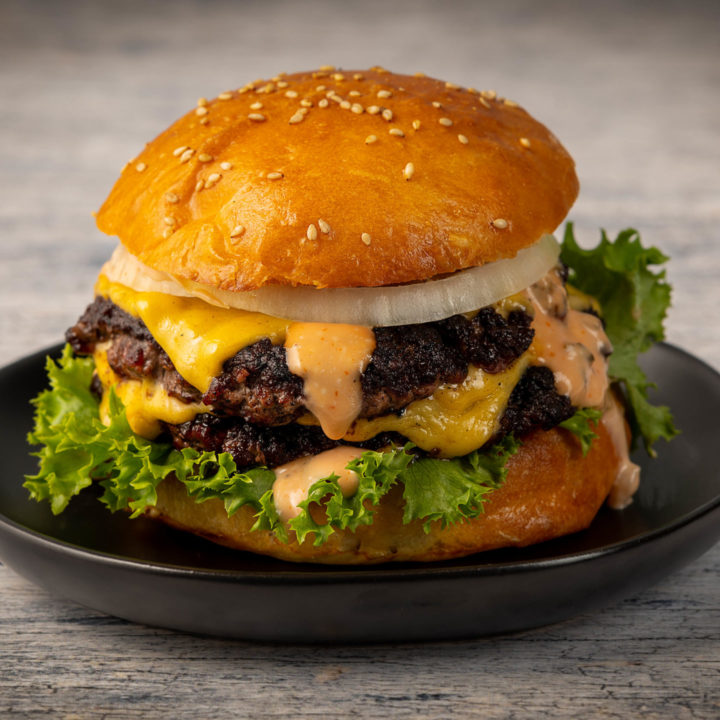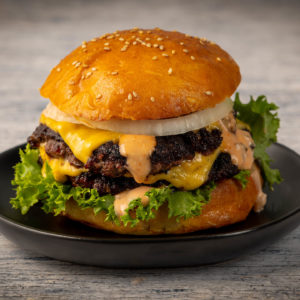 Wagyu Smash Burger Cooked in Beef Tallow
If you like a good burger, take it up a notch and grind your own meat. Try making a Wagyu smash burger cooked in beef tallow.
Ingredients
1.5

lb

Wagyu chuck roast

.5

lb

Prime top sirloin

2

tbs

Wagyu beef tallow
Instructions
Cut the chuck roast and top sirloin into 2" pieces. Place the meat in a freezer bag (single layer) and freeze for 30 minutes.

Mix up the meat and grind in a meat ground using a ⅜" plate. Change to a ¼' plate and regrind the meat.

Form 5 oz balls of meat and press with a burger press on parchment paper.

Place on a hot griddle coated with a tablespoon or two of Wagyu beef tallow. Sear on both sides and serve.
Nutrition
Calories:
252
kcal
Protein:
30
g
Fat:
14
g
Saturated Fat:
6
g
Polyunsaturated Fat:
1
g
Monounsaturated Fat:
7
g
Trans Fat:
1
g
Cholesterol:
101
mg
Sodium:
113
mg
Potassium:
511
mg
Vitamin A:
15
IU
Calcium:
28
mg
Iron:
3
mg