Carne Asada Marinated and Grilled
Grilled carne asada is one of those dishes that is easy to make and so satisfying. Make a batch of homemade corn tortillas to go with it.
Grilled Carne Asada: Skirt Steak vs. Flank Steak
It seems like there are a lot of recipes for grilled carne asada that use skirt steak and flank steak interchangeably. Heck, there are a lot of Mexican restaurants that use these cuts of meat interchangeably. So which one is correct?
The answer is that it depends, in part, on your personal preference. Do you prefer a thicker, steak-like piece of meat for your carne asada that comes from a flank steak, or do you prefer the much thinner cut that comes from skirt steak? The other variable is what you can find in your market or butcher shop. Flank steak seems to be more readily available in my market.
The preparation of flank steak and skirt steak can be the same, but the cook times are very different.
Marinate the Meat
Let's face it, flank steak can be as tough as an old shoe if it is not prepared properly. The first step to ensure a tender flank steak is to marinate the meat. The marinade will help break down some of the tough fibers and add a ton of flavor at the same time. Mix up the marinade ingredients in a blender and pour it over the flank steak.
The second step to ensure a tender flank steak is cutting it across the grain and on the bias, but more on that later. Give this six hours in the refrigerator resting in the marinade.
Grill the Meat
Take the marinated flank steak out of the refrigerator, transfer it to a plate, and let it warm up for about 45 minutes before grilling. Otherwise, the outside will char and the inside will be cold and raw. Why transfer it to a plate? Well, whatever dish the flank steak was marinating in is about 34˚ F when it comes out of the refrigerator. It just makes sense to move the flank steak to a plate that is already room temperature to speed up the process just a bit.
Setup your grill for medium heat and grill the flank steak for 3 - 4 minutes per sides. Check the internal temperature with a meat thermometer. For skirt steak, grill for about one minute per side.
Cut on the Bias
Flank steak has long fibers that run lengthwise. If flank steak is cut lengthwise, well, save your jaw and just throw it out. It will be tough as nails.
For a tender flank steak, those fibers have to be cut as short as possible. Slice it across the grain in slices no more than ¼" thick. To make it even more tender, cut it across the grain AND on the bias. What does that mean? Hold the knife at a 45˚ angle (to the floor) as you cut across the grain.
That's how to make some tasty and tender grilled carne asada. Don't forget the homemade tortillas.
Some Similar Dishes
Here are some similar dishes to try: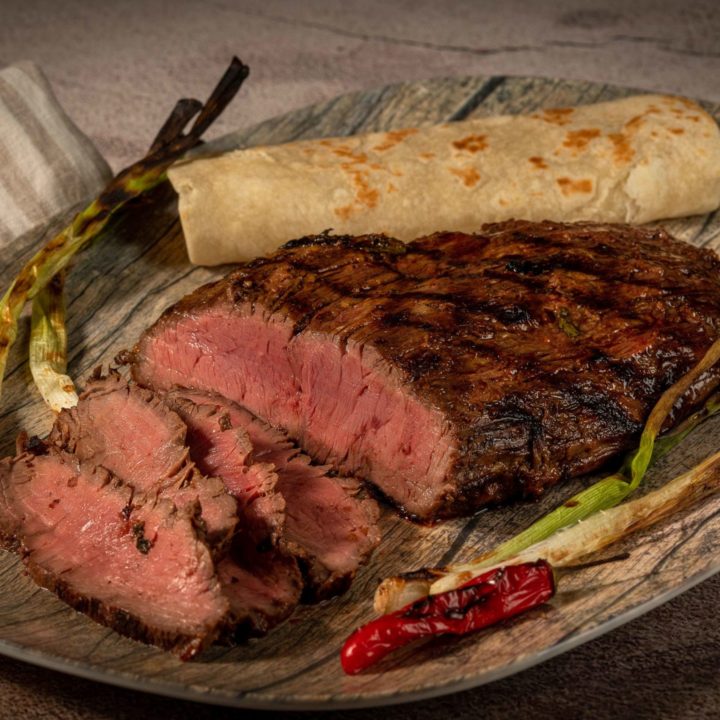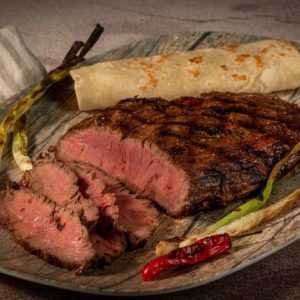 Grilled Carne Asada
Do you love carne asada? This easy-to-make carne asada recipe is worth trying. It's simple and tasty.
Ingredients
1

flank steak

fat trimmed

½

red onion

rough chopped

2

Jalapeno peppers

rough chopped

5

cloves

garlic

peeled

2

adobo chili peppers

from a can with adobo sauce

¾

cup

olive oil

½

cup

orange juice

1

lime

juiced

2

teaspoon

kosher salt

2

teaspoon

freshly ground black pepper

2

teaspoon

Worcestershire sauce

½

bunch

cilantro

fresh
Instructions
Mix all marinade ingredients in a blender. Pour over the flank steak and refrigerate for 6 hours.

Setup grill for direct heat. Grill to medium, about 3-4 minutes per side.

Remove from heat and cover with foil. Allow flank steak to rest for 10 minutes before cutting across the grain on the bias.

Serve with hot tortillas and grilled green onions.
Nutrition
Calories:
239
kcal
Carbohydrates:
5
g
Protein:
7
g
Fat:
22
g
Saturated Fat:
3
g
Polyunsaturated Fat:
2
g
Monounsaturated Fat:
15
g
Cholesterol:
17
mg
Sodium:
660
mg
Potassium:
184
mg
Fiber:
1
g
Sugar:
2
g
Vitamin A:
298
IU
Vitamin C:
16
mg
Calcium:
21
mg
Iron:
1
mg