Beans are a staple item in Tex-Mex cooking. They are also very prominent with BBQ dishes. Charro beans, also known as frijoles charros, and Mexican cowboy beans are definitely a step up from black beans, refried beans and pork and beans.
Charro beans are pinto beans cooked in a rich broth made with bacon, onions, peppers, tomatoes and spices. The consistency is thin, like a soup. Charro bean are similar to Borracho beans, the difference being that Borracho beans are generally simmered in dark beer. Charro beans are simmered in chicken broth and water.
This version of charro beans is based on an authentic Mexican recipe but has a Texas twist - smoke. The beans are actually cooked in a Dutch oven inside a charcoal grill over indirect heat. The beans pick up a strong hint of smoke from the charcoal that gives them an unbelievable flavor. Smoked charro beans are perfect for grilled carne asada or just about any meat that comes off the grill.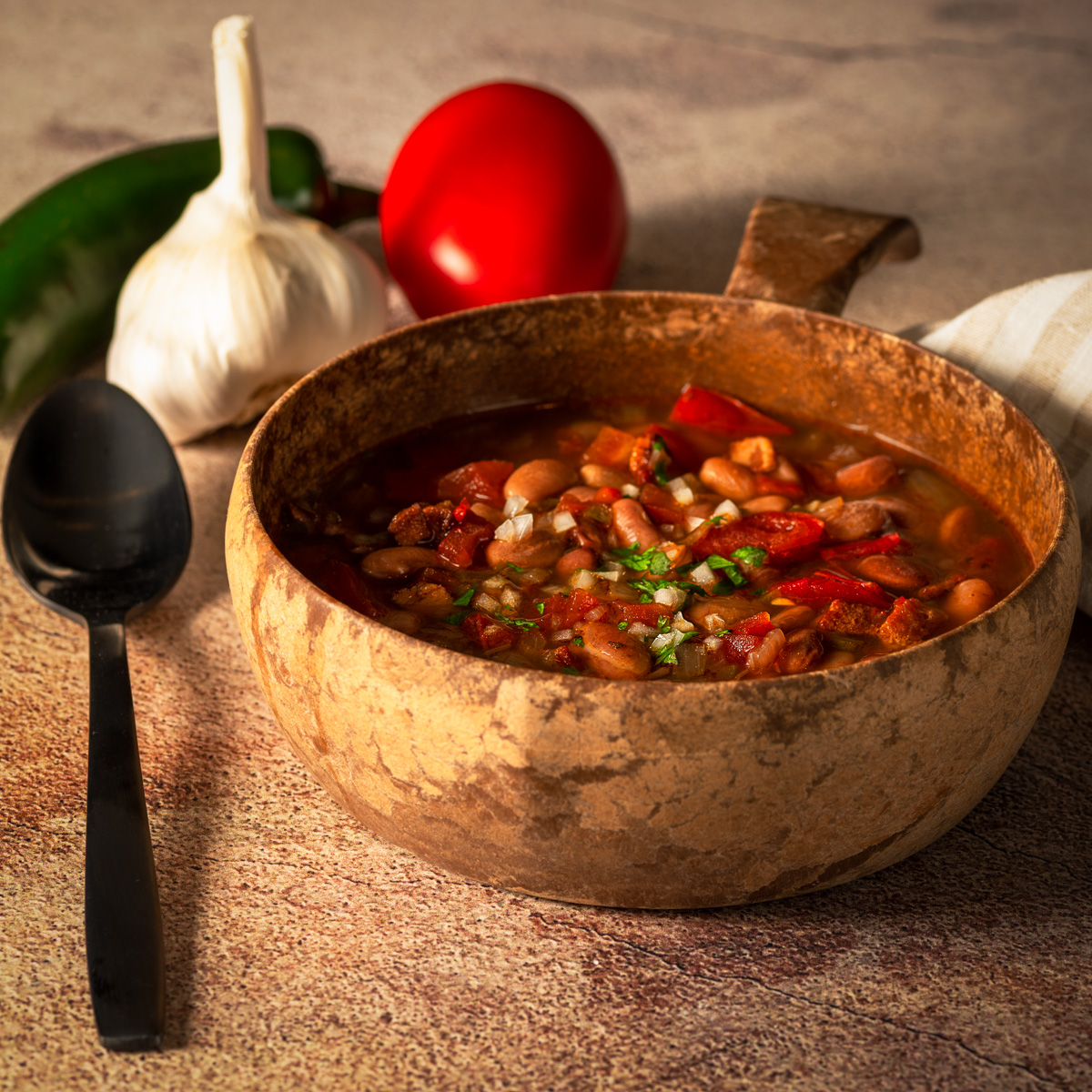 Jump to:
Ingredients
Pinto beans
Bacon
Yellow onion
Jalapeño peppers
Low sodium chicken broth
Water
Tomatoes
Paprika
Chili powder
Cilantro
See recipe card for quantities.
Instructions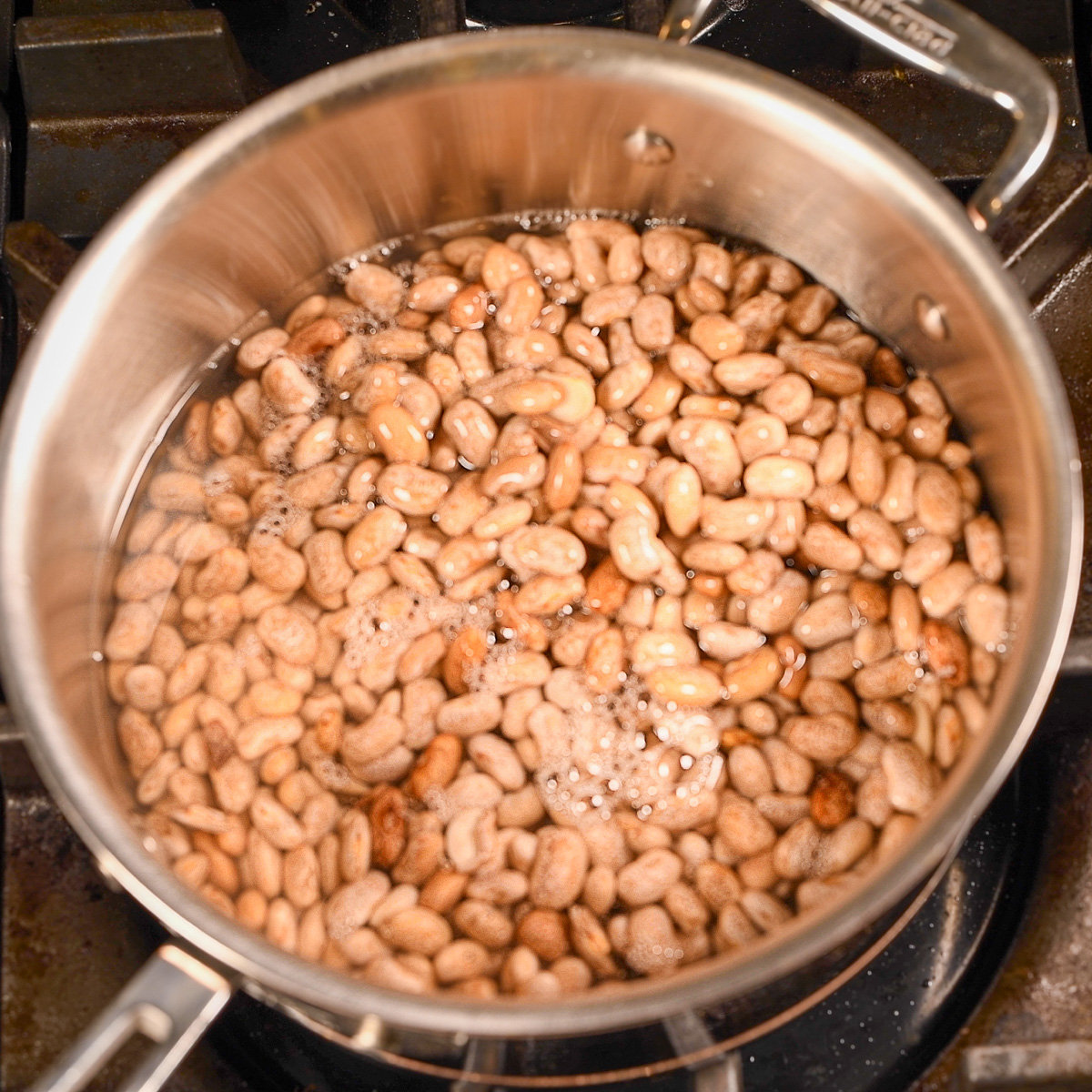 Soak the dry pinto beans overnight.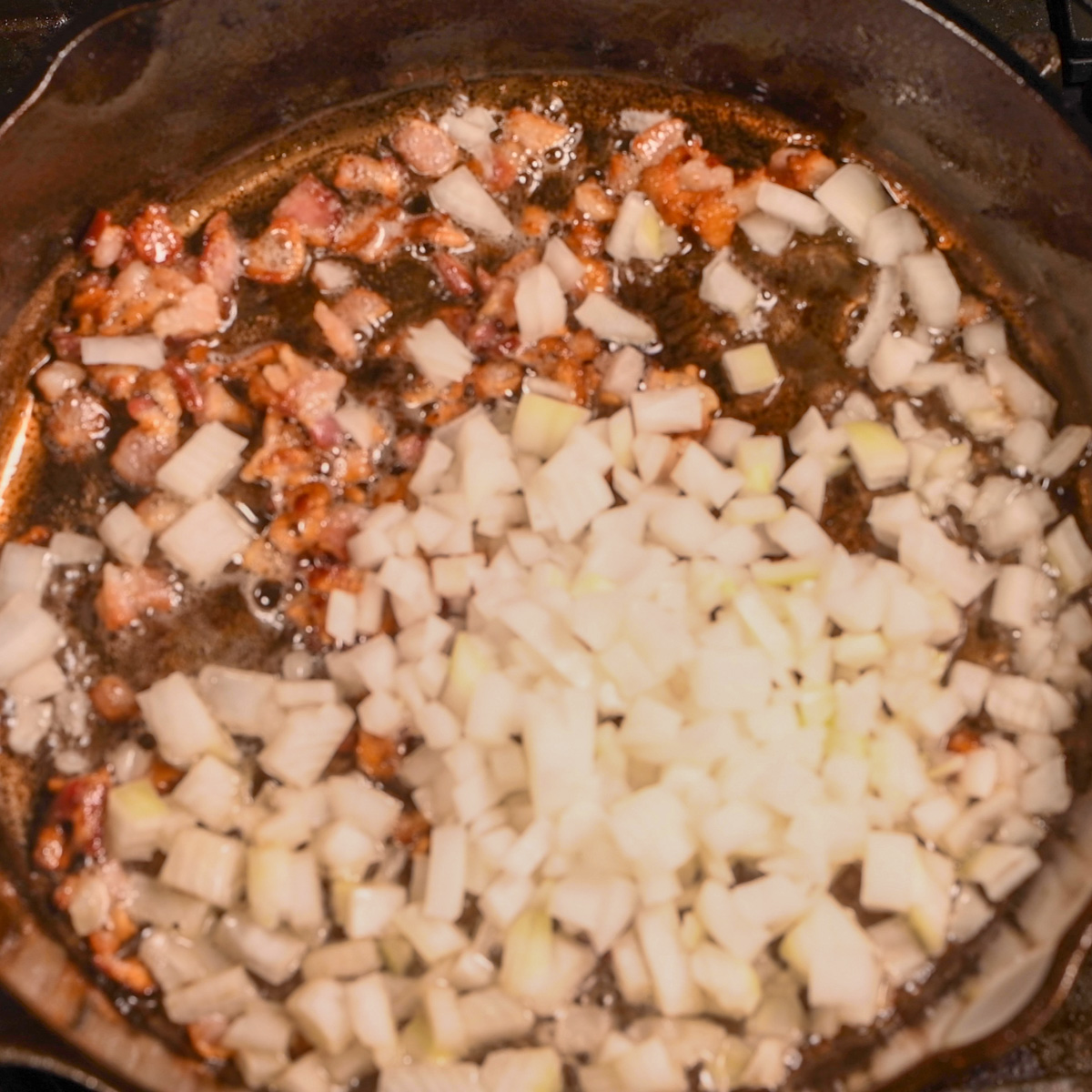 Sauté bacon, onion, diced tomatoes and diced jalapeño in a Dutch oven, then mix with the beans.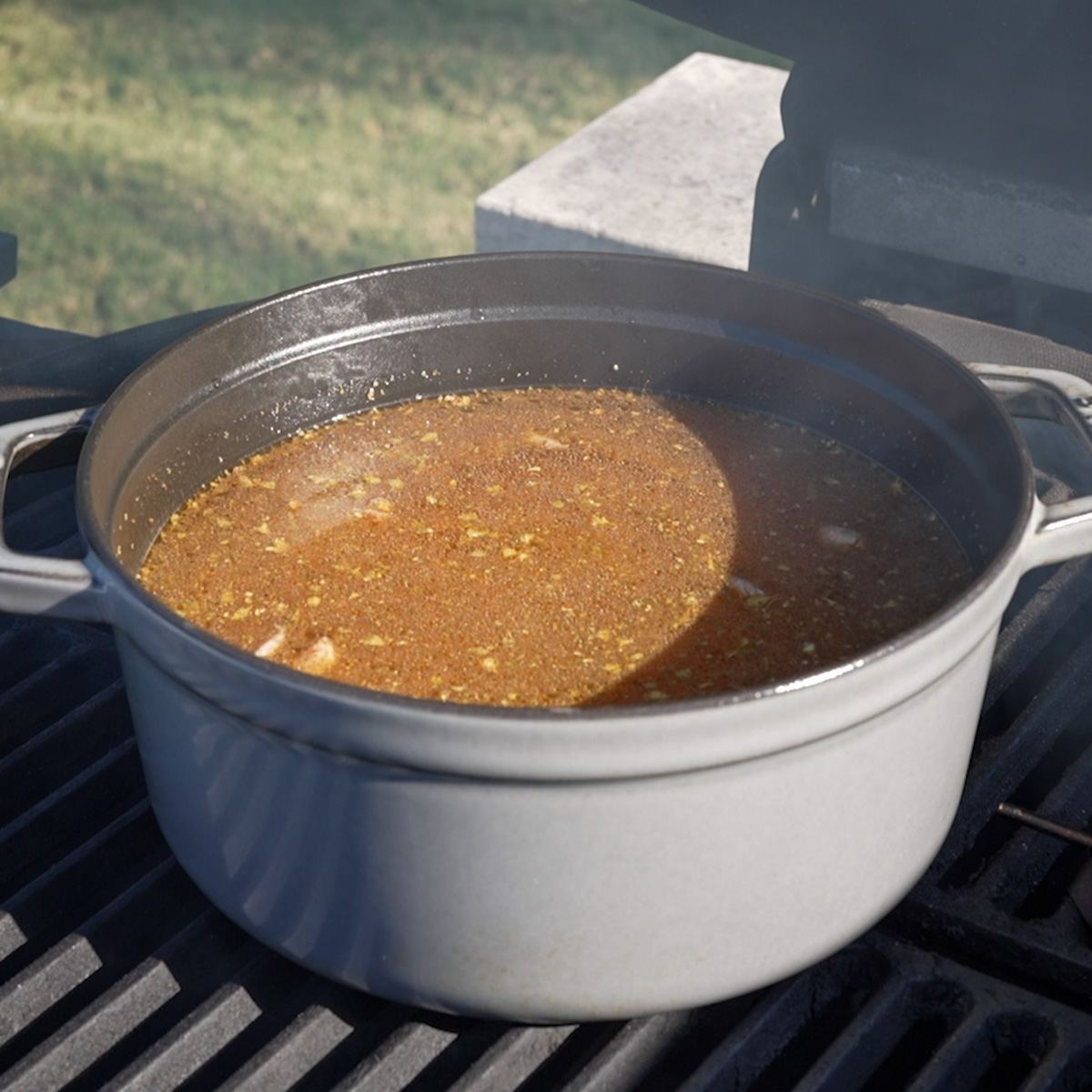 Setup your smoker for indirect heat at 250˚F. Place the Dutch oven in the smoker, uncovered and cook for 3 hours until the beans are tender.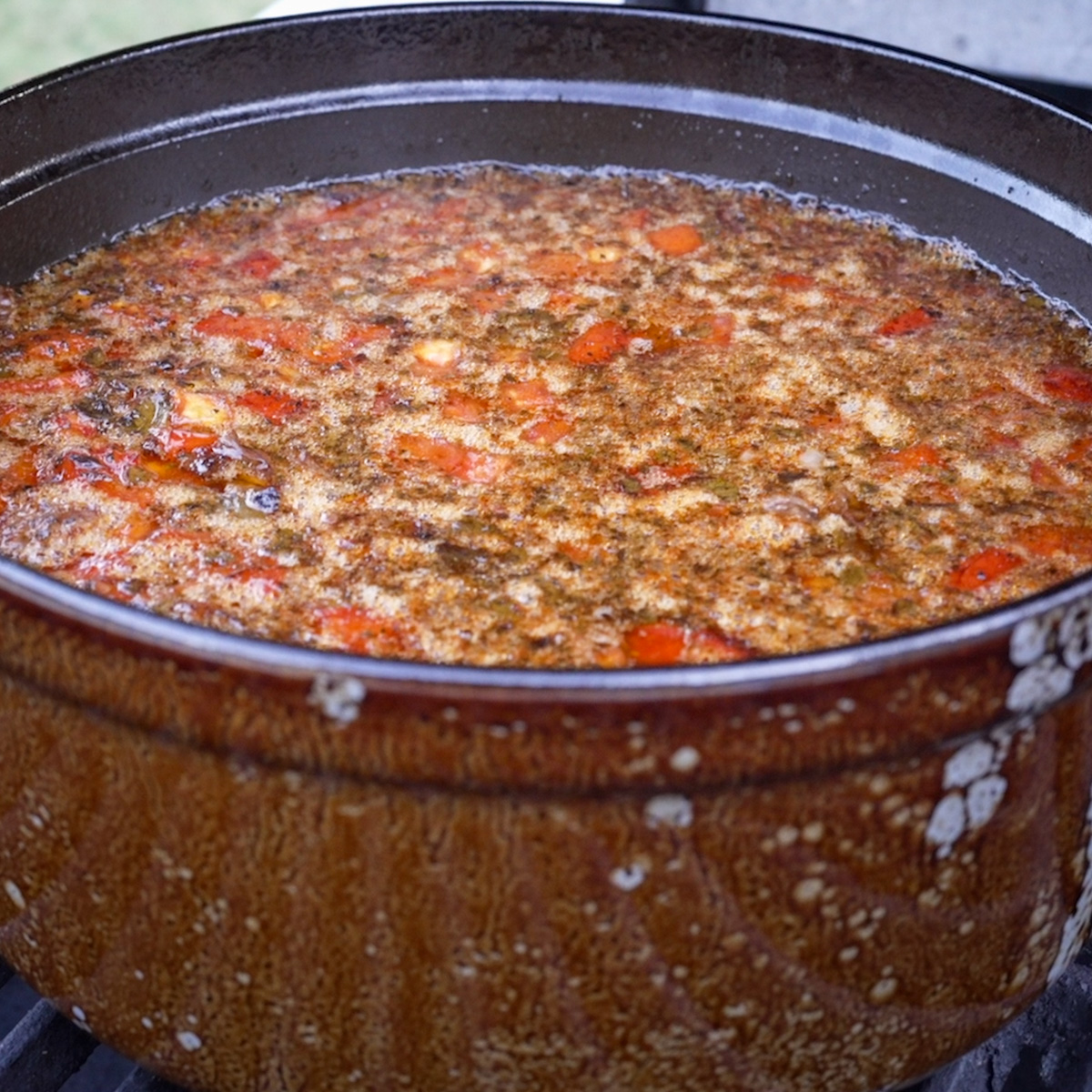 After 3 hours, remove the Dutch oven from the smoker and place it on your range top and simmer for an hour. Look at the outside of the Dutch oven. See that discoloration on the outside? That's smoke!
Substitutions
Both canned pinto beans and dry pinto beans can be used for this recipe. I prefer the dry pinto beans because I think the texture of the charro beans is better than it is with the canned beans. It takes longer, but it's worth it.
Equipment
A 4.5 quart Dutch oven is needed for this recipe. It is just large enough to hold the beans, can handle the heat of the grill and comes clean in the dishwasher.
Storage
Smoked charro beans will store in an airtight container in the refrigerator for up to 3 days.
Top tip
Use lump charcoal or charcoal briquettes only. Do not use wood chips or chunks. The smoky flavor coming from the charcoal is more than enough to make terrific charro beans.
Related
Looking for other great recipes? Try these:
Pairing
These are my favorite dishes to serve with this recipe.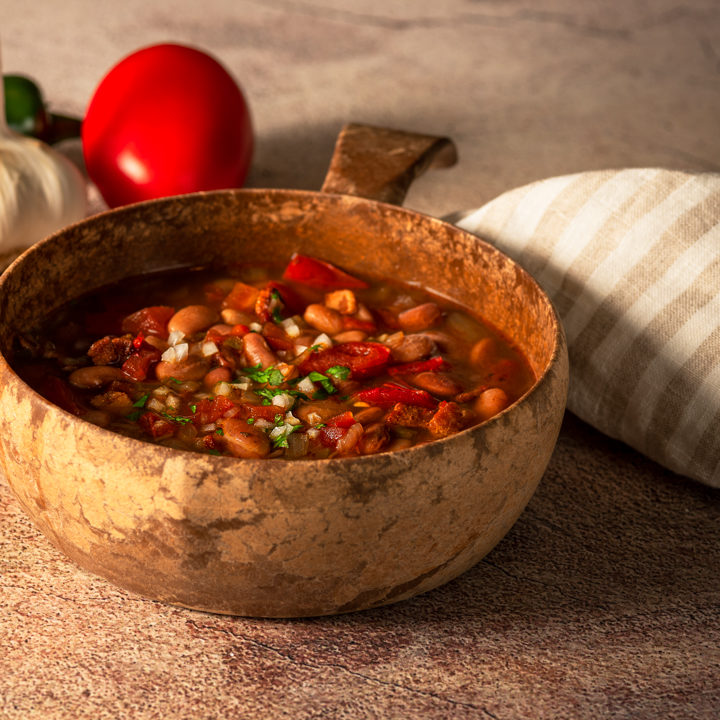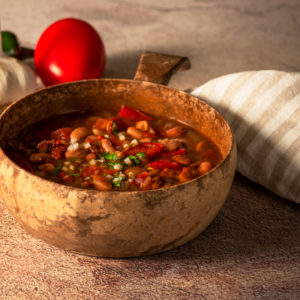 Smoked Charro Beans
Charro beans are a Tex Mex favorite in Austin, TX. This version is over the top with flavor from smoking the beans for about three hours. This is, by far, my favorite way to make beans.
Ingredients
1

lb

pinto beans

dried

6

cups

water

enough to cover the beans

4

slices

bacon

chopped

½

yellow onion

diced,

2

jalapeño peppers

2

cups

low sodium chicken broth

1

cup

water

2

tomatoes

seeded and diced

1 ½

teaspoon

paprika

1

teaspoon

chili powder

3

sprigs

cilantro

2

tbs

yellow onion

diced
Instructions
The Night Before
Cover the beans with water and soak overnight.
The Next Day
Setup your smoker for indirect heat at 250°F. Soak a handful of wood chips (e.g. apple, cherry) in water for 30 minutes.

Sauté the bacon, onion and jalapeño in a Dutch oven until bacon is cooked and the onion has softened.

Drain the pinto beans and add them to the bacon and onion mixture. Add water, chicken stock, tomatoes, paprika and chili powder.

Add soaked wood chips to the smoker. Move the Dutch oven to the smoker and smoke for 3 hours, uncovered. Remove from the smoker.

Simmer on the range top for one hour. Garnish with diced onions and cilantro and serve.
Nutrition
Serving:
6
oz
Calories:
135
kcal
Carbohydrates:
23
g
Protein:
9
g
Fat:
2
g
Saturated Fat:
1
g
Polyunsaturated Fat:
1
g
Monounsaturated Fat:
1
g
Cholesterol:
1
mg
Sodium:
46
mg
Potassium:
442
mg
Fiber:
7
g
Sugar:
1
g
Vitamin A:
263
IU
Vitamin C:
9
mg
Calcium:
52
mg
Iron:
2
mg