Roasted Brussels sprouts with guanciale and onion is a simple but tasty side dish, and it's easy to make.
Brussels sprouts are one of those vegetables that everyone thinks they hate. Most people have just never had Brussels sprouts that tasted like anything. That's where Guanciale saves the day. Roasted Brussels sprouts with Guanciale and a little onion are really quite good.
Preparing Brussels Sprouts With Guanciale
First, remove any discolored leaves and cut 1/8″ off the bottom of the stem. Then, cut the Brussels spouts in half and remove the tough stem by cutting out a small triangle with a pairing knife.
What is Guanciale?
Guanciale is an Italian bacon similar to Pancetta. The difference is that Pancetta comes from pork belly and Guanciale comes from pork jowl.
To cook the Guanciale, cut 1/4 slabs then dice those into 1/4″ pieces. Cook them in a fry pan over low heat. Guanciale has a very low smoke point so turn on the fan and watch it carefully. It's a fine line between done and burned.
How to Cook Brussels Sprouts
Add the Brussels sprout to a cast iron skillet and cover with diced onion. Sprinkle with a little olive oil and they are ready to cook.
These were cooked in a wood-fired oven but could easily be done under a broiler on low heat or an oven at 400˚ F for 12 – 15 minutes. Loose leaves will char a bit and that's OK. Serve them along with the rest of the Brussels sprouts.
Favorite Side Dishes
Some of our other favorite side dishes are: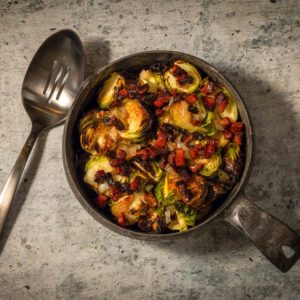 Roasted Brussels Sprouts With Guanciale
If Brussels sprouts are not on your favorite vegetable list, give this recipe a try. It might change your mind. The guanciale, a type of Italian cured bacon, makes all the difference. It has a rich flavor that makes this dish come alive.
Ingredients
4

ounces

Guanciale

diced

1

pound

Brussels sprouts

trimmed, halved and cored

1

yellow onion

chopped

2

tbs

olive oil

Pinch

salt
Instructions
Fry the guanciale in a cast iron skillet over low heat. When crisp, remove the guanciale with a slotted spoon. Do not over cook the guanciale. Wipe out the excess fat from the skillet with paper towels and discard.

Add the Brussels sprouts and onion to the cast iron skillet and drizzle with olive oil. Roast in the oven for 12 – 15 minutes until done. Some of the loose leaves may brown, but that's OK. Top with the cooked guanciale and serve.
Video
Nutrition
Calories:
324
kcal
Carbohydrates:
13
g
Protein:
7
g
Fat:
29
g
Saturated Fat:
9
g
Polyunsaturated Fat:
1
g
Monounsaturated Fat:
5
g
Cholesterol:
30
mg
Sodium:
273
mg
Potassium:
481
mg
Fiber:
5
g
Sugar:
4
g
Vitamin A:
856
IU
Vitamin C:
98
mg
Calcium:
54
mg
Iron:
2
mg