A Stuffed Baked Potato Cooking in a Charcoal Grill
Bake a potato in a smoker, then scoop out the inside and mix it with cheese, sour cream and guanciale then heat it until the filling is hot and delicious.
Prepare the Potato
Smoked, stuffed baked potatoes are easy to make. Prepare the potatoes by poking a few holes in the skin with a fork, then rubbing the skin with a little bit of olive oil and seasoning both sides with salt and freshly ground black pepper. The holes allow steam to escape without tearing the potato.
Smoke the Potato
Set up your smoker for indirect heat at 350°F and place the potatoes directly on the grill. Smoke them fro one hour over charcoal. It's best to cook the potatoes over lump charcoal. No wood chips or chunks are needed for this recipe. The potatoes will absorb plenty of smoke just from the charcoal.
Stuff the Potato
After an hour, remove the potato from the smoker and carefully slice them in half. Scoop out the inside leaving about ¼" of potato in the skin. Mix the scooped out potato with the sour cream, cheese, and guanciale and spoon it back into each potato half. Add some cold grated butter on top.
Guanciale is a wonderful Italian cured meat similar to pancetta. The difference is that guanciale comes from pork jowl whereas pancetta come from pork belly. Cut the guanciale in ¼" cubes and sauté to render the fat before adding it to the potato mixture.
Heat it Up and Serve
Place the potato halves in a shallow disposable pan and place the pan back in the smoker for about 15 minutes until the potatoes are heated through and the cheese has melted. Sprinkle the potatoes with chives and serve.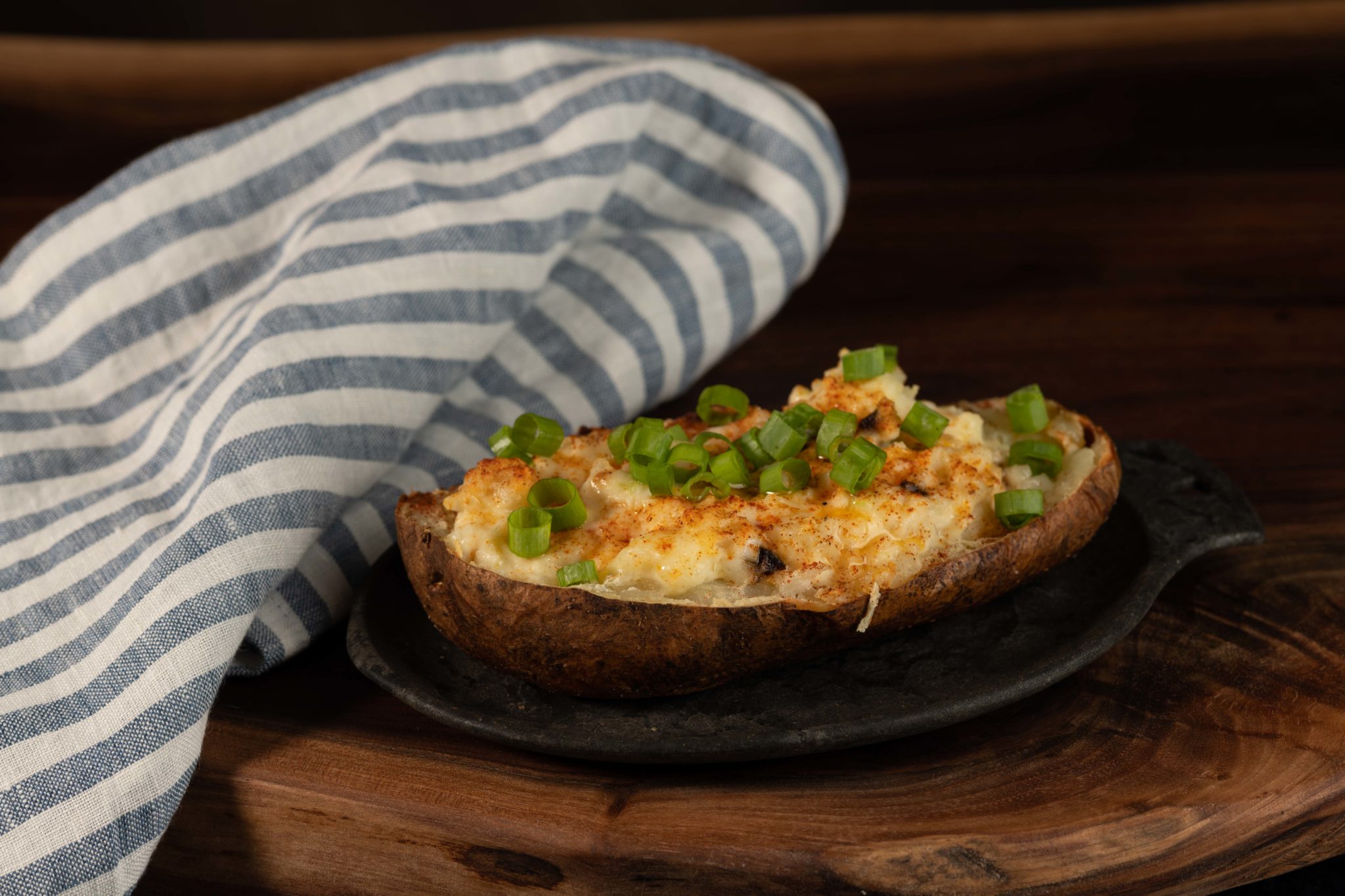 Some Other Great Side Dishes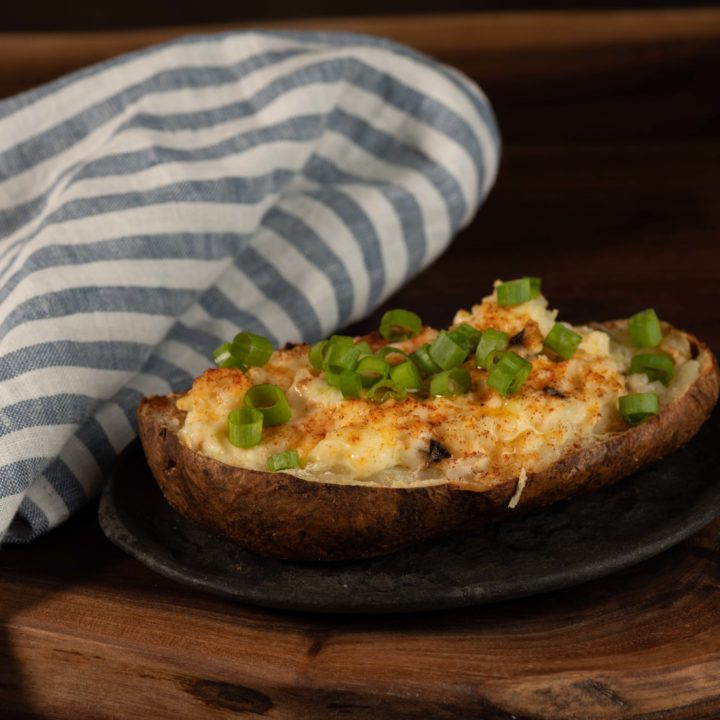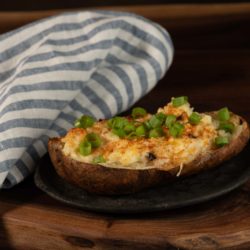 Smoked Stuffed Baked Potatoes
Do you like stuffed baked potatoes? Then try a smoked stuffed baked potato. The potato is first baked in the smoker until done. Then the stuffed potato went back into the smoker until the filling was hot and the cheese was melted.
Ingredients
2

russet potatoes

¾

cup

sour cream

½

Gruyere cheese

¼

cup

butter

4

oz

guanciale

or pancetta, cooked

Olive oil

Chives

Paprika

Salt

Pepper
Instructions
Poke a few holes in the potato with a fork. Rub with olive oil and season with salt and pepper.

Setup your smoker for indirect heat at 350 degrees. Cook the potatoes for an hour.

Remove the potatoes from the smoker, cut them in half and scoop out the insides. Mix the scooped out potato with sour cream, Gruyere, guanciale, salt and pepper. Scoop the mixture back into each potato skin. Season with paprika and add some grated butter on top.

Place back on the smoker for 15 minutes until the filling is hot and cheese has melted. Sprinkle with chives and serve hot. Enjoy.
Nutrition
Serving:
8
oz
Calories:
400
kcal
Carbohydrates:
21
g
Protein:
7
g
Fat:
33
g
Saturated Fat:
14
g
Polyunsaturated Fat:
1
g
Monounsaturated Fat:
4
g
Cholesterol:
55
mg
Sodium:
444
mg
Potassium:
529
mg
Fiber:
1
g
Sugar:
3
g
Vitamin A:
327
IU
Vitamin C:
7
mg
Calcium:
81
mg
Iron:
1
mg