Grilled Cheese Sandwich Cooked Over Charcoal
Have you tried a smoked grilled cheese sandwich? The five cheeses and the subtle smoke from cooking on a BBQ over charcoal give this grilled cheese a real grown-up appeal. Give it a try.
Smoked Grilled Cheese
This is definitely an adult grilled cheese sandwich. The mixture of five cheeses adds a slightly nutty flavor and the thick cut sourdough bread grills nicely and is a bit chewy. Grilling the sandwich on hot grill over charcoal just takes it over the top. The sandwich will pick up a hint of smokiness from the charcoal. You may want to heat up some tomato soup to go with this.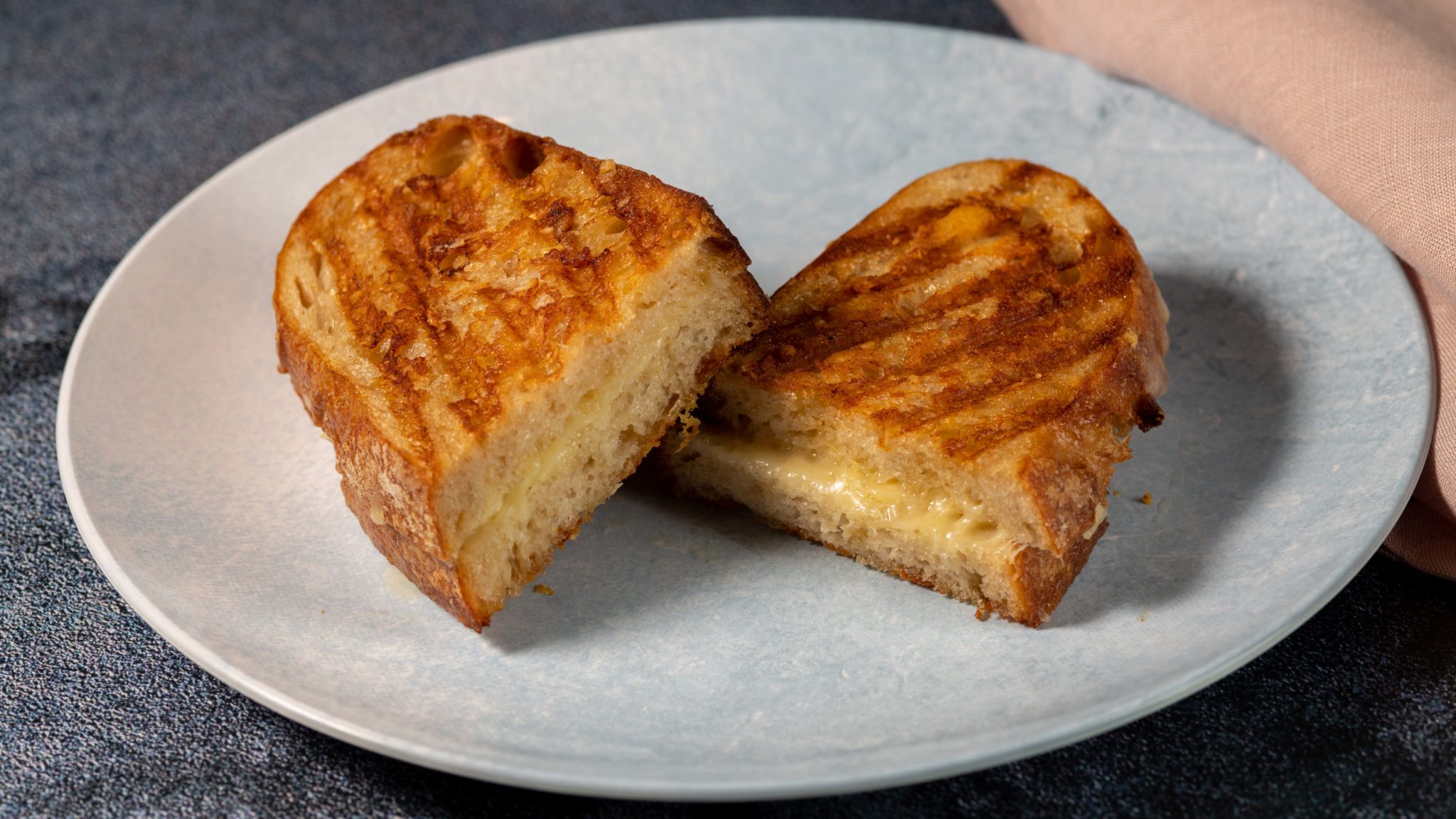 Butter the Bread
Use bread that can stand up to a lot of handling without falling apart. An uncut loaf of fresh sourdough works well. Cut slices about ½" thick.
Butter both sides of each piece of bread, yes, both sides. The butter will help keep the inside of the sandwich moist and will help the outside brown on the hot griddle. Melting the butter makes this a bit easier.
Grate the Cheese
There are five different cheese in this smoked grilled cheese sandwich. Four are inside and one is on the outside. Grating the cheese does two things. It allows the flavors to mix better and it allows the cheese to melt sooner. Remember, this sandwich is going to be cooked over a very hot griddle. The cheese needs to melt by the time the bread is toasted. Grated cheese has much more surface area that sliced cheese. All that extra surface area means more contact with hot air and faster melting.
Add Parmesan to the Outside
Assemble the sandwich and sprinkle finely grated parmesan cheese on the outside of both sides. This sandwich is now ready for smoker.
Put it in The Smoker
Setup your smoker for direct heat using charcoal and place a griddle plate directly on the cooking grates. You want to use a griddle plate for two reasons. First, direct heat on a grill is too much for this sandwich. The outside will burn just very quickly. Second, a griddle plate with raised bars (as shown) will give you some really nice grill marks. Place the grilled cheese sandwich in the center to protect the edges from the heat coming up around the sides.
Cook two to three minutes, flip it over and place a cast iron press on the cooked side, then cook for another two to three minutes. This will keep it warm and help that cheese melt faster. Hint: Place the cast iron press directly on the hot grill for a few minutes to warm it up first. There is not point in putting a cold piece of cast iron on your hot grilled cheese sandwich.
This smoked grilled cheese sandwich is ready to cut and serve.
Some Other Great Comfort Food Recipes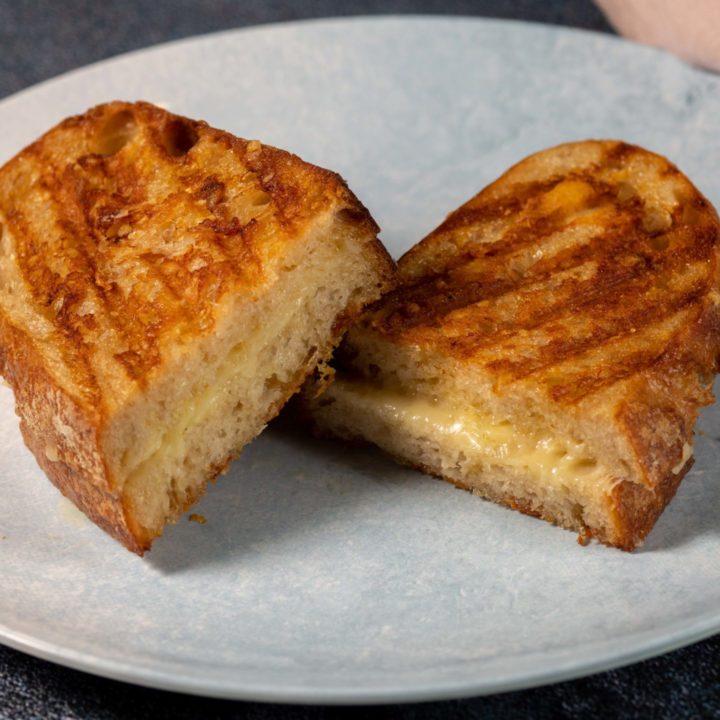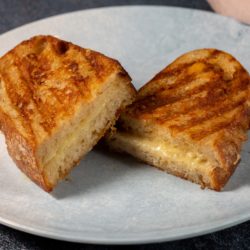 Smoked Grilled Cheese Sandwich
Have you tried a smoked grilled cheese sandwich? The five cheeses and the subtle smoke from cooking on the BBQ give this grilled cheese a real grown-up appeal. Give it a try.
Ingredients
2

slices

fresh sourdough bread

2

oz

Beecher's Flagship

or other white cheddar, grated

1

oz

Gruyere

grated

1

oz

Fontina

grated

1

oz

Asiago

grated

1

teaspoon

Parmesan

finely grated
Instructions
Butter both sides of two pieces of sourdough.

Arrange Beecher's, Gruyere, Fontina and Asiago on one piece of bread. Cover with the second piece.

Sprinkle Parmesan on the outside of the sandwich. Flip and repeat.

Grill on a hot cast iron grate place over direct heat in a charcoal burning barbecue. Alternatively, place over a gas grill and add a few small wood chips for smoke flavor. Cook 2 - 3 minutes each side.

Bet you can't eat just one. Enjoy!
Nutrition
Serving:
8
oz
Calories:
942
kcal
Carbohydrates:
75
g
Protein:
55
g
Fat:
47
g
Saturated Fat:
28
g
Polyunsaturated Fat:
3
g
Monounsaturated Fat:
13
g
Cholesterol:
144
mg
Sodium:
1801
mg
Potassium:
294
mg
Fiber:
3
g
Sugar:
4
g
Vitamin A:
1448
IU
Vitamin C:
1
mg
Calcium:
1256
mg
Iron:
5
mg