Plump, juicy, smoky and crispy. That's the best way to describe these smoked hot wings with a big Texas attitude.
What Makes These Smoke Hot Wings so Good?
There are a couple of things that make these smoked hot wings extraordinary. First they're brined in beer and hot sauce overnight that makes the wings plump and juicy and helps keep them from drying out in the smoker. Second, they are sprinkled with a spicy Texas style rub and smoked low and slow for three hours. Finally, they are finished at 350°F for 30 minutes to make them nice and crispy.
Why Brine Smoke Hot Wings
Brining is often done when cooking a whole turkey or chicken because it helps make a tender and juicy final product. Wings are no different. Soaking the wings in the brine overnight plumps them up a bit and helps them retain that moisture while they cook. Adding the hot sauce to the brain just is another opportunity to impart a lot of flavor.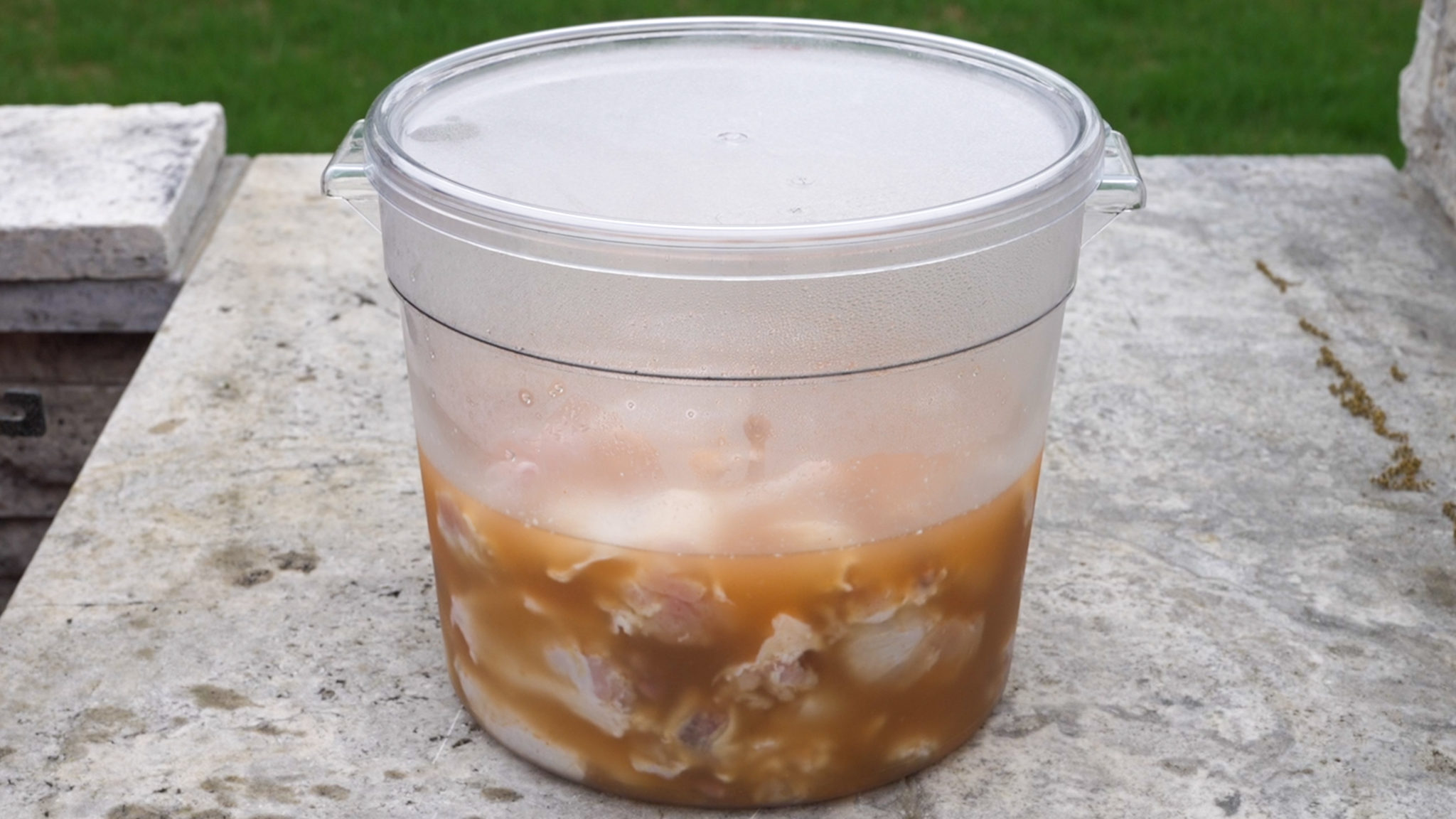 Is the Dry Rub Really Necesary?
Only if you want your wings to taste like something other than plain old chicken. The brine and the mop sauce both add flavor, but the bulk of the flavor comes from the rub. Without it, they just wouldn't be hot wings.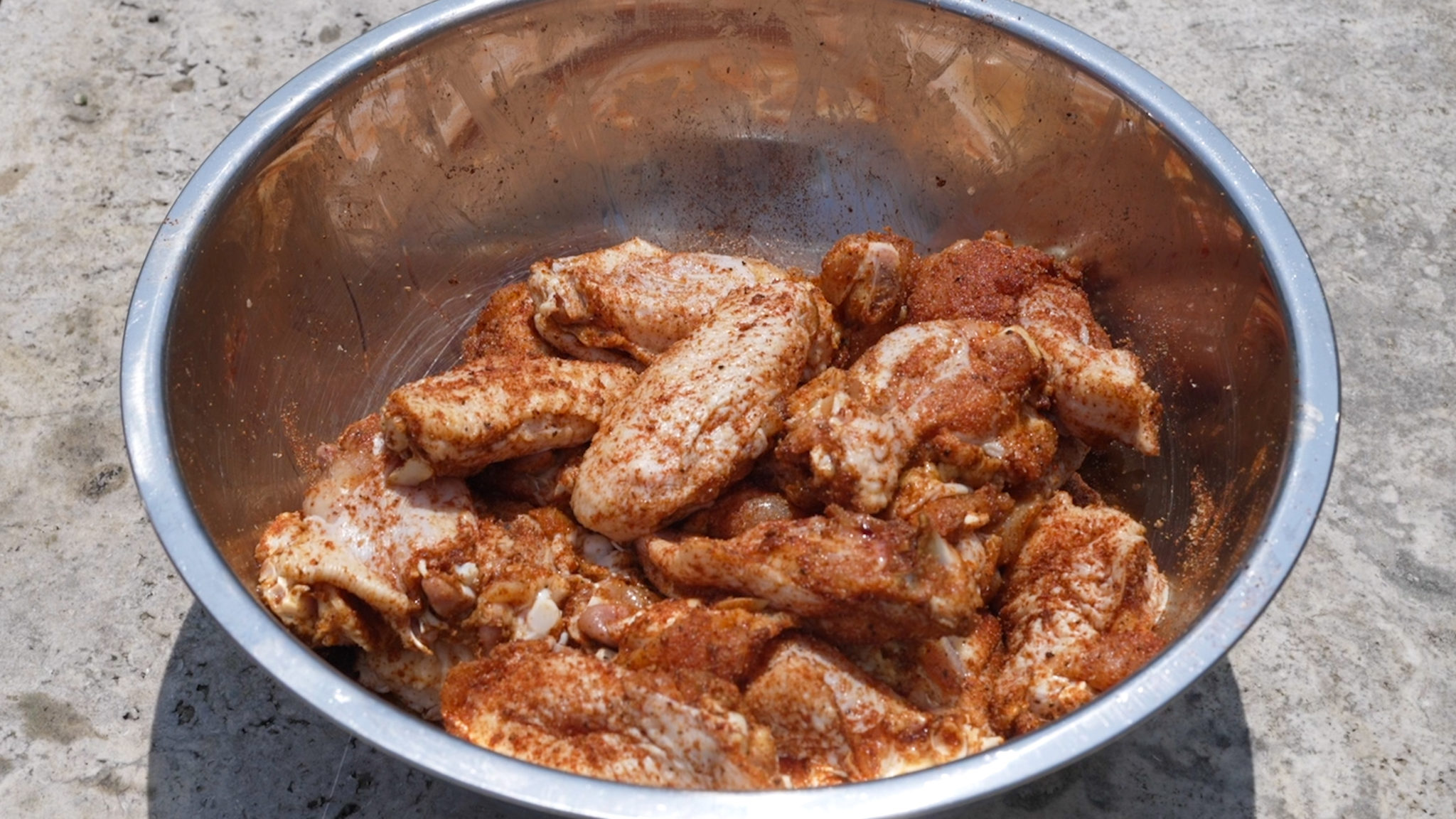 Why Cook With Water Pan in the Smoker?
The inside of a smoker is a harsh environment and very, very dry. Placing a water pan in the smoker helps increase the humidity which helps prevent the wings from drying out.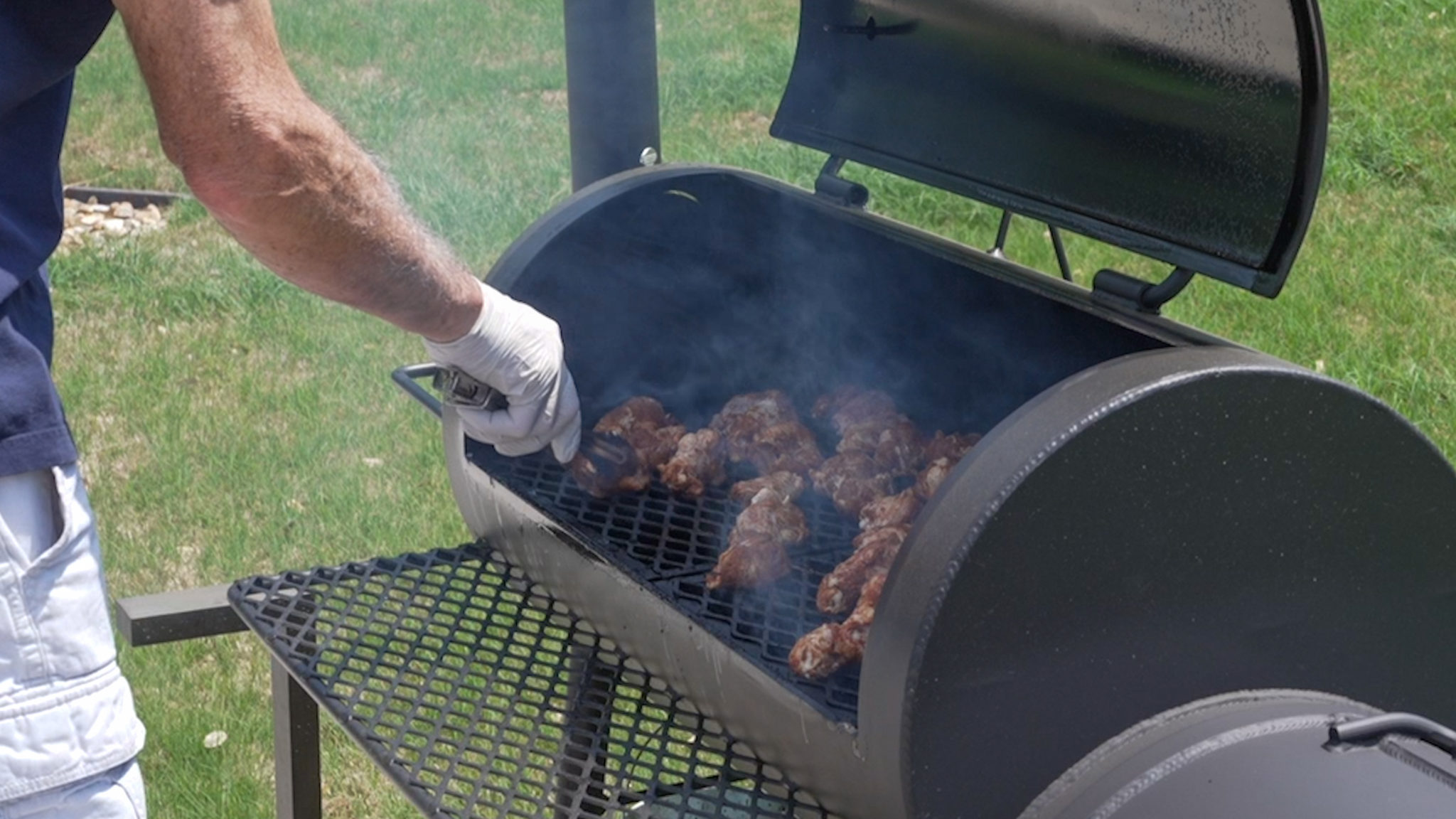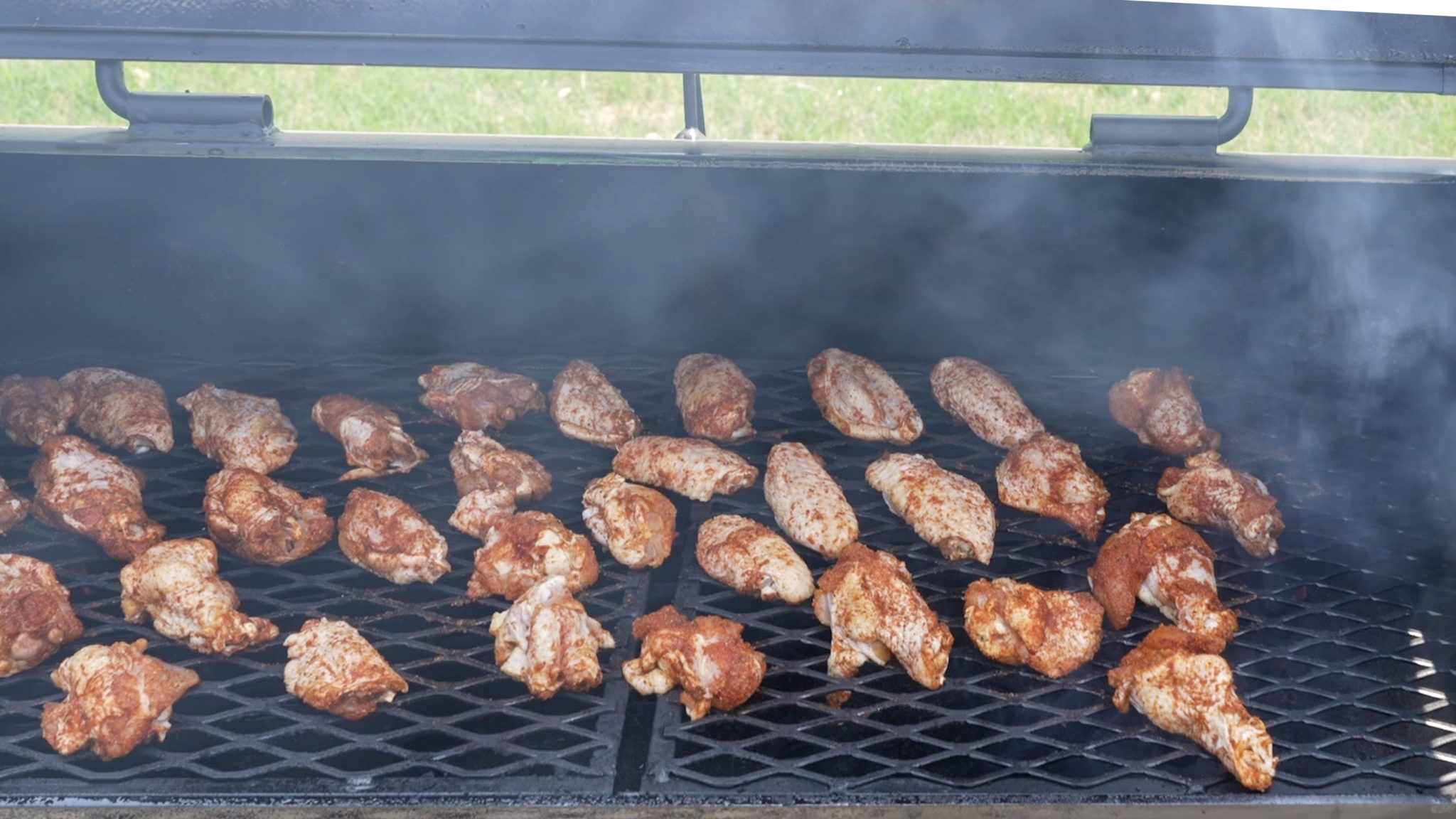 Why Baste the Smoked Hot Wings?
Using a wet mop sauce is an important part of cooking low and slow. Without a mop sauce, whatever you have on the smoker may dry out because a water pan is not enough. Beside, basting with a flavorful mop sauce is one more opportunity to add to the flavor profile, and that's a good thing. When you're cooking something like a pork shoulder, the mop sauce actually helps increase the size of the smoke ring.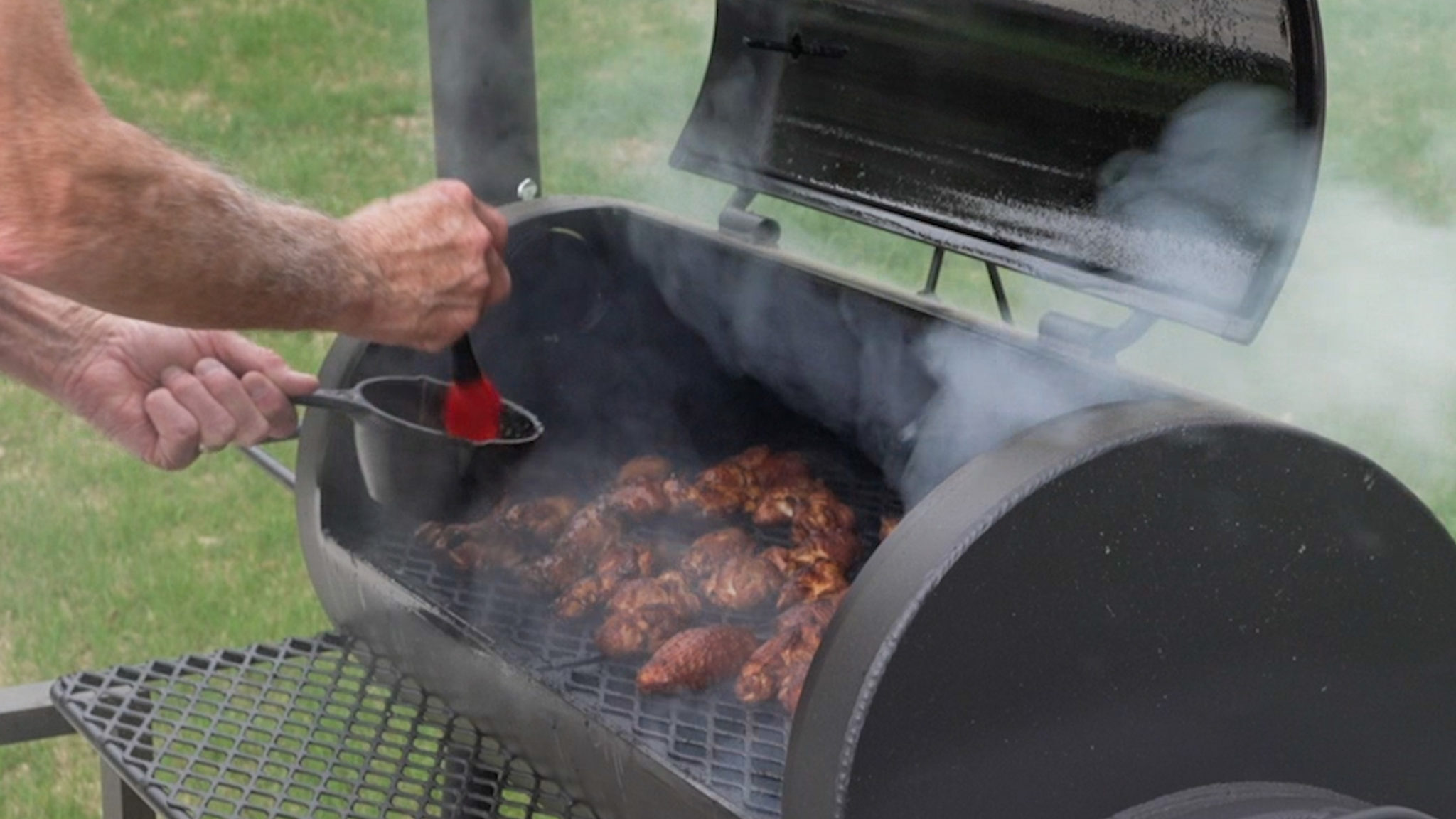 Why the Hot Finish?
Smoking adds flavor, not crispiness. If you like your wings crispy, you need to crank the heat at the end.
Favorite Side Dishes
Some of our favorite side dishes to serve with the smoked hot wings are: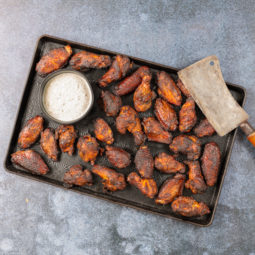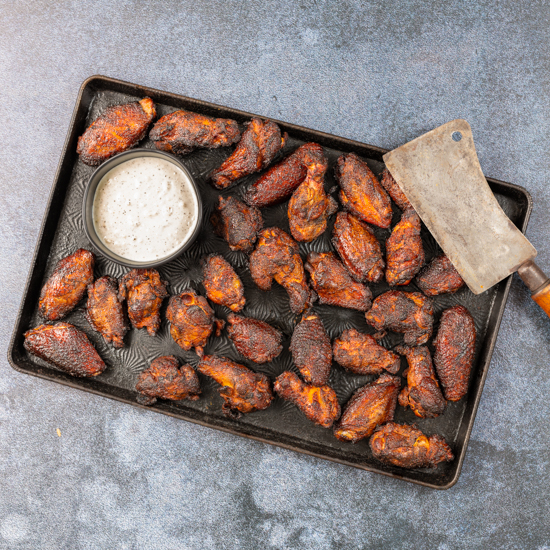 Smoked Hot Wings
Have you ever had smoked hot wings brined in beer and hot sauce? No, then this smoked hot wings recipe is for you. Smoked hot wings are easy to make and taste great. Give them a try!
Ingredients
16

oz

beer

1/4

cup

kosher salt

1/4

cup

granulated sugar

2

tbs

hot sauce

Such as Cholula

3

lbs

chicken wings

3

chunks

apple wood

not soaked

1

tbs

canola oil

3/4

cup

wing rub
Wing Rub
1

tbs

kosher salt

1

tbs

paprika

not smoked

1

tbs

onion powder

1

tsp

garlic powder

1

tsp

ground cumin

1

tsp

freshly ground black pepper

1/2

tsp

cayenne pepper
Mop Sauce
1

stick

butter

salted

1

tsp

garlic powder

1

tbs

tomato paste

1/2

cup

dry white wine

2

tbs

white vinegar

2

tbs

hot sauce

Like Cholula

1

tsp

freshly ground black pepper
Instructions
Wing Rub
Mix wing rub ingredients, stir well.
Hot Wings
Most wings will have three section. Cut off and discard the wing tip, their just isn't enough meat on them to make them worthwhile. Cut through the remaining joint with a sharp chef's knife. Use the heaviest knife you have. Do not use a Japanese knife or you will damage the blade.

Combine the beer, salt, sugar and hot sauce in a bowl. Whisk until the salt and sugar dissolve. Add the chicken wings, cover and chill in the refrigerator overnight.

The next day, prepare your smoker for indirect heat at 225˚ to 250˚ F. Add the apple wood chunks. Place a water pan under the cooking rack. Remove the wings from the brine and discard brine. Rinse the wings under cold water and pat dry. Toss with a bit of canola oil and sprinkle generously with wing rub.

Place the wings on the grill and cook until the internal temperature reaches 175˚ F, about three hours. Rotate and baste the wings every 30 minutes.

Raise the grill temperature to 350˚ F and cook an additional 30 minutes. Remove wings and enjoy with your favorite sauce.
Mop Sauce
Add all ingredients to a small saucepan. Heat over low heat until butter melts. Stir well before basting. Return to a low simmer while wings are cooking.
Video
Nutrition
Serving:
4
wings
Calories:
501
kcal
Carbohydrates:
9
g
Protein:
23
g
Fat:
37
g
Saturated Fat:
15
g
Polyunsaturated Fat:
5
g
Monounsaturated Fat:
13
g
Trans Fat:
1
g
Cholesterol:
135
mg
Sodium:
2572
mg
Potassium:
304
mg
Fiber:
1
g
Sugar:
4
g
Vitamin A:
831
IU
Vitamin C:
10
mg
Calcium:
38
mg
Iron:
2
mg