Delicious, beer braised crispy carnitas are easy to make and will feed a lot of hungry people. Add some warm homemade tortillas and you have a party. This easy carnitas recipe is a crowd pleaser.
Which Cut of Meat to Use?
This particular cut of meat has a bit of an identity crisis and goes by more than one name like Boston butt, pork butt and pork shoulder. Don't let the name fool you they are same thing.
Use a bone-in pork shoulder for pulled pork when the roast is smoked whole. The bone will literally fall out after cooking. Cook a boneless pork shoulder if the meat is going to be cut into cubes before cooking. For carnitas tacos, go boneless. It's just too much work to trim out and remove the bone before cooking.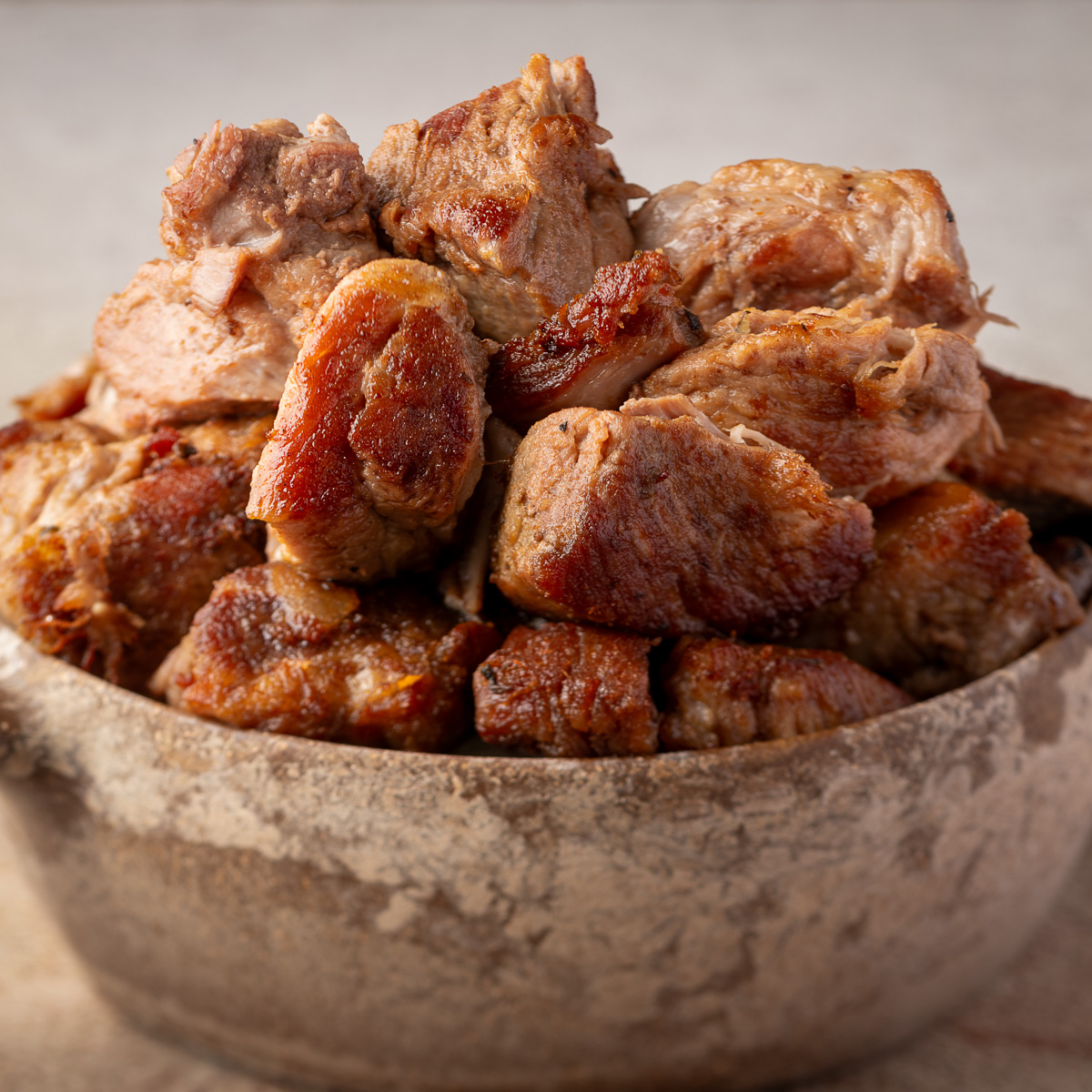 Jump to:
Ingredients
Boneless pork shoulder
Bacon slices, cut in half
Mexican oregano
Cumin
Black pepper
Kosher salt
Red pepper flakes or chopped dried chile de árbol
Dark Mexican beer like Negra Medelo
Water
See recipe card for quantities.
Instructions
Carnitas is easily made in a large Dutch oven by searing the meat first then adding cooking liquid and braising it in oven for 2 hours. After 2 hours, the pork is seared until crispy and then served.
Braise the Pork Shoulder
Trim off some of the big ugly pieces of fat before cutting up the pork shoulder.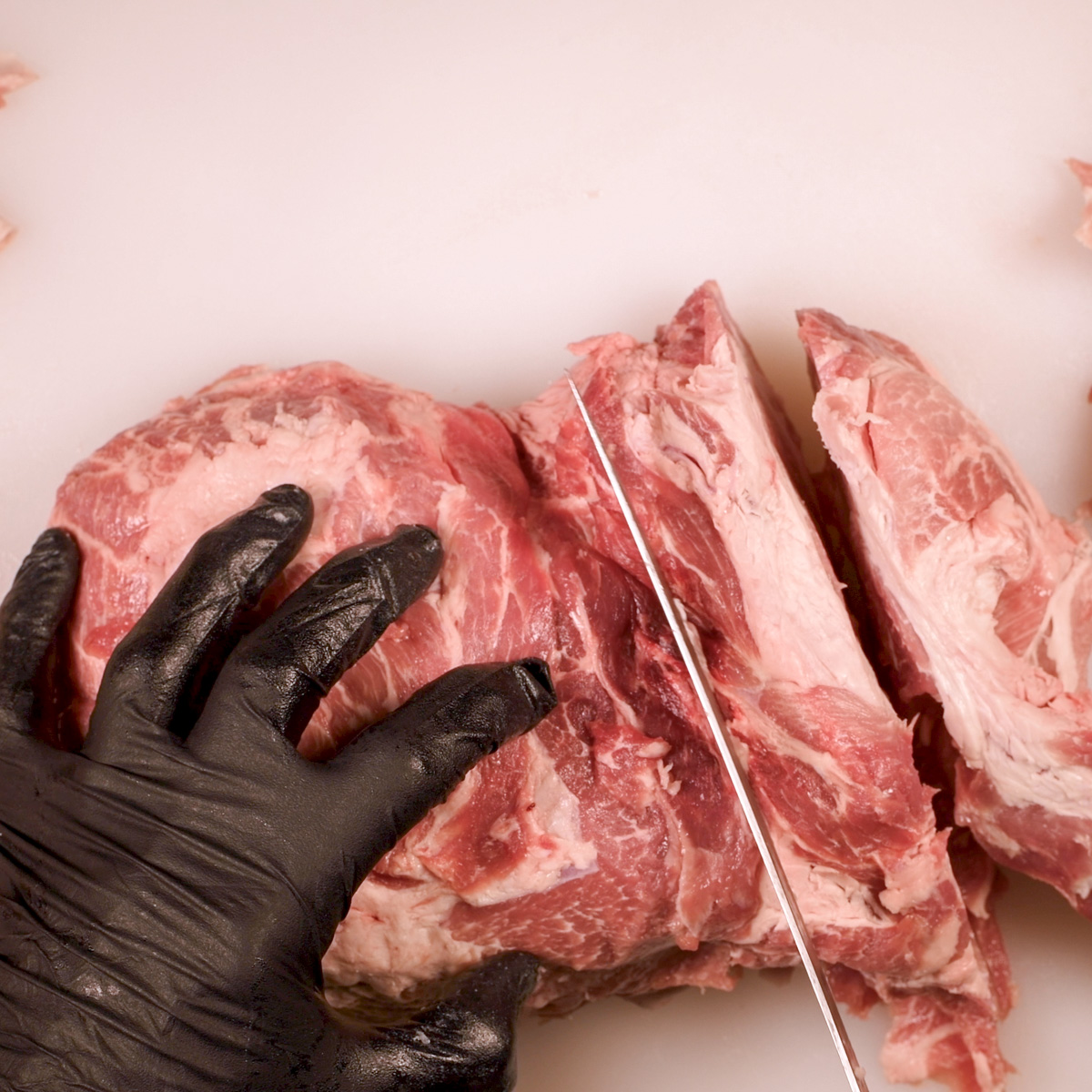 Cut the boneless pork shoulder into large chunks, about 1" - 2" pieces.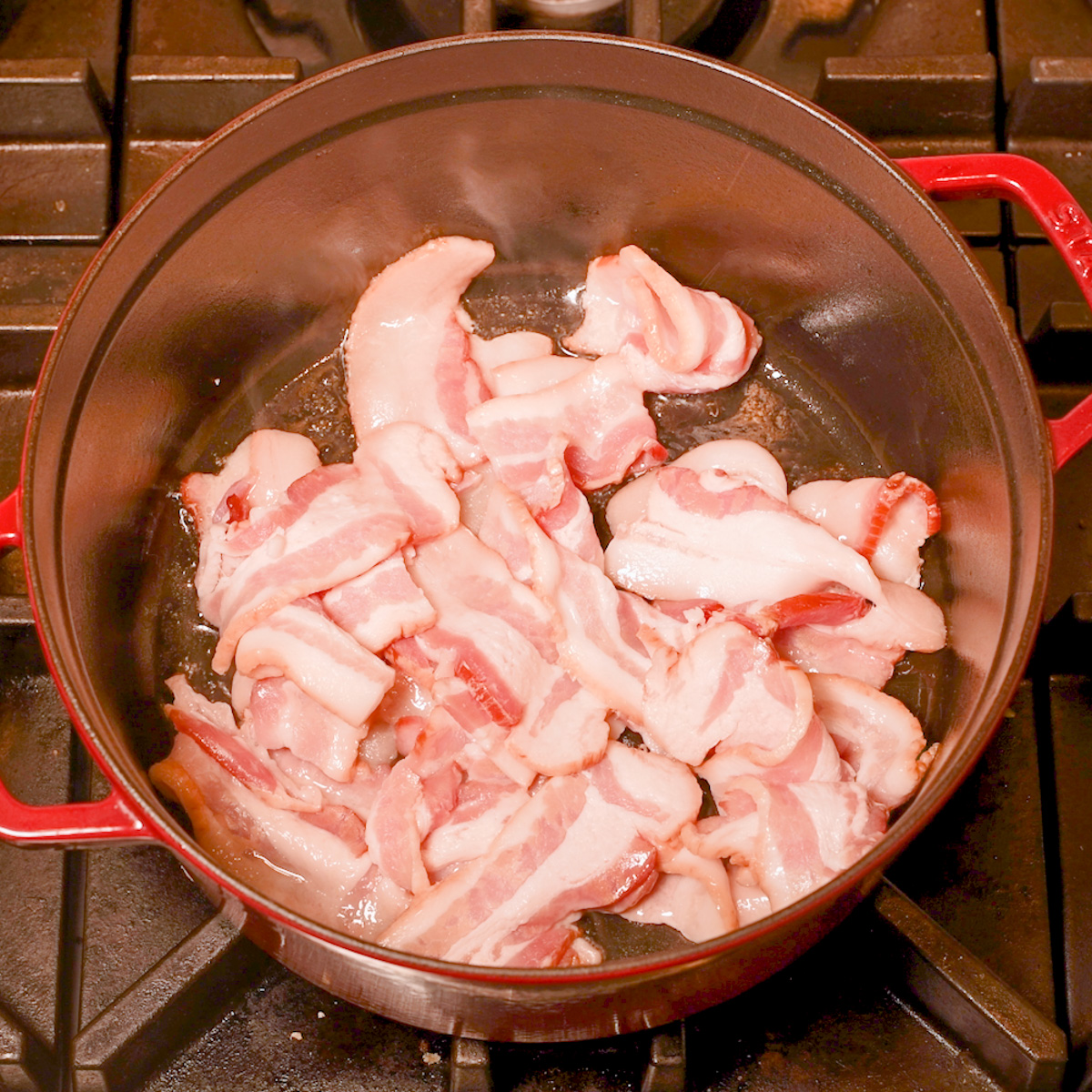 Cook the bacon in a 6 qt Dutch oven for 5 minutes.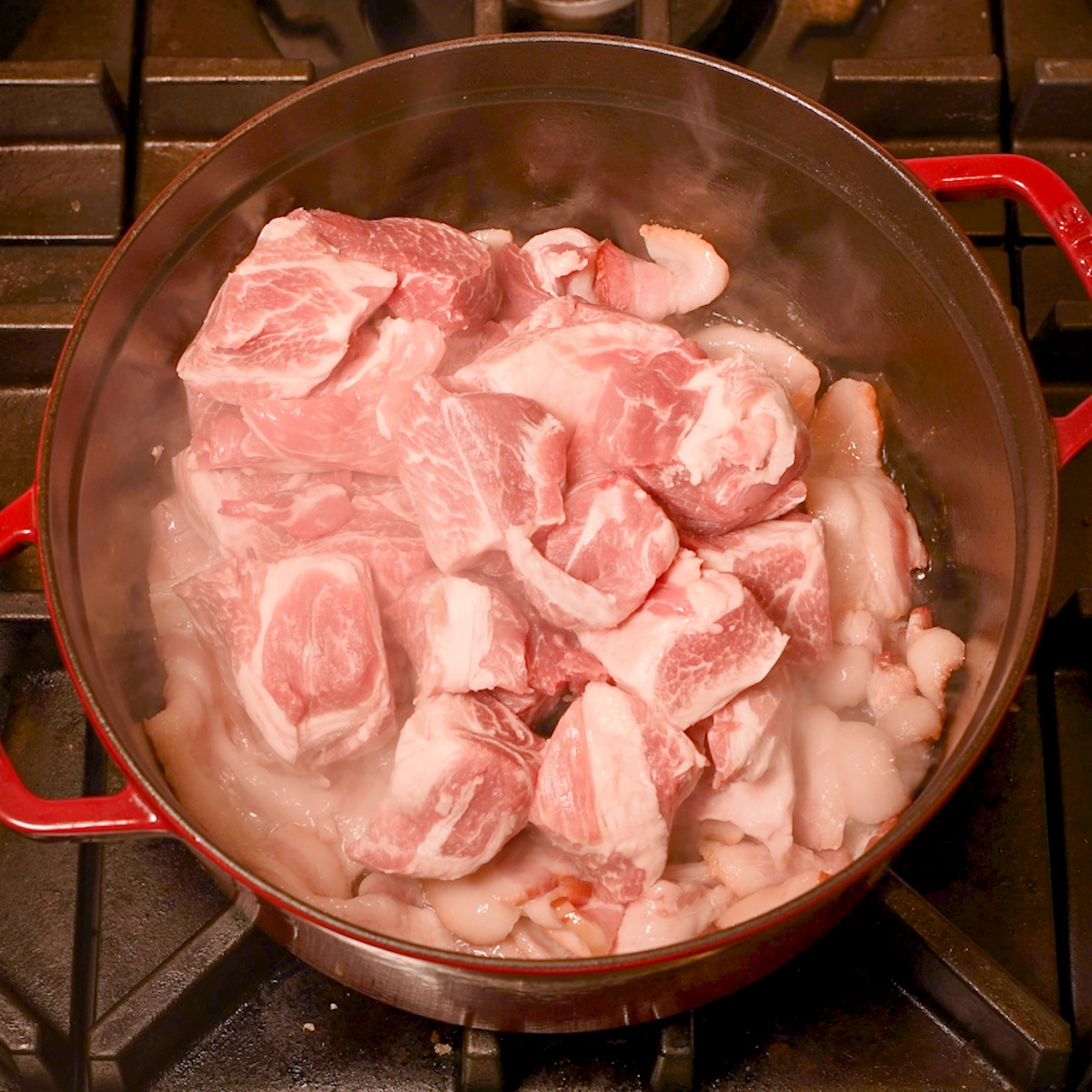 Add the pork shoulder pieces and sear on all sides.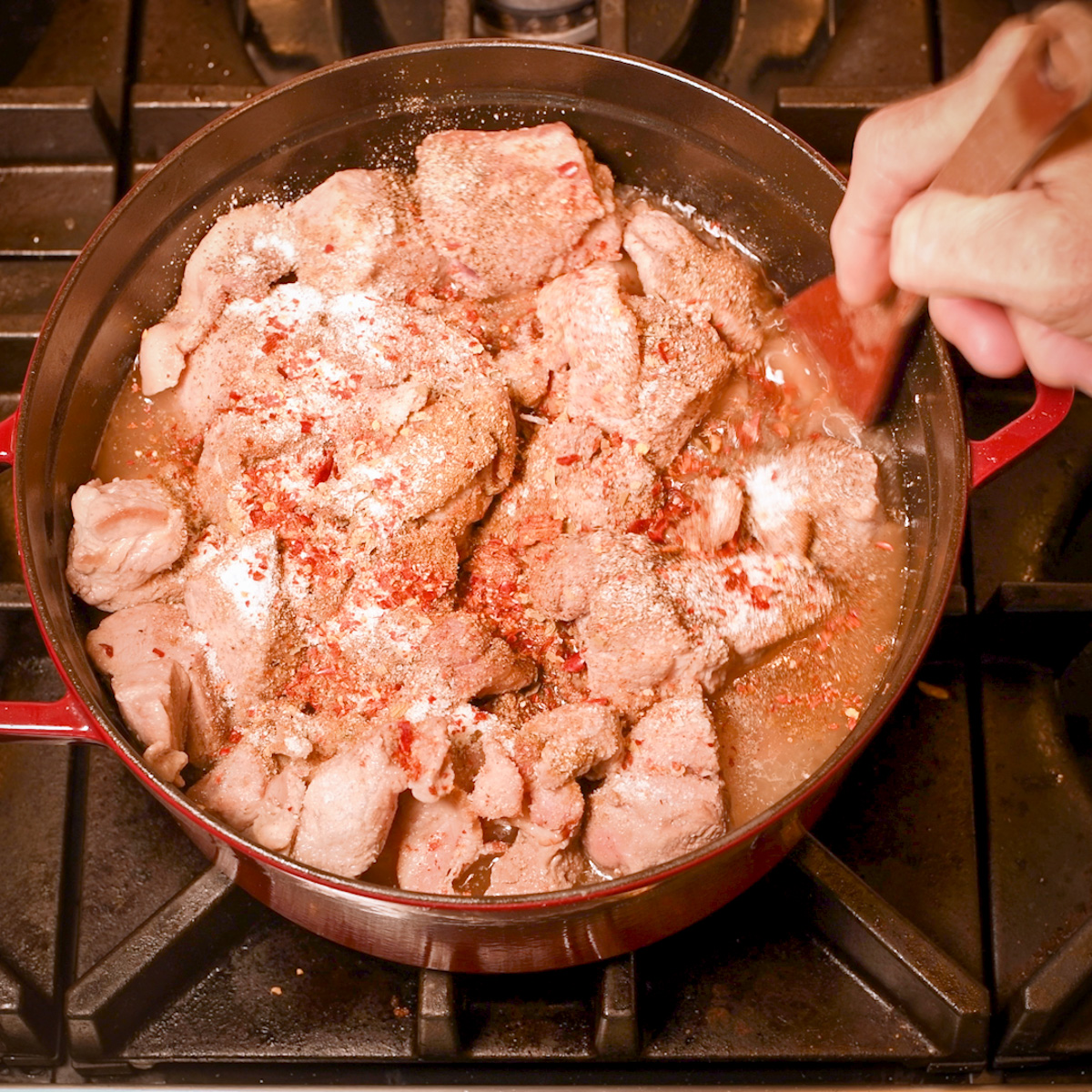 Add the seasonings and beer, stir, cover and cook for 2 hours.
Sear the Carnitas Meat
After the carnitas meat has braised for a few hours, sear it in a large frying pan over medium-high heat with a little vegetable oil or even lard. Press down with a spatula over cover the meat with a cast iron burger press. This helps maximize the contact between the meat and the hot pan resulting in a better sear. Turn the pieces once every minute to sear all sides. Serve carnitas with fresh homemade corn tortillas.
Variations
I used a dark Mexican beer as my liquid for making this carnitas recipe. Carnitas are also great braised in a water with a little orange juice and maybe some lime juice.
Equipment
A large Dutch oven make this recipe easy. It's perfect for braising the chunks of pork. I used a 4.5 quart Staub Dutch oven for a 6 pound pork shoulder and it was perfect. This recipe could also be done in a slow cooker, but would take much longer.
Storage
Store cooked, unseared, carnitas in an airtight container in the refrigerator for up to 3 days. Simply sear them as mentioned above for perfect leftover carnitas. If you need some great ideas for using leftover carnitas, try my recipes for carnitas nachos, carnitas empanadas and even carnitas pizza.
Top Tip
Make sure to have enough braising liquid in the pot. I started with liquid almost completely covering the pork pieces. Check the liquid level halfway through cooking and add water if needed.
Related
Looking for other recipes like this? Try these:
Pairing
These are my favorite dishes to serve with this recipe.
Watch the Video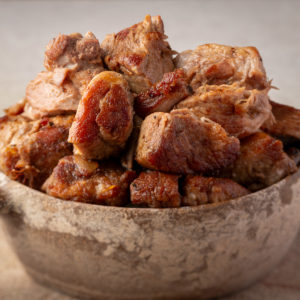 Best Beer Braised Carnitas
Carnitas made from pork shoulder that is braised in beer then pan fried until crispy.
Ingredients
3

tbs

vegetable oil

divided

5

lbs

boneless pork shoulder

trimmed and cut into 1" chunks

12

oz

bacon

slices, cut in half

2

teaspoon

Mexican oregano

dried

2

teaspoon

ground cumin

2

teaspoon

black pepper

freshly ground

2

teaspoon

kosher salt

2

teaspoon

red pepper flakes

or chopped dried chile de árbol

1

12 oz

dark Mexican beer like Negra Medelo

1

cup

water
Instructions
Preheat oven to 350°. Heat two tablespoons of vegetable oil in a large Dutch oven over medium heat. Add the bacon and cook until just softened (about 3 minutes). Add the pork shoulder and lightly brown on all sides (about 10 minutes).

Add beer and water as needed (about 3 cups) until the pork pieces are almost fully submerged. Add the oregano, cumin black pepper, salt and dried chiles. Stir to distribute the spices. Bring the mixture to a boil, then cover and place in the oven until tender (about 2 hours). Stir every 30 minutes.

Carefully remove the pieces of pork and discard the bacon.

Heat a tablespoon of vegetable oil in a large non-stick skillet over medium-high heat. Add pork pieces to the pan and sear on all sides. Press down with a spatula or weight it down with a cast-iron grill press. Cook until crisp and lightly browned (about 5 minutes) Turn over the pieces every 1-2 minutes.
Nutrition
Serving:
8
oz
Calories:
406
kcal
Carbohydrates:
2
g
Protein:
46
g
Fat:
21
g
Saturated Fat:
6
g
Polyunsaturated Fat:
3
g
Monounsaturated Fat:
10
g
Trans Fat:
0.1
g
Cholesterol:
132
mg
Sodium:
685
mg
Potassium:
800
mg
Fiber:
0.4
g
Sugar:
0.05
g
Vitamin A:
121
IU
Vitamin C:
0.04
mg
Calcium:
27
mg
Iron:
2
mg