Welcome to one of the most extraordinary steaks, the Reversed Seared Dry-Aged Ribeye. In the world of steaks, few cuts demand the reverence and attention as the dry-aged ribeye. Dry-aging intensifies the depth of beef flavor and reverse searing bring out its natural flavors and textures. Join us as we explore the flavor and tenderness of a perfectly prepared dry-aged ribeye.
Can You Dry Age Just One Steak?
Dry aging usually involves an entire roast, like a prime rib or a beef tenderloin. But, for this recipe, I dry aged a single steak. While you can absolutely dry age a single steak, there is more loss than there is when dry aging an entire roast.
The dry aging process dries out the outer surface of the meat, and that has to be trimmed off and discarded before cooking. Dry age a roast and you will trim off a little more than 1/16" but will still have a lot of roast left. Dry age a single steak and you will still trim trim off about 1/16" from both sides but ALL of that trimming is coming off one steak. The solution is to buy the thickest steak possible. If your butcher has only 1" ribeyes in the case, ask for a 1 ½" - 2" ribeye, you will be glad you did.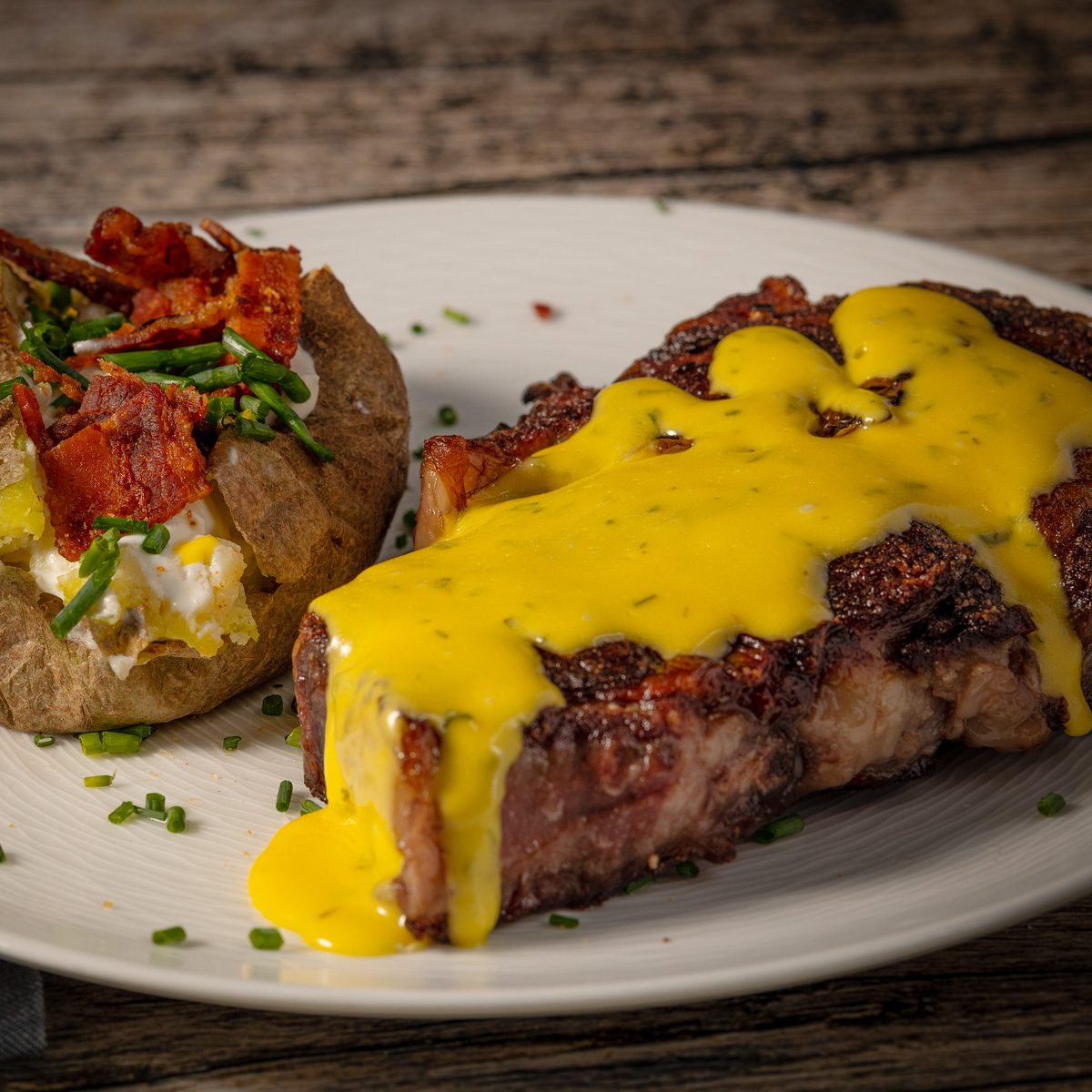 In planning for this recipe, I found a prime Wagyu ribeye and used that in the preparation. A prime or choice ribeye would also have worked.
This recipe is great to serve for a special occasion, dinner party or the holiday season. It was inspired by my other recipes for Prime Tenderloin Reverse Seared, Filet Mignon with Bone Marrow Butter and Reverse Seared Dry Aged Prime Rib.
Jump to:
Ingredients
Wagyu ribeye steak
Garlic
Fresh thyme
Butter
Beef tallow
See Reversed Seared Dry-Aged Ribeye recipe card for quantities.
Instructions
Dry Age the Steak
Dry age the steak in the refrigerator for 5 days. I used a neat little bag specifically designed for dry aging meat. It is available online and worth the small investment. It does a great job.
One important point, be careful not to dry age too long. In creating this recipe, I dry aged a Wagyu ribeye for 7 days and that was too long. Next time I will dry age for only 5 days.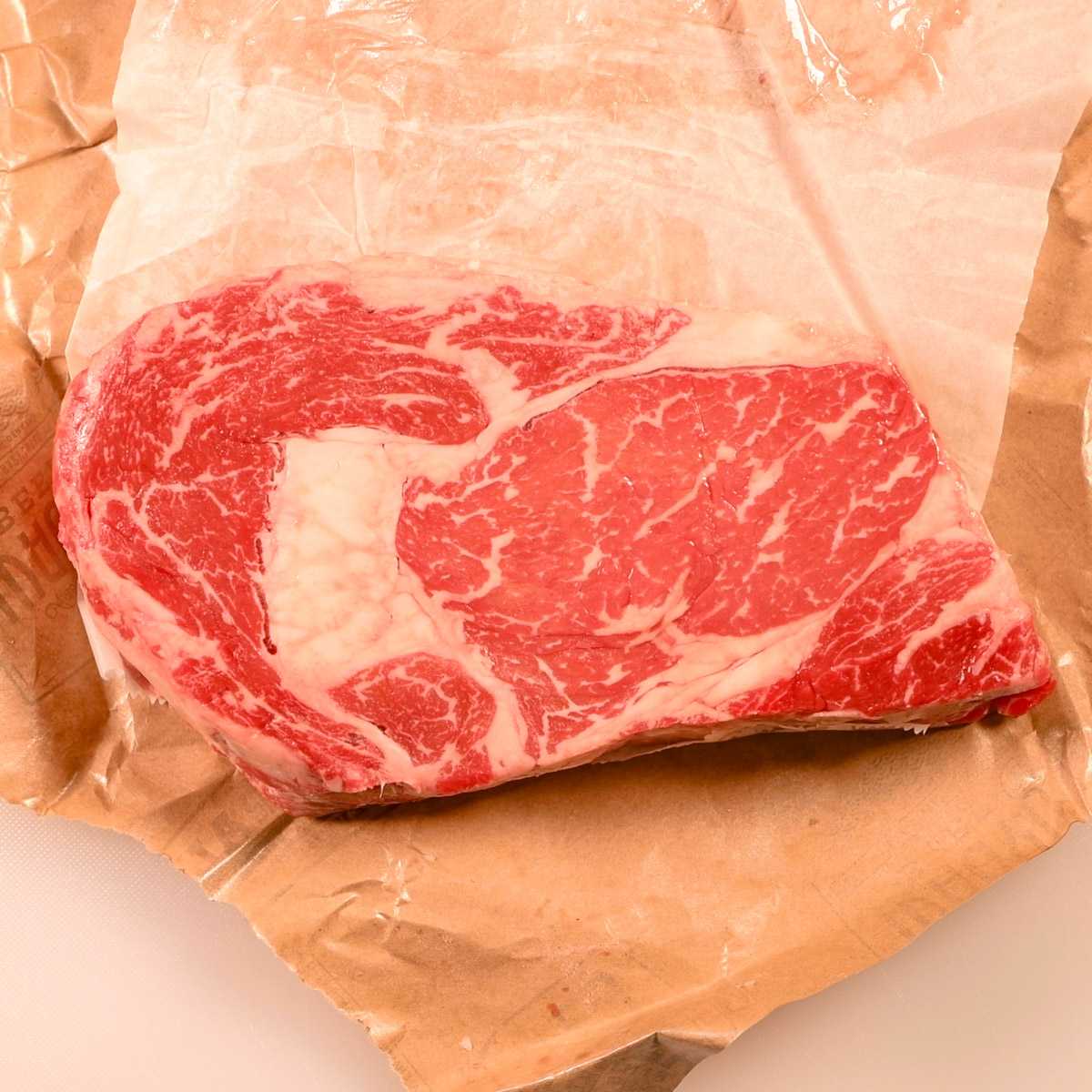 A Wagyu ribeye steak ready to dry age.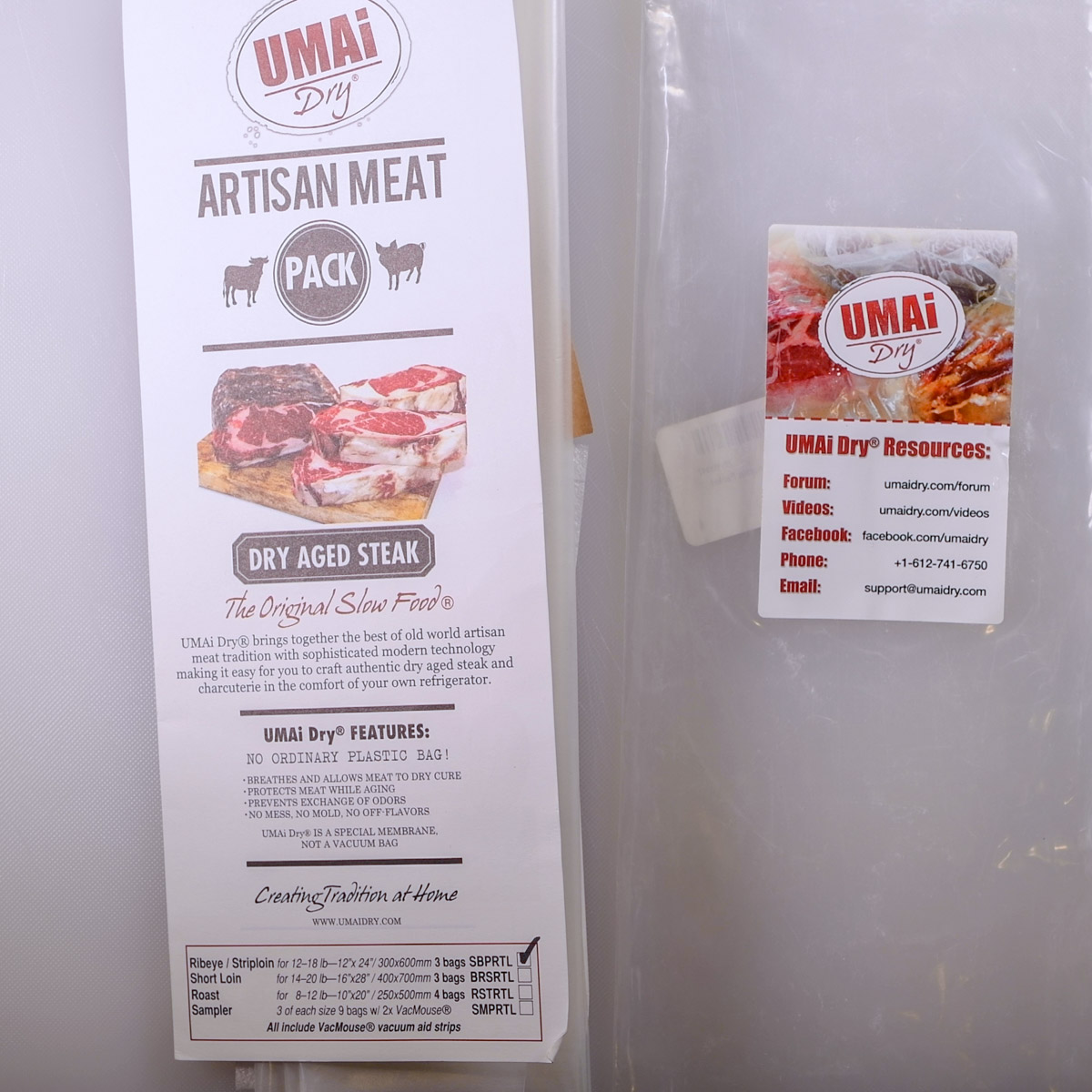 A bag used for dry aging.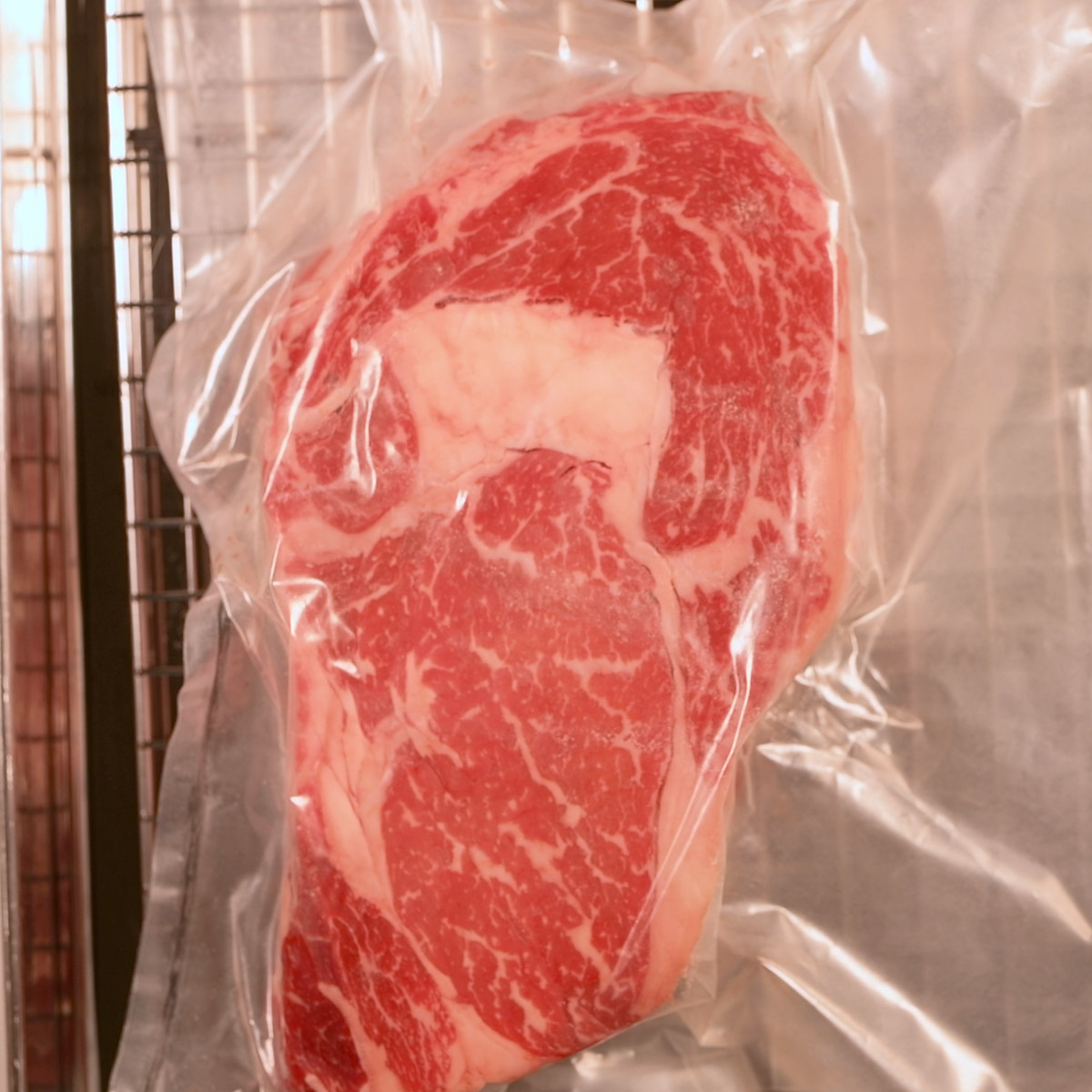 Seal the ribeye in a dry aging bag.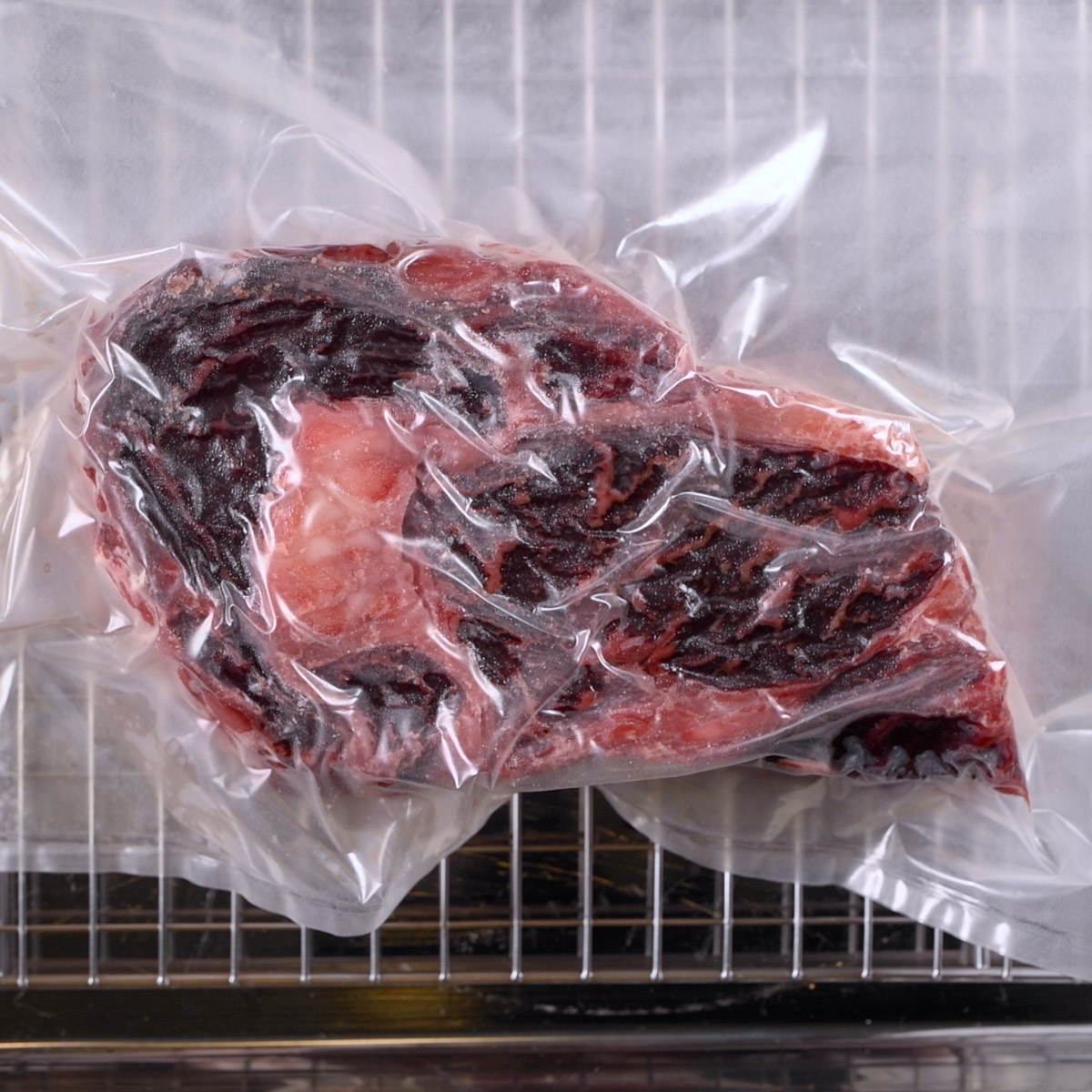 Ribeye steak after dry aging.
After dry aging, this steak lost 9% of it's total weight. That loss of water intensifies the beefy flavor.
Trim the Dry Aged Steak
Prepare a dry aged steak for cooking involves some serious trimming. The dry aging process will dry out the exterior of the steak and there will be a lot of surface area that will need to be trimmed. Use a sharp knife to carefully trim down the fat and any dark red meat and discard. Remove as little meat as possible, trimming only the very dark areas.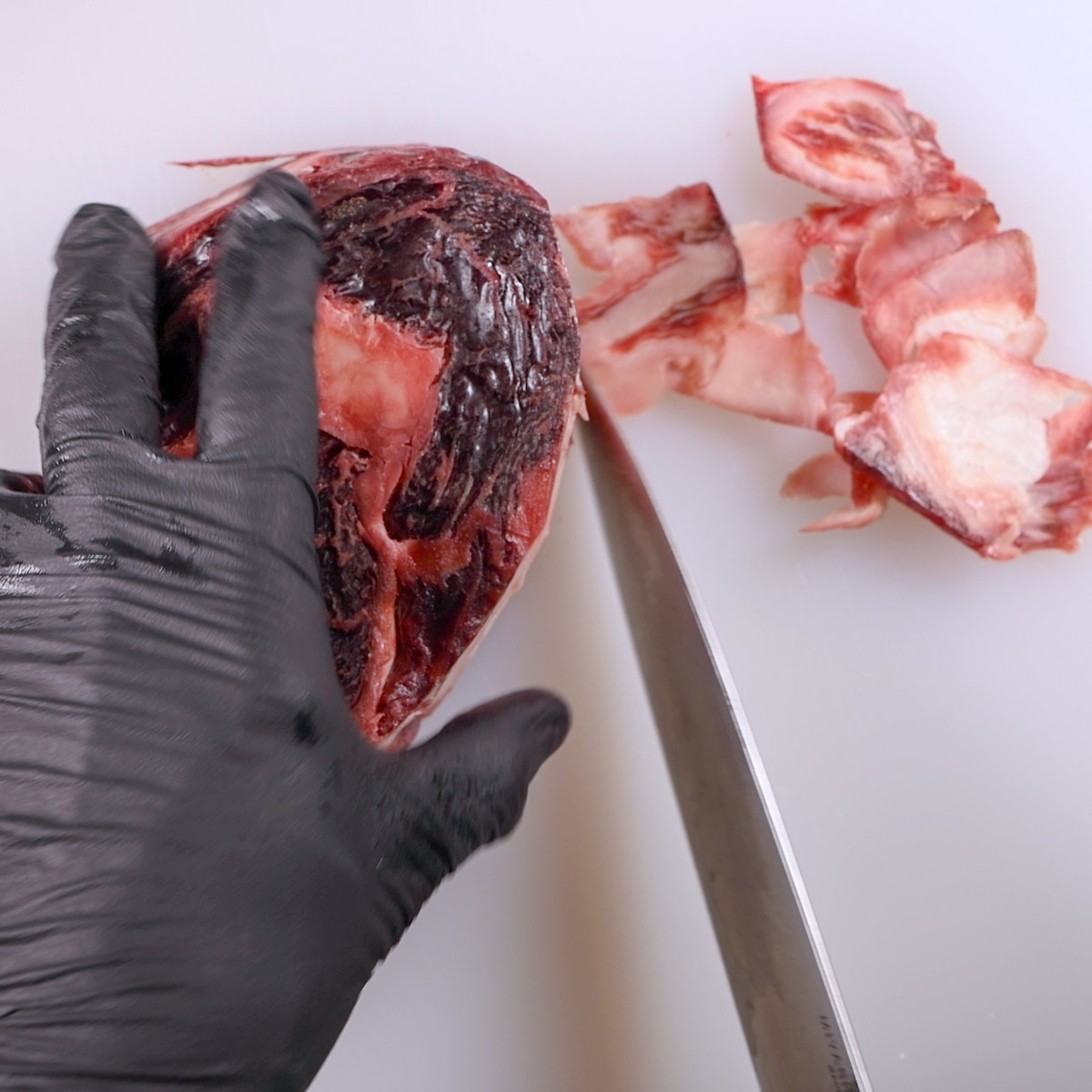 Trim the dry aged ribeye before cooking.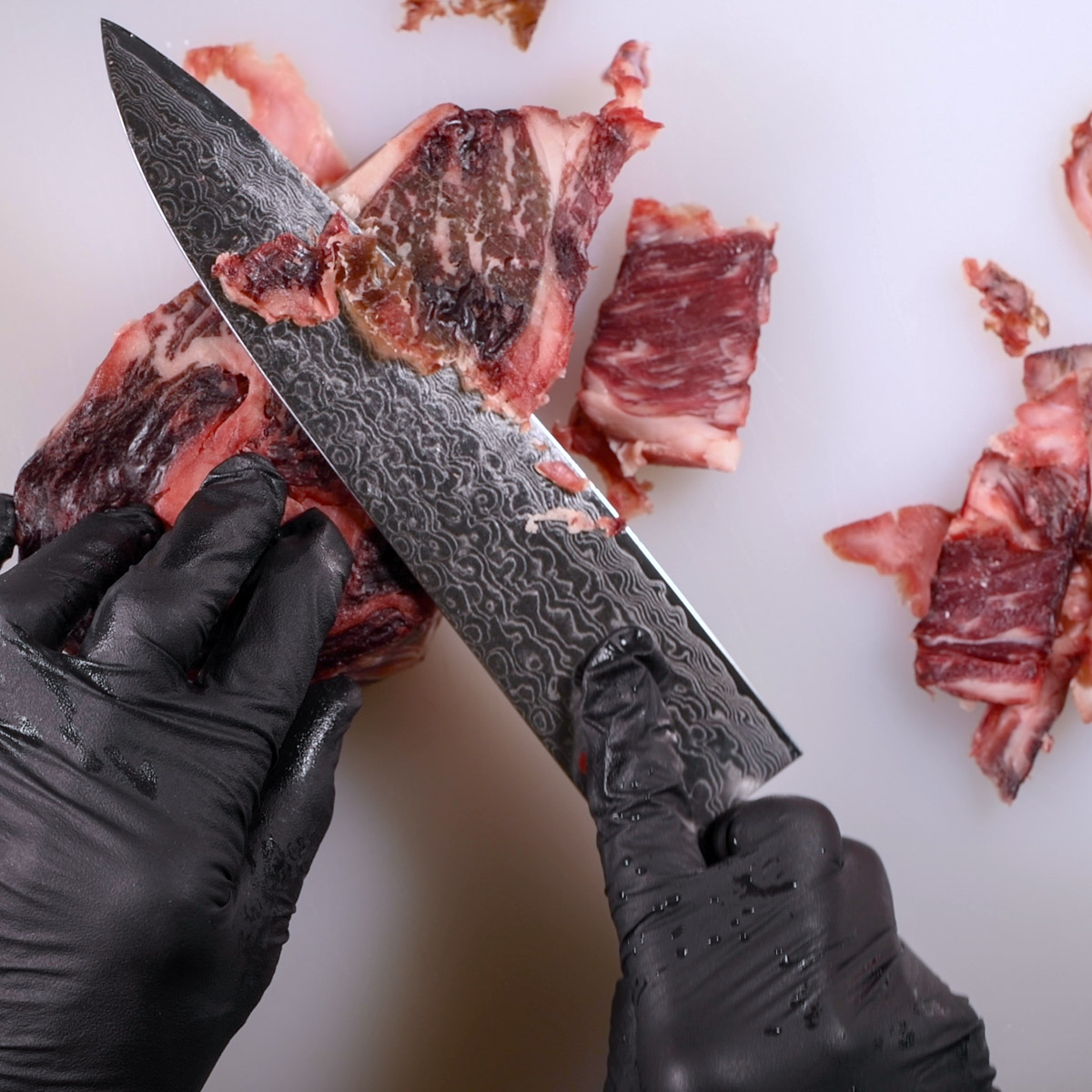 Carefully trim away dried areas of meat.
After trimming, the steak lost another 10% of its total weight. That's why you want to buy a thick steak to start with.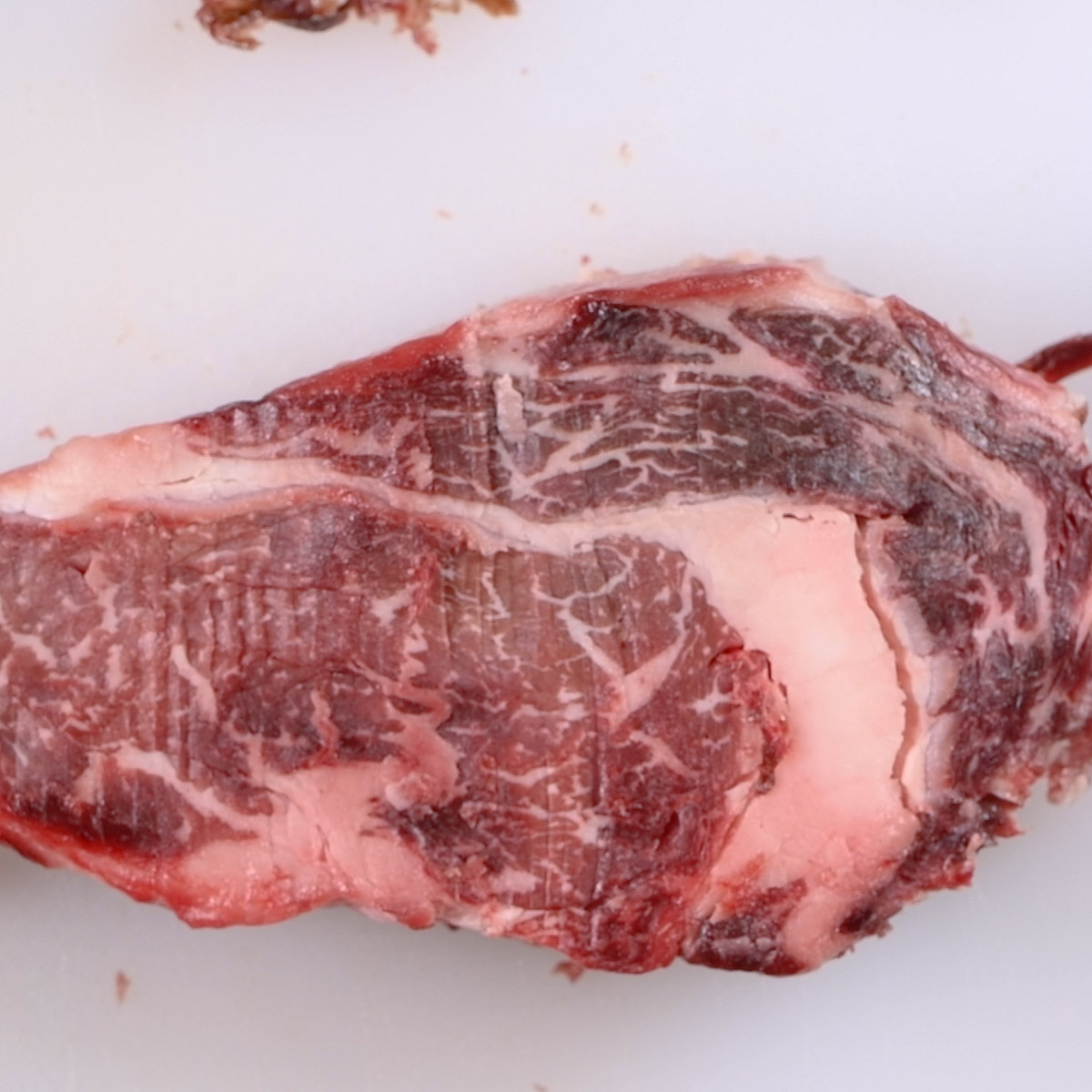 Cook in Sous Vide Water Bath
Because this was an expensive steak and I had a lot of time invested in it, I did not want to throw it on the grill and risk overcooking it. So, I sealed in it a FoodSaver bag along with some herbs and butter and placed it in a sous vide bath set at 122˚F. Sous vide is perfect for this application. Since the water was only 122˚F there was no way the steak could go above that number. I was guaranteed a perfect medium-rare ribeye steak. Now all that was left to do was sear the outside a bit.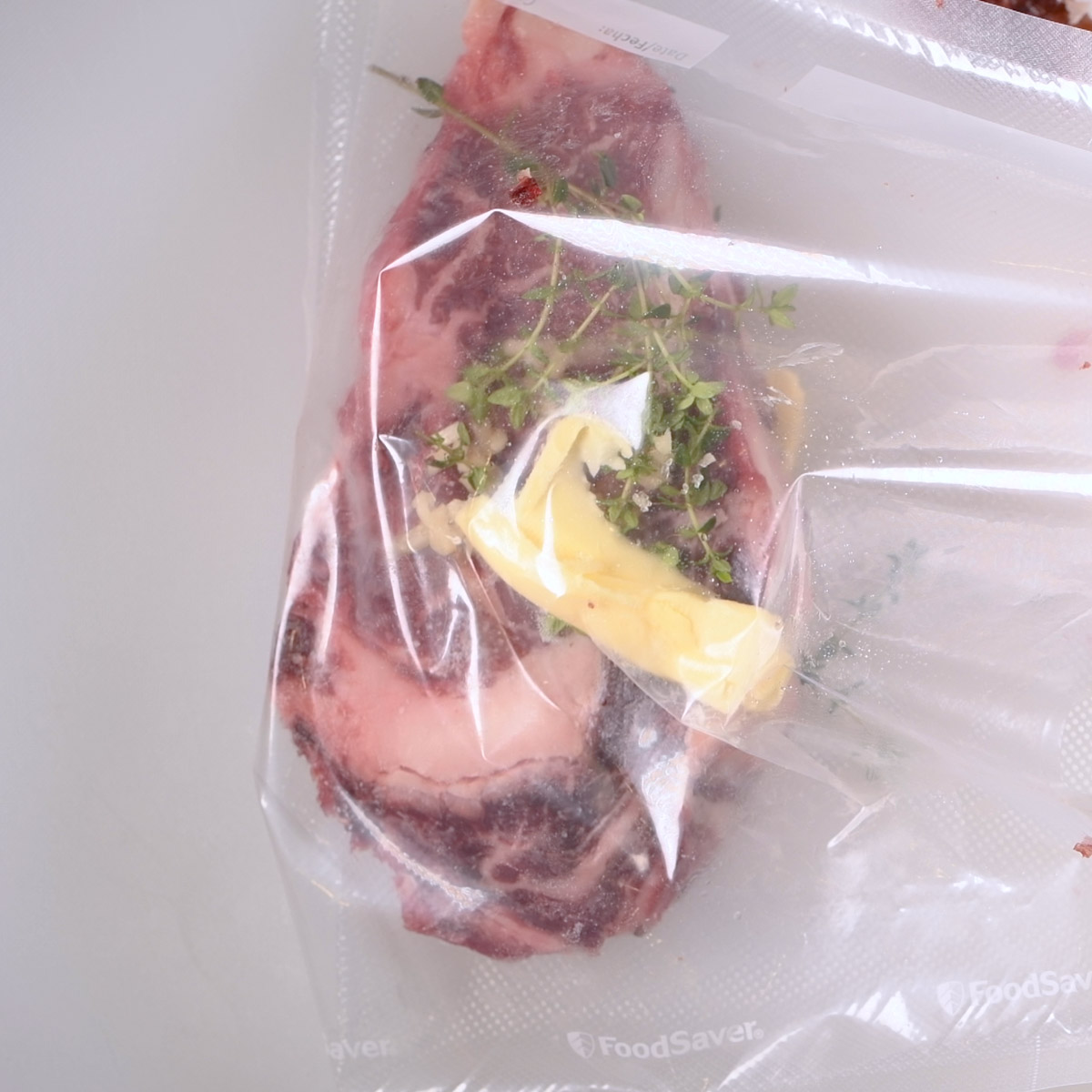 Place the ribeye in a sous-vide bag with butter and thyme and seal.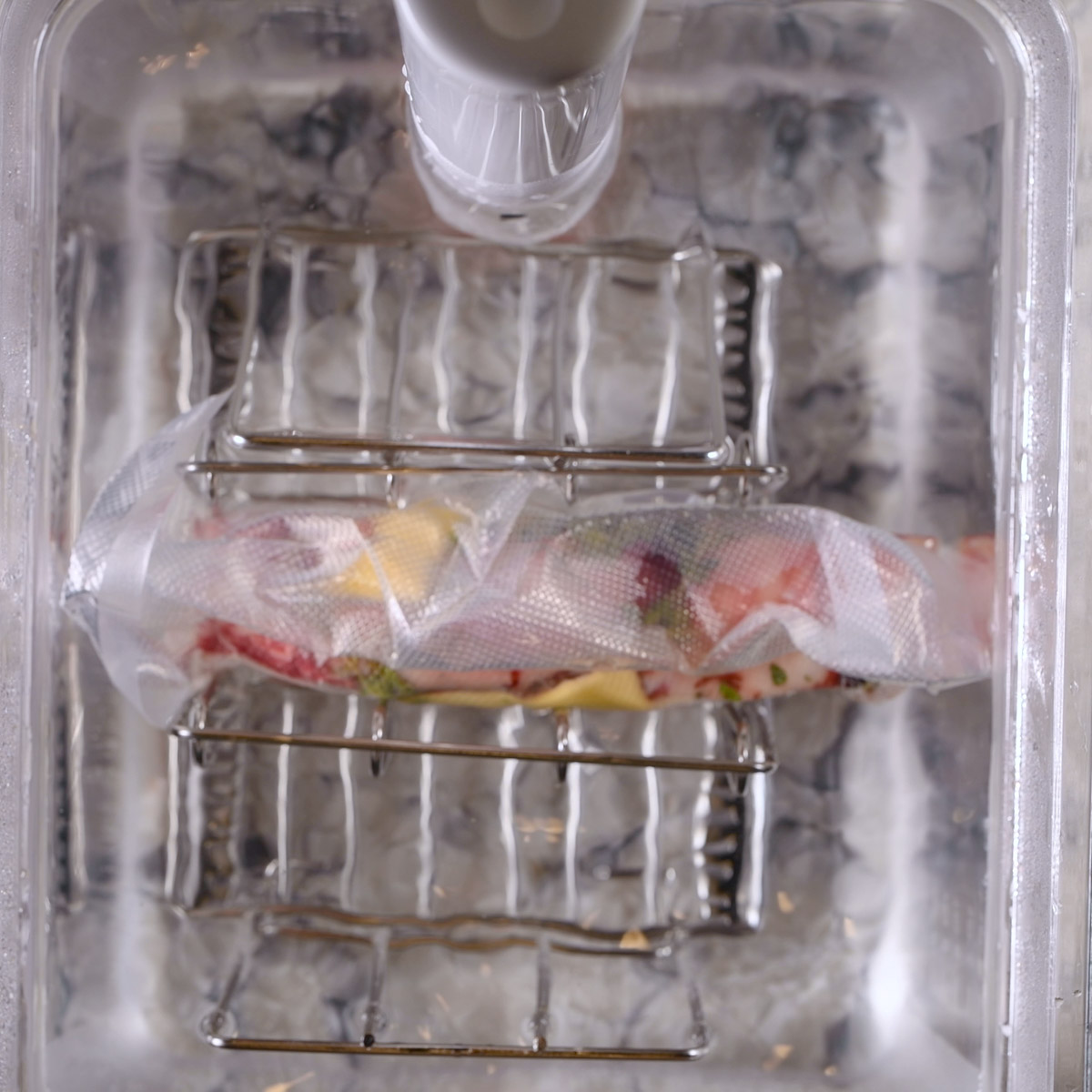 Cook the sealed steak in a sous vide water bath.
Reverse Sear in Beef Tallow
To finish this steak, I heated up a grill plate to 550˚F in my Kamado Joe. Then I placed a tablespoon of Wagyu beef tallow on the grill just before the steak went down. The beef tallow added one more dimension to an already great steak. I'm a big fan of searing beef in beef tallow.
The result was an absolutely marvelous, perfectly cooked steak. I topped it with a little homemade Bernaise sauce and added a baked potato.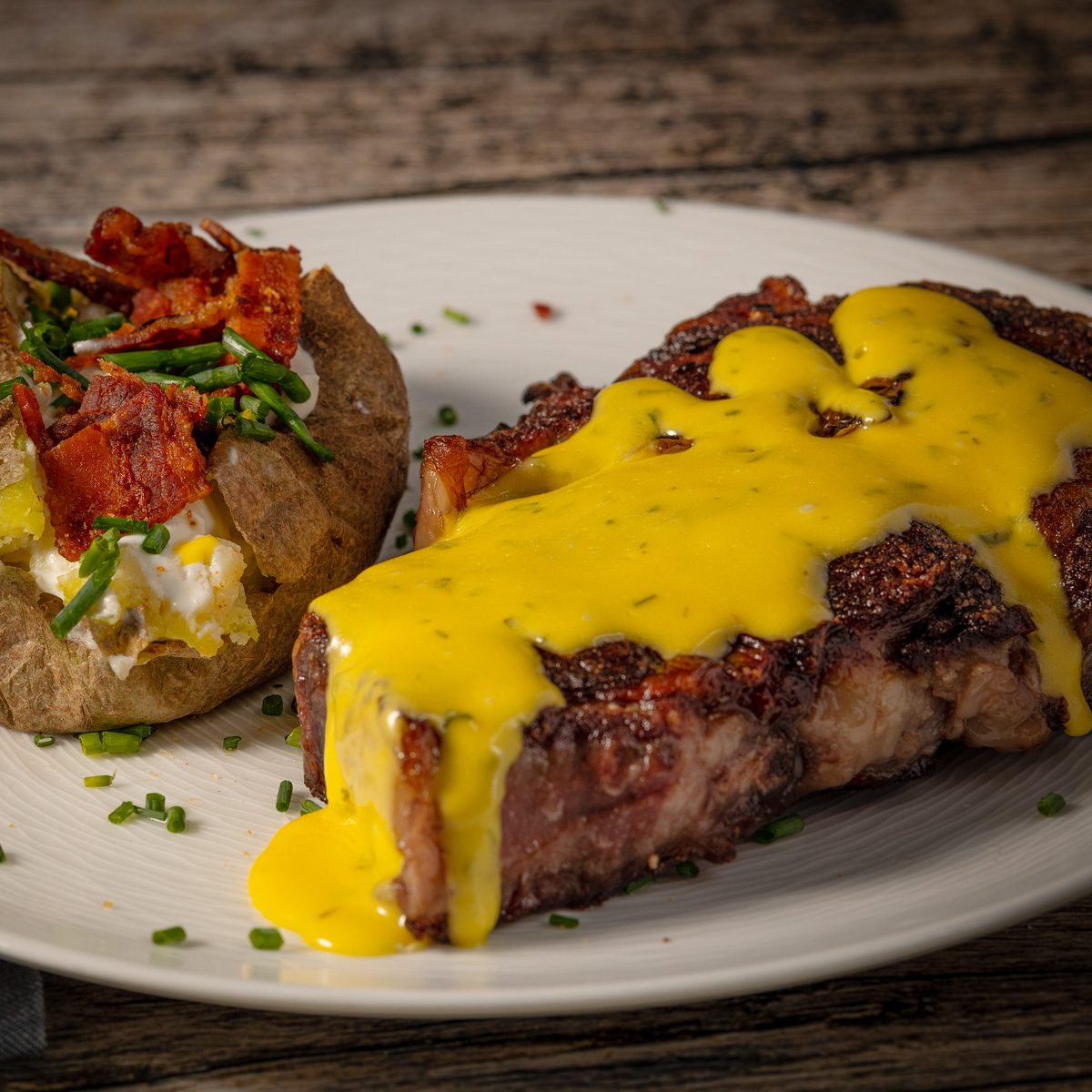 Substitutions
In planning for this recipe, I found a prime Wagyu ribeye and used that in the preparation. A prime or choice ribeye would also have worked.
Equipment
The steak in this recipe was made using dry aging bags, a sous vide bath and a griddle plate for my BBQ.
Storage
Store leftover ribeye in an airtight container in the refrigerator for up to 3 days. Reheat in a microwave in 30 seconds increments.
Top Tip
Don't age the ribeye any longer than necessary. The ribeye in this recipe was aged for 7 days and that was at least 2 days too long.
This Reversed Seared Dry-Aged Ribeye recipe highlights the unparalleled depth of flavor that dry aging brings. The journey from dry aging and gentle warming to the final sear transformed this ribeye into something special. I hope this view into the world of reverse searing has inspired you to embark on your own culinary explorations. Happy grilling!
Related
Looking for other recipes like this? Try these:
Pairing
These are my favorite dishes to serve with this recipe.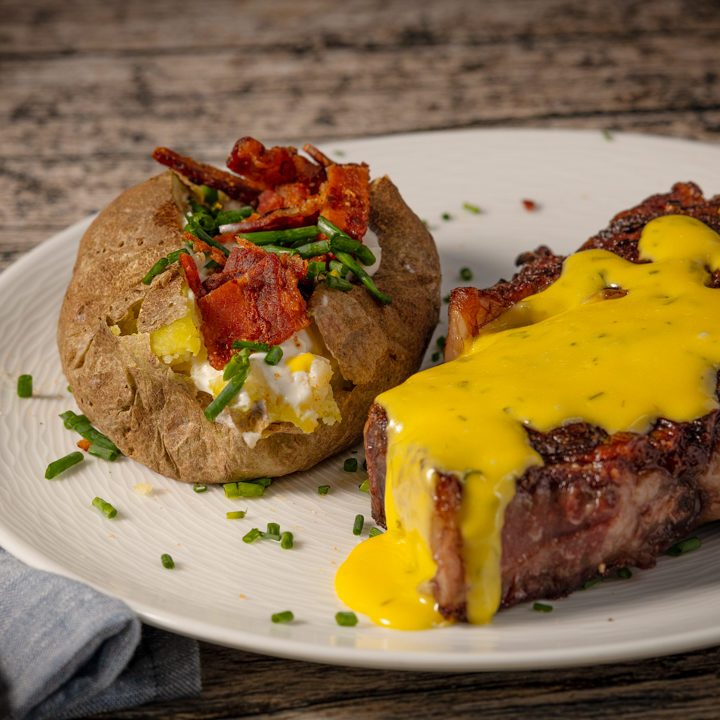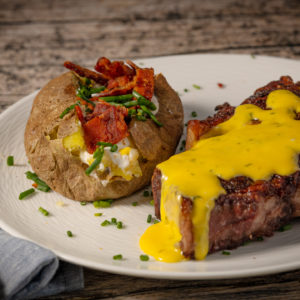 Reverse Seared Sous Vide Dry Aged Steak Recipe - Sous Vide Ribeye Seared in Wagyu Beef Tallow
What's better than a dry aged ribeye? A Wagyu dry aged ribeye. Done sous Vide then seared in Wagyu beef tallow. Give it a try.
Equipment
Umai dry aged bags (see link below)

Food Saver

Sous Vide cooker (see link below)
Ingredients
4

Wagyu ribeye steak

1

teaspoon

garlic

minced

1

teaspoon

thyme

fresh

1

teaspoon

butter

1

tbs

beef tallow
Instructions
Dry age the steak in an Umai bag for 5-6 days according to manufacture's instructions.

Trim the steak and cook sous vide to 122 degrees for a medium rare steak (after searing).

Sear in beef tallow for 60-90 seconds per side. Serve hot. Enjoy.
Nutrition
Serving:
1
steak
Calories:
472
kcal
Carbohydrates:
1
g
Protein:
46
g
Fat:
32
g
Saturated Fat:
14
g
Polyunsaturated Fat:
2
g
Monounsaturated Fat:
15
g
Cholesterol:
138
mg
Sodium:
119
mg
Potassium:
613
mg
Fiber:
1
g
Sugar:
1
g
Vitamin A:
60
IU
Vitamin C:
1
mg
Calcium:
21
mg
Iron:
4
mg