Reverse Seared Prime Tenderloin
A reverse seared prime beef tenderloin is a thing of beauty. The seasoning is simple and cooking the beef tenderloin over charcoal adds just a hint of smoky flavor.
Why Prime Beef Tenderloin?
The tenderloin is where a filet mignon comes from and it is arguably the best beef roast there is. Done right, it's tender, juicy and full of flavor. Prime? Why not prime? Splurge and spend a little more on a prime beef tenderloin. It makes a difference.
Why Not Smoke the Beef Tenderloin With Wood?
This is not barbecue. You don't want a smoke ring and a ton of smoke flavor, only a hint of smoke. The smoke created from wood is just overpowering on this delicate roast. Cooking it over indirect heat using lump charcoal provides all the smoke that it needs.
Is it Necessary to Tie the Tail Section Back With String
The tail section is very thin compared to the rest of the roast and, if not tied back, it will be overdone when the rest of the roast is medium rare. To prevent that, fold the tail section back on top of the roast and tie it down with string. The tail section will be in two pieces when the roast is done cooking. It will also be the same temperature as the rest of the roast.
Why a Reverse Sear?
A reverse sear helps to keep the roast tender and juicy. A roast that is seared first then cooked over indirect heat will be dry at the edges. However, by cooking it to the correct internal temperature over indirect heat first THEN searing it (a reverse sear), the outside will not be overdone. This technique works well for many different roasts.
Favorite Side Dishes
Some of our favorite side dishes to serve with the reverse seared beef tenderloin are: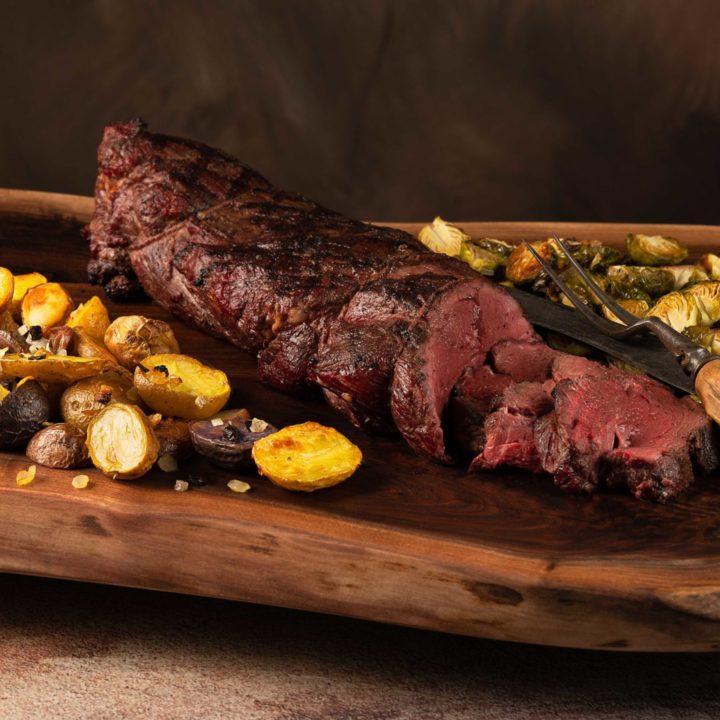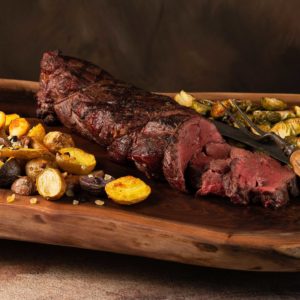 Reverse Seared Beef Tenderloin
If you like filet mignon you will love this prime beef tenderloin that is reverse seared. The seasoning is simple and cooking the beef tenderloin over charcoal adds just a hint of smoky flavor.
Ingredients
4

lb

beef tenderloin

peeled

.5

teaspoon

kosher salt

.5

teaspoon

black pepper

freshly ground
Instructions
Setup smoker for indirect heat at 350°F. Fold the tail section back over the tenderloin and tie it in place with string.

Cook the tenderloin over indirect heat to an internal temperature of 108 - 112°F. Remove the roast, cover with foil and rest for 10 minutes.

Reconfigure the smoker for direct heat and raise the temperature to 550°F. Add the roast back to smoker and sear the outside (about 4 -5 minutes), rotating every minute or so. Remove and serve.
Nutrition
Serving:
8
oz
Calories:
621
kcal
Protein:
41
g
Fat:
50
g
Saturated Fat:
20
g
Polyunsaturated Fat:
2
g
Monounsaturated Fat:
21
g
Cholesterol:
159
mg
Sodium:
111
mg
Potassium:
689
mg
Calcium:
16
mg
Iron:
5
mg