In the world of barbecue experiences, there is nothing quite like a perfectly cooked beef tenderloin. This exquisite cut of meat, renowned for its tenderness and marbling, is perfect for the reverse seared cooking method. This technique, a departure from traditional searing methods, will take your tenderloin to new levels of tenderness and flavor. Follow along as we delve into the Reversed Seared Beef Tenderloin, unlocking the secrets to a perfect melt-in-your-mouth roast that is sure to be the star of your next barbecue.
A reverse seared beef tenderloin is a thing of beauty. The seasoning is simple and cooking the tenderloin over charcoal adds just a hint of smoky flavor. There are no wood chips or chunks used in this dish, just charcoal. A smoke ring and a lot of smoky flavor would be overpowering. Cooking it over indirect heat using lump charcoal provides all the smoke that it needs.
The tenderloin is where a filet mignon comes from and it is arguably the best beef roast there is. Done right, it's tender, juicy and full of flavor. Splurge and spend a little more on a prime beef tenderloin if you can find one. It makes a difference.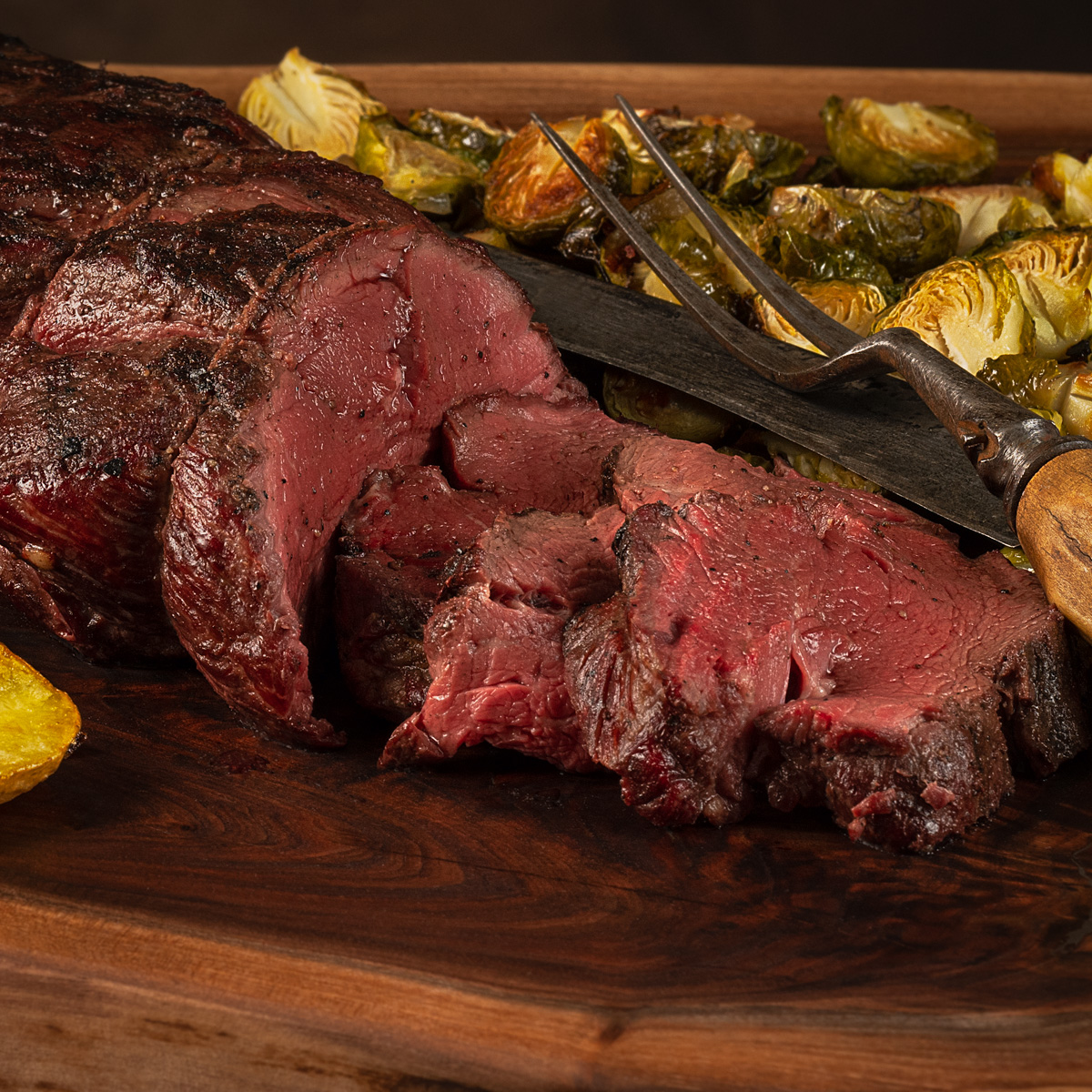 This classic beef tenderloin recipe is great to serve for a special occasion, dinner party or the holiday season.
Take a look at my other barbecue recipes for Filet Mignon and Bone Marrow Butter, Prime Beef Tenderloin Reverse Seared, Reverse Seared Tomahawk Steak, Reversed Seared Dry Aged Prime Rib, Smoked Tri-Tip and Reverse Seared Dry Aged Ribeye.
Jump to:
Ingredients
Beef tenderloin
Kosher salt
Freshly ground black pepper
See Reverse Seared Beef Tenderloin recipe card for quantities.
Instructions
For the best results, remove the roast from the refrigerator about an hour before cooking. The roast will get close to room temperature before grilling and that helps prevent overcooking the outside to get the inside done.
The tail section is very thin compared to the rest of the roast and, if not tied back, will be overdone when the rest of the roast is medium rare. To prevent that, fold the tail section back on top of the roast and tie it down with kitchen twine. The tail section will be in two pieces when the roast is done cooking but they will also be the same internal temperature as the rest of the roast.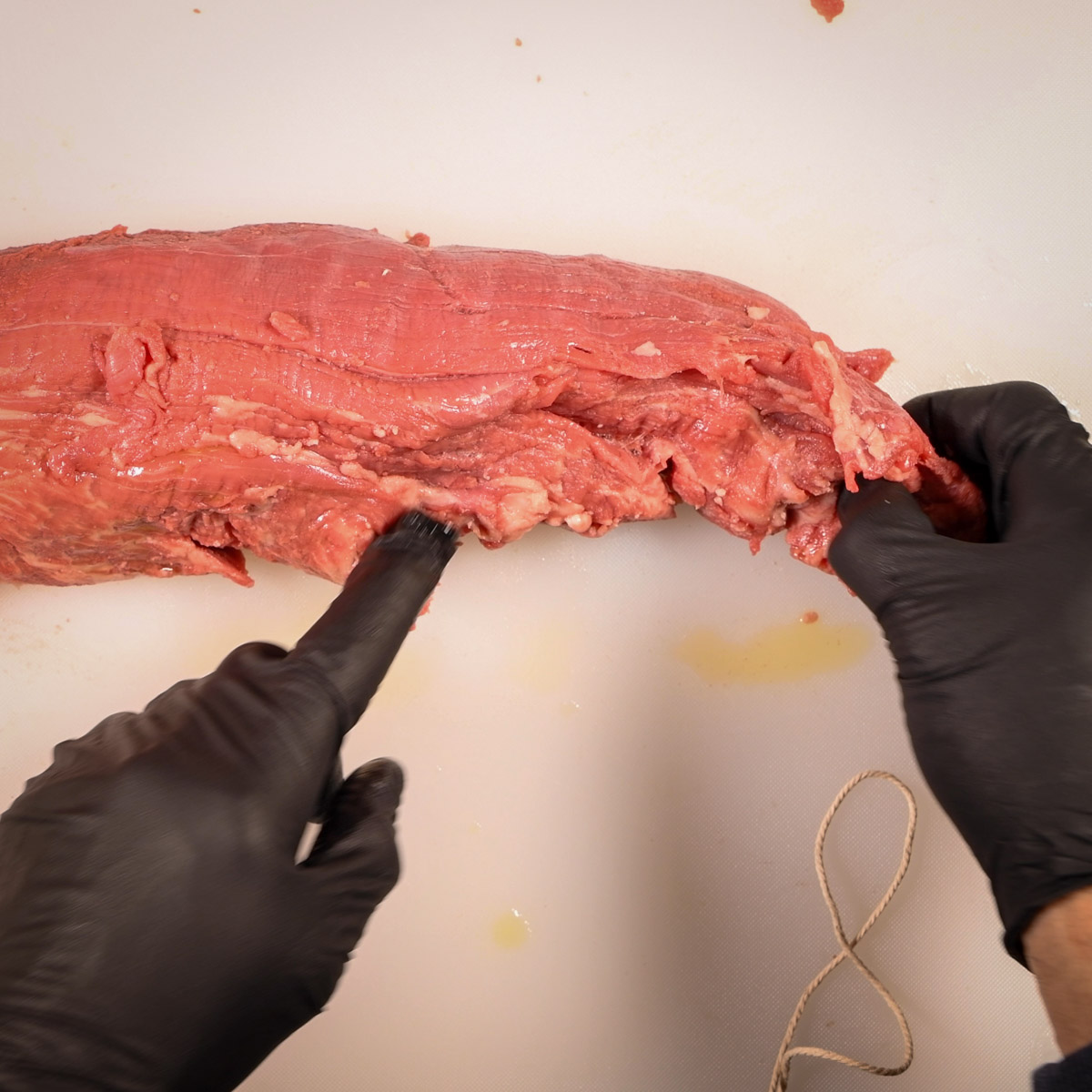 The tail section is thin and will get overdone when cooked.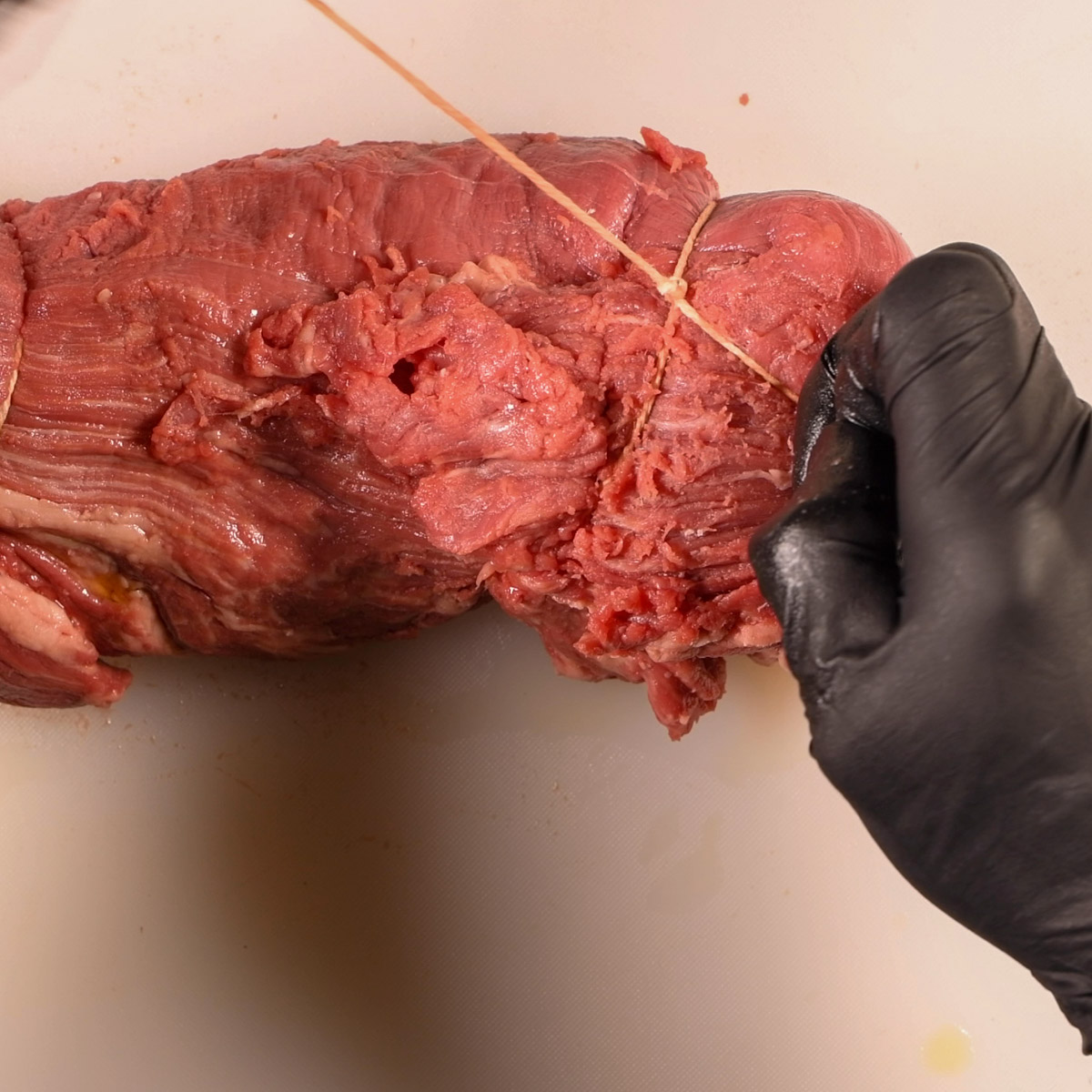 Fold the tail section over and tie it with kitchen twine. Make sure to use cotton twine. Synthetic twine will melt on the grill.
A reverse sear helps to keep the roast tender and juicy. A roast that is seared first then cooked over indirect heat will be dry at the edges. However, by cooking it to the correct internal temperature over indirect heat first then searing it (a reverse sear), the outside will not be overdone. This technique works well for many different roasts.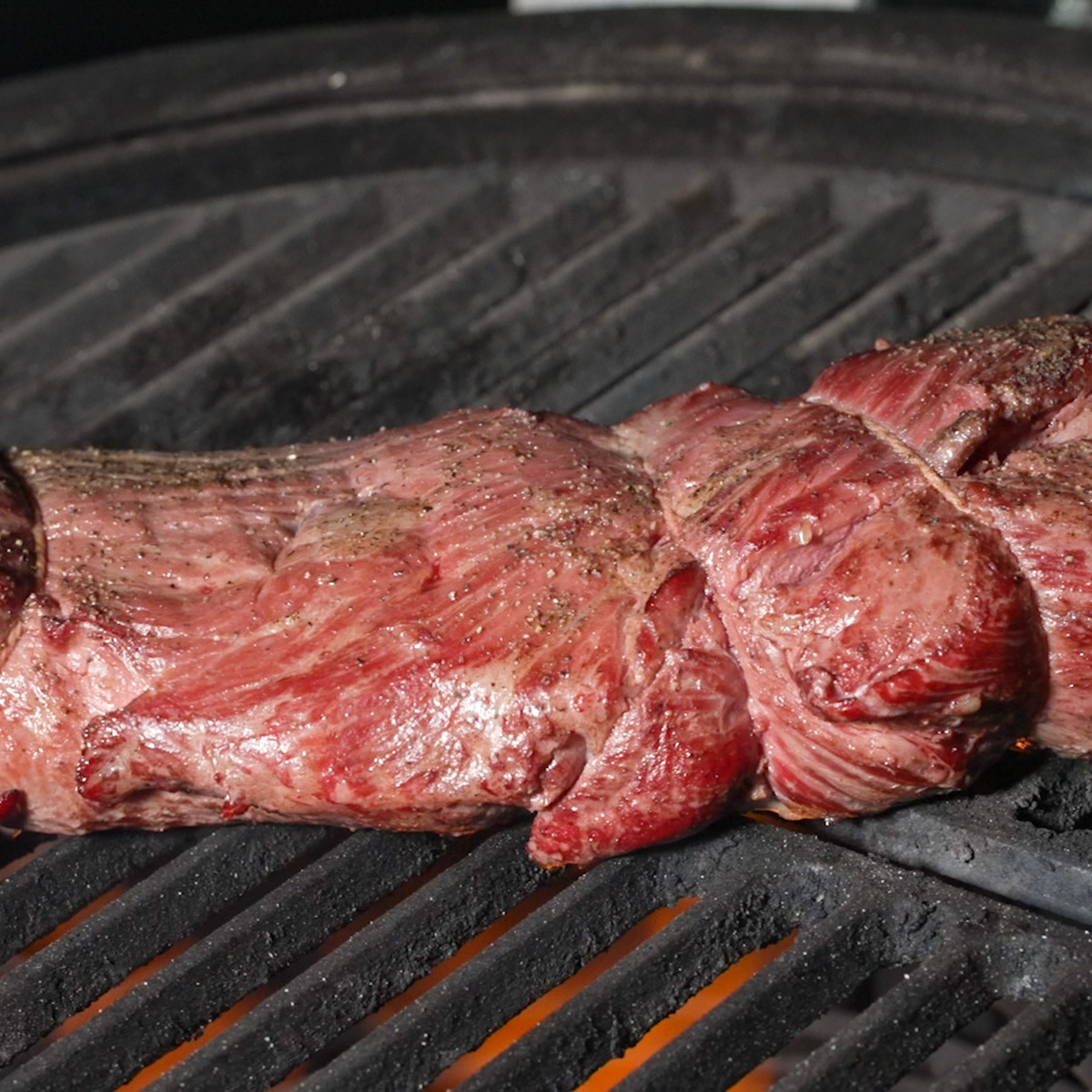 Cook over indirect heat at 350°F to an internal temperature of 108 - 112°F, checked with a meat thermometer. Then remove the roast from the grill, cover it with foil and let it rest for 10 minutes.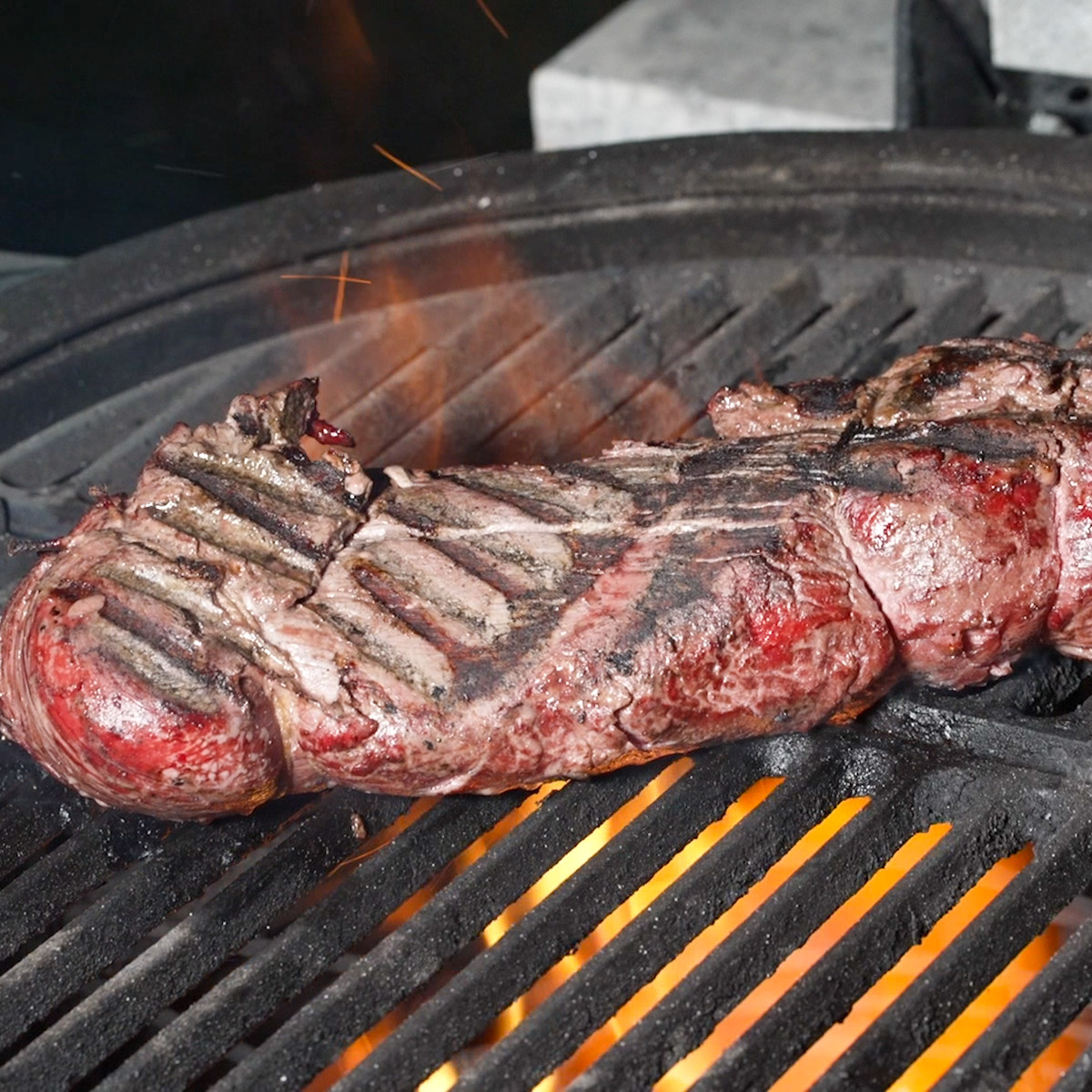 While the roast is resting, reconfigure your grill to direct heat and raise the temperature to 550°F. Grill the roast on both side to get a nice sear (4-5 minutes).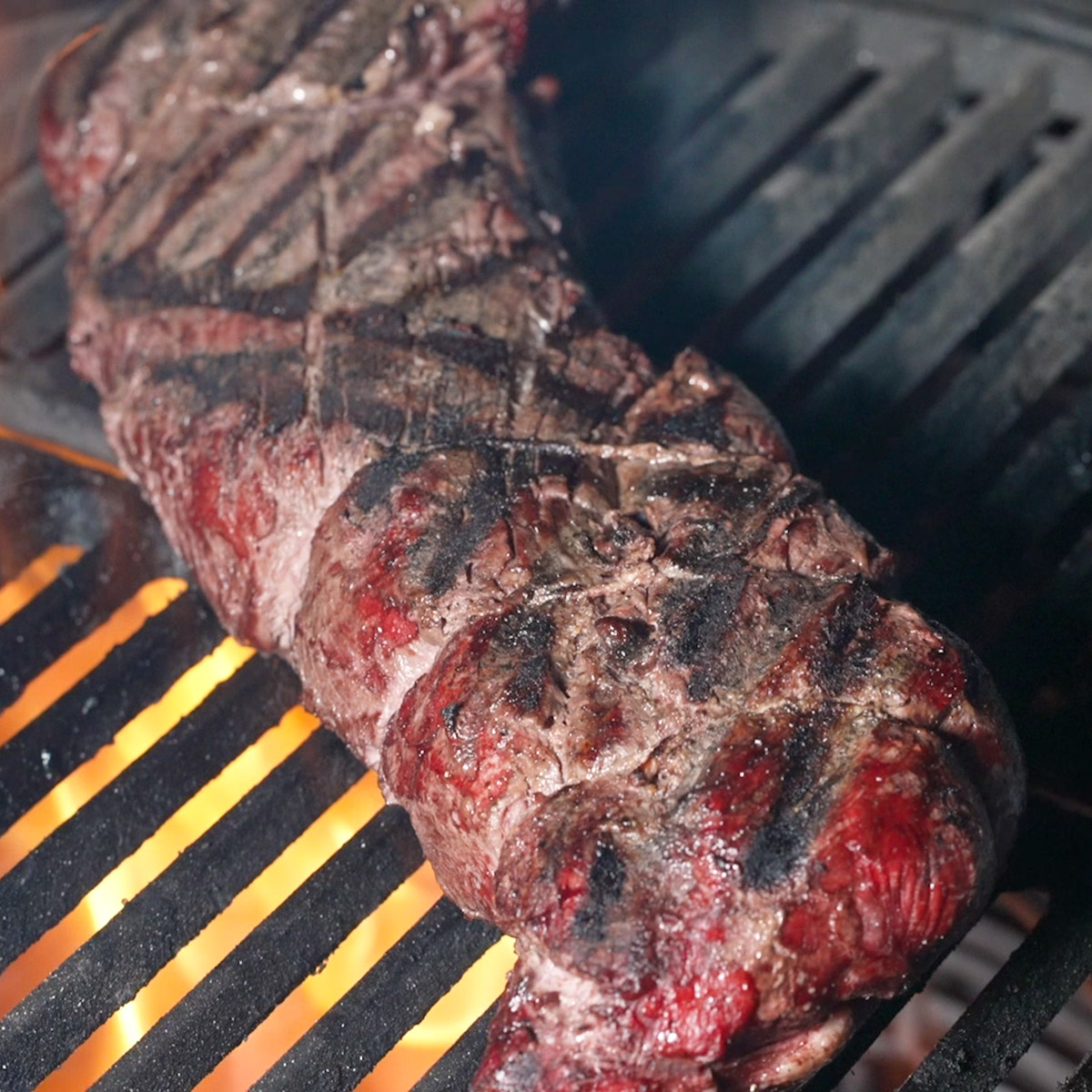 Rotate the tenderloin 90° to get great grill marks.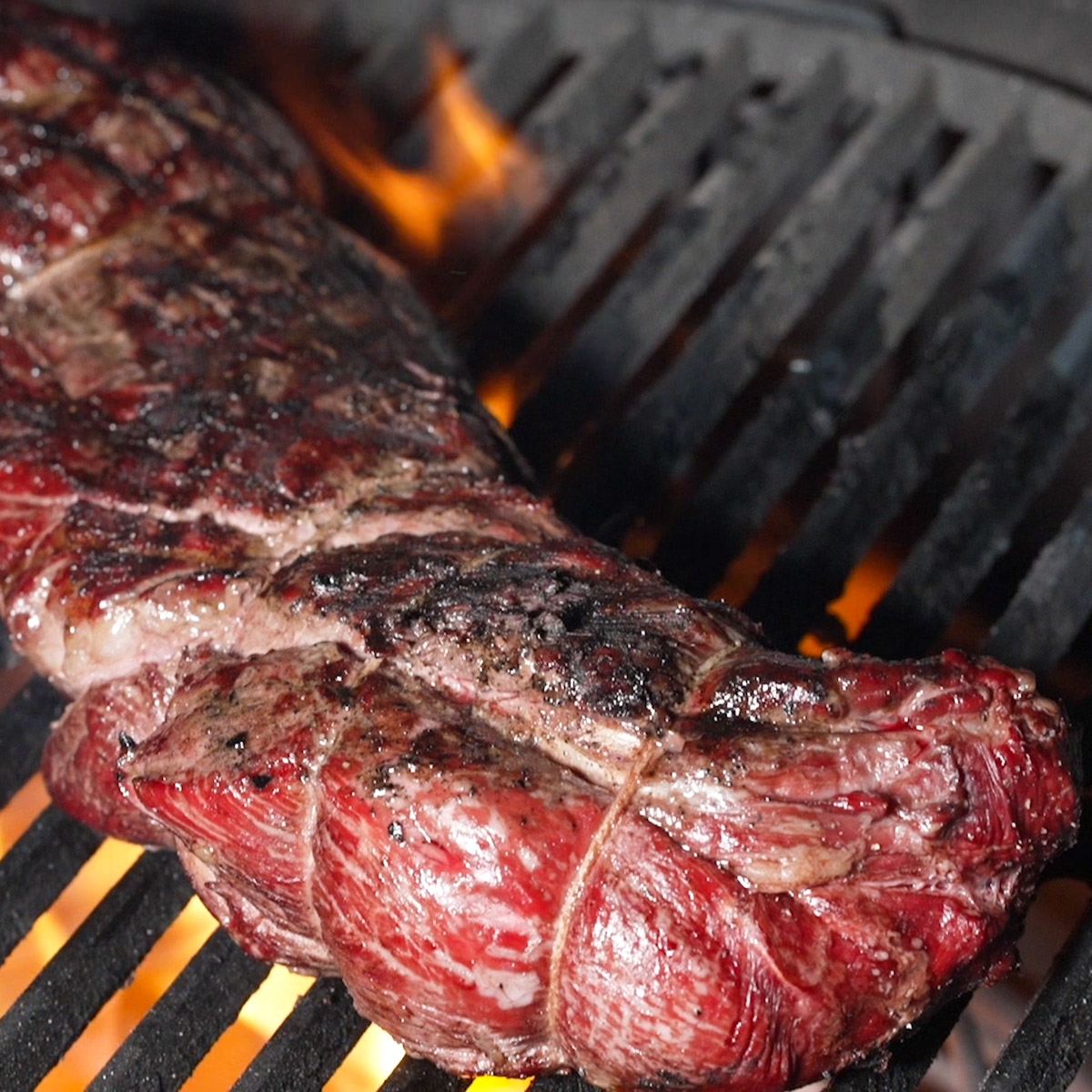 The tied-up tail section looks great.
Equipment
The beef tenderloin in this recipe was cooked over charcoal. A gas barbecue would work too. Just make sure to do the initial cooking over indirect heat.
Storage
Leftover tenderloin can be stored in an airtight container in the refrigerator for up to 3 days. Want some fantastic breakfast tacos? Cut leftovers into ½" pieces, heat them in small skillet and serve them in warmed flour tortillas with some scrambled eggs, salsa and cheese.
Top Tip
During the initial cooking time, watch the temperature closely because it can climb very quickly. Also, make sure to cover the roast with foil and let it rest the full 10 minutes before the reverse sear. This step is important to let the juices reabsorb, otherwise they will run out when carved and the roast will be dry. There is no need to rest it again after the the reverse sear.
As you take the last bite, savor the memory of a perfectly cooked beef tenderloin. The reverse sear has taken us on a barbecue journey, unlocking the full potential of this premium cut of beef. I hope this recipe has ignited a passion for the art of reverse searing, reminding you that sometimes, doing things backwards leads to the most delectable destinations. Happy cooking!
Related
Looking for other recipes like this? Try these:
Pairing
Looking for some delicious side dishes to serve with this recipe? Try roasted butternut squash, Yorkshire pudding, creamed corn, roasted Brussels sprouts and grilled sweet potatoes.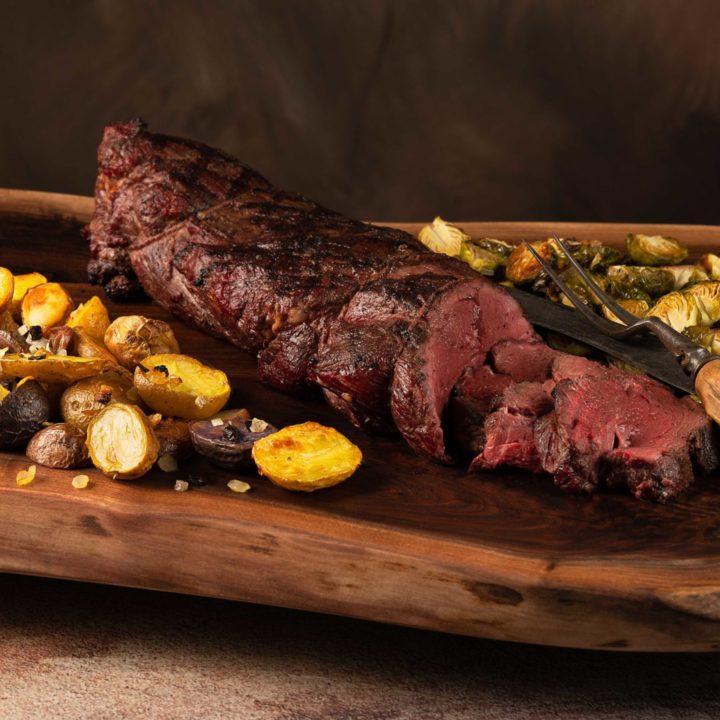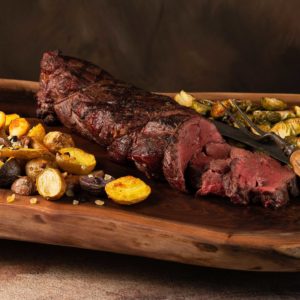 Reverse Seared Beef Tenderloin
If you like filet mignon you will love this prime beef tenderloin that is reverse seared. The seasoning is simple and cooking the beef tenderloin over charcoal adds just a hint of smoky flavor.
Ingredients
4

lb

beef tenderloin

peeled

.5

teaspoon

kosher salt

.5

teaspoon

black pepper

freshly ground
Instructions
Setup smoker for indirect heat at 350°F. Fold the tail section back over the tenderloin and tie it in place with string.

Cook the tenderloin over indirect heat to an internal temperature of 108 - 112°F. Remove the roast, cover with foil and rest for 10 minutes.

Reconfigure the smoker for direct heat and raise the temperature to 550°F. Add the roast back to smoker and sear the outside (about 4 -5 minutes), rotating every minute or so. Remove and serve.
Nutrition
Serving:
8
oz
Calories:
621
kcal
Protein:
41
g
Fat:
50
g
Saturated Fat:
20
g
Polyunsaturated Fat:
2
g
Monounsaturated Fat:
21
g
Cholesterol:
159
mg
Sodium:
111
mg
Potassium:
689
mg
Calcium:
16
mg
Iron:
5
mg