Steak Topped with Bone Marrow Butter
Filet Mignon with bone marrow butter is the ultimate in a decadent steak. The bone marrow butter adds a beefy goodness to an already great steak.
Filet Mignon with Bone Marrow Butter
I love a good steak. My dad really liked a good steak. I fondly remember him trying to grill a New York strip on a homemade gas barbecue built over 8" lava rocks. The fat from the steak would create a flare up on the lava rock that could be seen from the moon. Any halfway decent barbecue will make a great steak. A filet mignon with bone marrow butter is the best way to eat a filet mignon.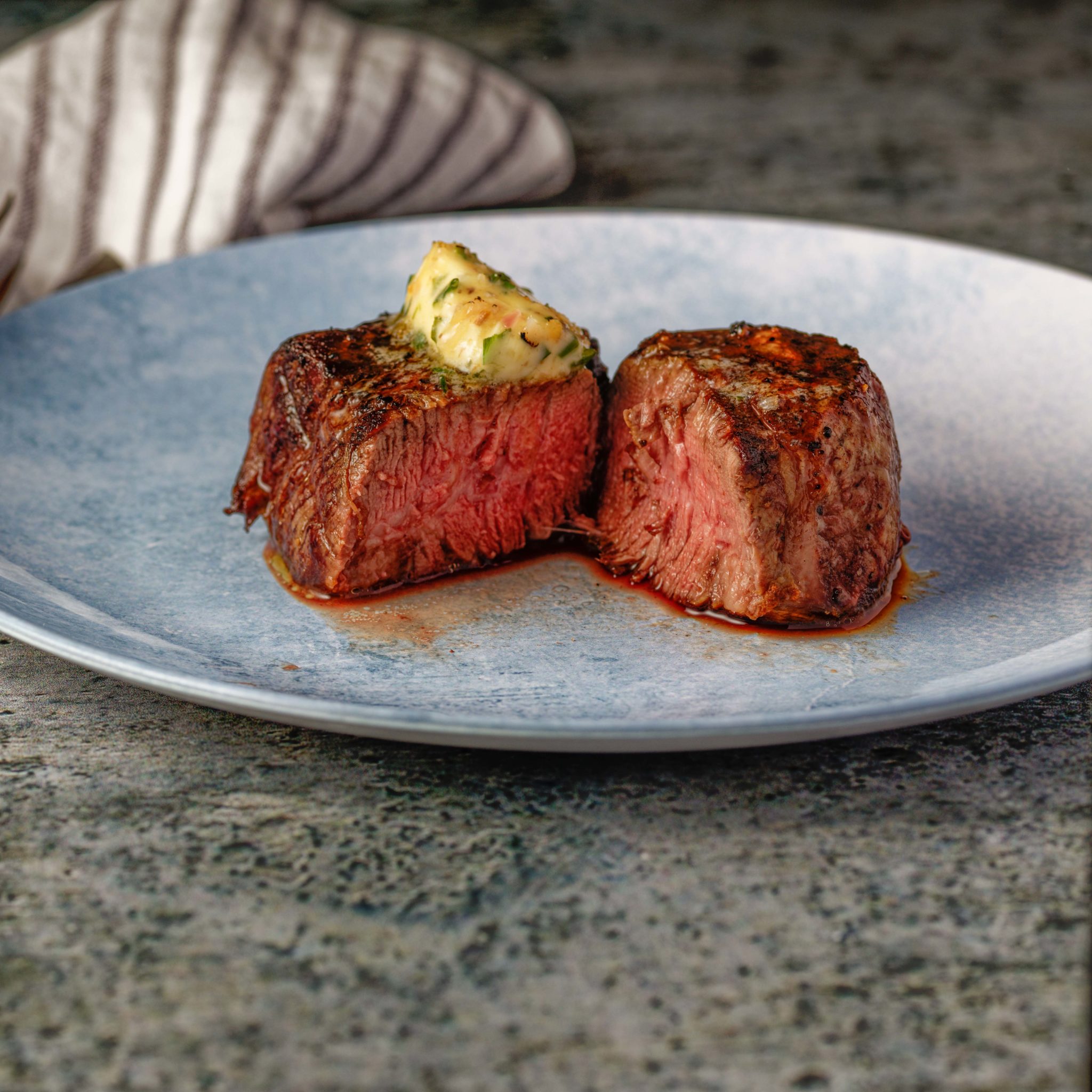 How to Buy Filet Mignon
I like to buy a prime, peeled tenderloin and cut huge 2" to 2.5" steaks out of the center. I trim off and save the head and tail sections for other great dishes, like breakfast tacos. Most butcher shops and markets sell two types of beef tenderloins, peeled and unpeeled. It cost a little bit more to get a peeled tenderloin but it's worth it. An unpeeled tenderloin has a fair amount of extra fat, silver, and unusable meat that needs to be removed before cutting it into steaks. An unpeeled tenderloin may cost less, but there is a lot of waste. I would rather eat a steak than work that hard getting one.
There are two reasons to buy a peeled tenderloin rather than pre-cut steaks. First, you can cut nice thick steaks any size you want. Most cut steaks in my market are only 1" - 1.5" thick and that just will not do. I like my steak medium rare so I want a nice thick portion that is medium rare throughout. Remember, a steak will shrink on the grill. A 1.5" steak out of the package will be only 1" thick when cooked.
The second reason is that all of the steak that you cut from a peeled tenderloin will be consistent. Have you ever noticed a package of steaks where some of the steaks are light in color and others are very dark? Well those dark steaks are not good. They are called "heated" in butcher terms and that means the animal was stressed before slaughter. It does not make for a good steak. Just buy a tenderloin.
Roast the Bones
Most butcher shops and markets will carry bones that have been split lengthwise. Place them cut side up in a shallow pan and bake them for about 20 minutes at 375˚F. The bone marrow will transform from a firm, whitish material to something soft and gooey.
Let the bones cool a bit then scrape out all of the roasted bone marrow with a spoon and set aside.
Make the Bone Marrow Butter
After the bone marrow has cooled, mix it with the remaining ingredients for the bone marrow butter in a small bowl. Form a log on wax paper, roll it up and twist the ends. A sushi mat works wells for this task. Refrigerate the bone marrow butter for at least an hour before serving.
Grill the Steaks
If you wonder about how to cook a filet mignon, this way is one of the best. Take your steaks out of the refrigerator and let them warm up a bit before grilling. Otherwise, you will have a 34˚F steak go on a 500˚F grill and by the time the inside reaches medium rare the outside will be far too done.
Another great way to cook steaks is sous-vide with a reverse sear. This is becoming more common in the restaurant business. Steaks are sealed with a little butter in food saver bags and pre-cooked to about 120˚F in a water bath. Since the water is also 120˚F the steaks will never go beyond that. Simply pre-cook a steak in a sous-vide bath then finish it on a hot grill to char the outside and get some nice grill marks. You will never overcook a steak again.
Some Other Tasty Meat Recipes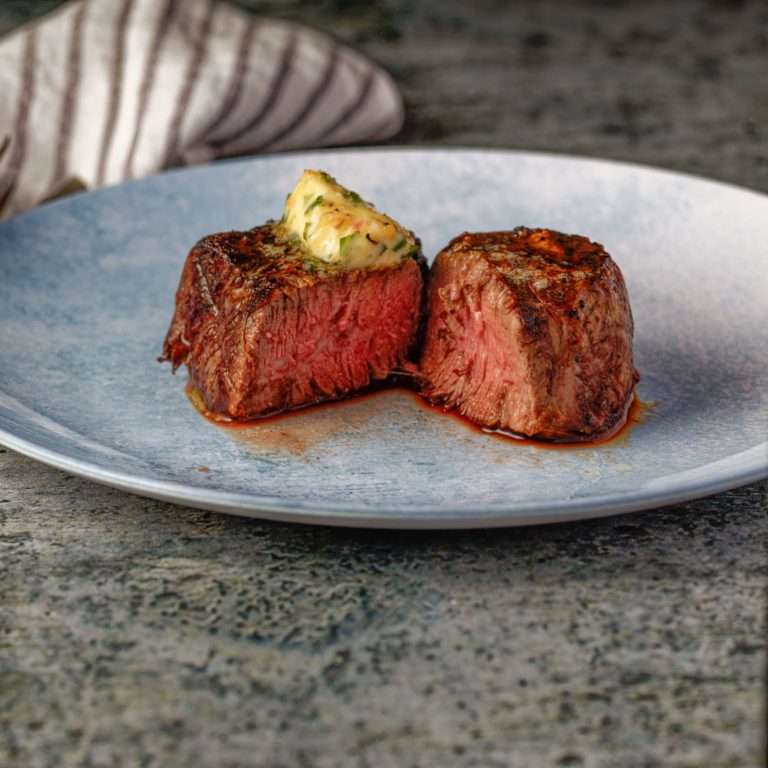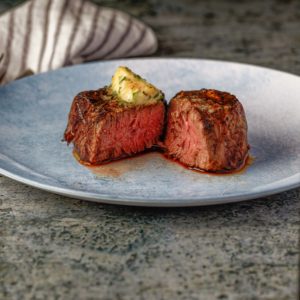 Filet Mignon with Bone Marrow Butter
Filet Mignon is the most tender steak available. Top it with some bone marrow butter and it is out of this world. It's easy and delicious!
Ingredients
Bone Marrow Butter
2

beef bones

split

6

oz

salted butter

1

shallot

diced

¼

cup

chives

diced
Filet Mignon
32

oz

filet mignon

½

teaspoon

kosher salt

½

teaspoon

black pepper
Instructions
Roast the bones at 375 degrees for 15 - 20 minutes until bone marrow is soft. Let cool for 10 minutes.

Remove bone marrow with a spoon and combine with butter, shallots and chives. Roll into a log and refrigerate for two hours. Slice in ½" rounds. S

Grill your fillet to your liking (I suggest medium rare) and top it with a sliced round of the bone marrow butter. Enjoy!
Nutrition
Serving:
8
oz
Calories:
932
kcal
Carbohydrates:
1
g
Protein:
42
g
Fat:
84
g
Saturated Fat:
42
g
Polyunsaturated Fat:
3
g
Monounsaturated Fat:
30
g
Trans Fat:
1
g
Cholesterol:
250
mg
Sodium:
706
mg
Potassium:
731
mg
Fiber:
1
g
Sugar:
1
g
Vitamin A:
1173
IU
Vitamin C:
2
mg
Calcium:
32
mg
Iron:
5
mg