Delicious Golden Brown Cornish Game Hens
Roasted Cornish hens are easy to make and are great for an everyday dinner. Season them lightly and roast until golden brown.
What is a Cornish Hen?
Cornish hens are essentially small chickens. They are a special breed of chicken that are slaughtered when they are approximately one to two pounds. They are more tender than full grown chickens, have a different flavor and texture, and are generally more expensive. When cooked, the meat typically falls off the bone.
How to Prepare Cornish Hens
As with chickens, there are many ways to cook Cornish hens including roasting, grilling, slow cooking, sautéeing and braising. This recipe is about roasting. Remember that these birds are small and will cook much faster than a standard chicken, which makes it a little easier to get the skin nice and crispy.
Where to Buy Cornish Hens
These little birds are easy to find at most grocery stores and butcher shops. Since they are not big sellers, don't expect to find them fresh. Most markets carry frozen hens which work just fine.
A Word About Wood-Fired Ovens
The video for this recipe shows roasting these birds in a cast iron skillet in a wood-fired oven. While a wood-fired oven is not necessary to make this dish, it certainly is fun. In addition to making awesome pizza, a wood-fired oven can also be used to grill (over a Tuscan grill), to bake and roast.
When making pizza, the floor of a wood-fired oven is around 850˚ F and the top can be well over 1,000˚ F. The logs at the back of the oven create a rolling fire that climbs the back wall and top of the oven and acts like a broiler. These temperatures work well for pizza, but not so well for delicate little Cornish hens. Once the oven is warm, just let it cool down to about 450˚ F before loading it up with the hens. Don't worry, a wood-fired oven takes a long time to heat up and a longer time to cool down. It will stay hot.
Some Other Interesting Dishes
Here are some similar dishes to try: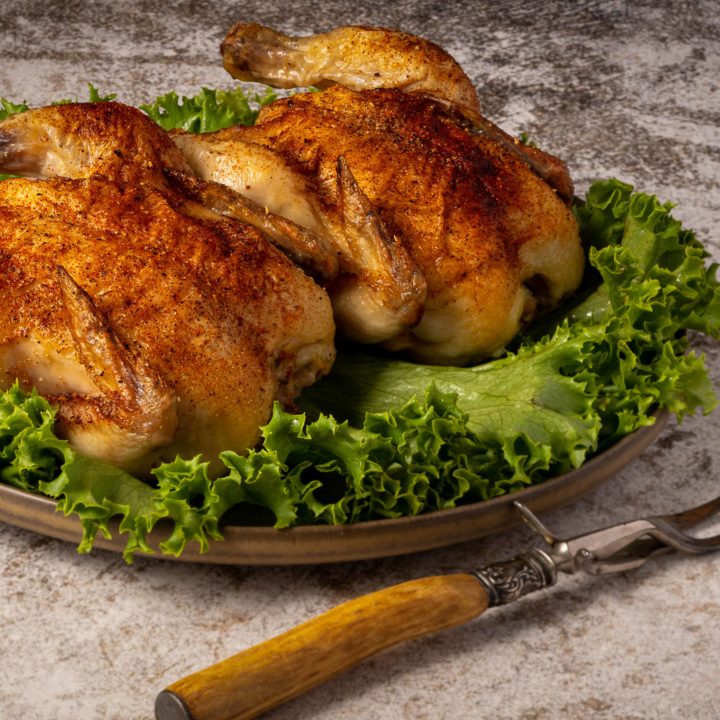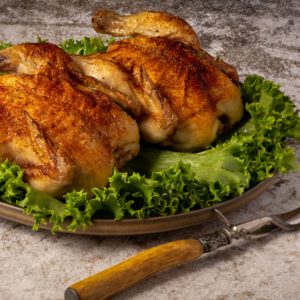 Cornish Hens
If you like chicken, give these Cornish hens a try. They are easy to make and taste great.
Ingredients
4

Cornish hens

1

tbs

olive oil

divided

1

teaspoon

kosher salt

1

teaspoon

black pepper

1

teaspoon

paprika

½

yellow onion

coarsely chopped
Instructions
Preheat oven to 425°F. Rinse Cornish hens and pat dry. Rub with olive oil on both sides and sprinkle with salt, pepper and paprika.

Add 1 tbs of oil to an oven safe baking dish or cast iron skillet. Add onion and then place the hens on top of the bed of onions. Bake for 30 minutes and serve.
Nutrition
Serving:
1
hen
Calories:
938
kcal
Carbohydrates:
2
g
Protein:
77
g
Fat:
67
g
Saturated Fat:
18
g
Polyunsaturated Fat:
13
g
Monounsaturated Fat:
30
g
Cholesterol:
455
mg
Sodium:
857
mg
Potassium:
1091
mg
Fiber:
1
g
Sugar:
1
g
Vitamin A:
528
IU
Vitamin C:
5
mg
Calcium:
55
mg
Iron:
4
mg