The Ultimate Texas BBQ
Smoked brisket and burnt ends are the ultimate in backyard barbecue. Smoking a brisket does not have to be intimidating. It's actually quite easy and absolutely worth the effort.
Brisket & Burnt Ends
Smoked brisket and burnt ends are arguably the ultimate in backyard BBQ cooking. There is something mysterious, aloof and a bit scary about cooking a brisket. Burnt ends just take the fear index up tenfold. But it doesn't have to be intimidating. Learn how to trim a brisket and you are halfway there. Learning how to smoke a beef brisket is easy and the burnt ends are not hard at all. So, take the plunge and smoke a brisket. You will be glad you did.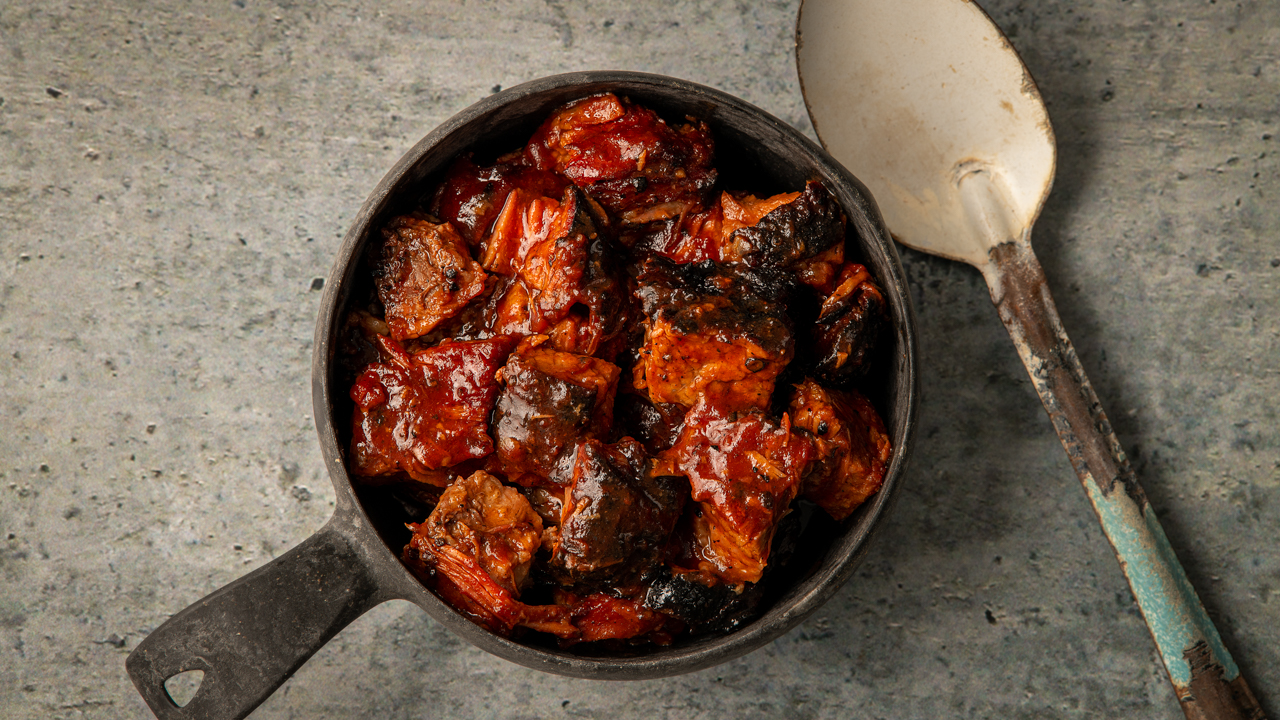 Choosing a Brisket
Over the years I have made a lot of brisket. I have tried choice, prime and even Wagyu. If I had to choose one, it would be a prime brisket. Why? Well a prime has a bit more marbling than choice. Of course most of that fat renders out during the cooking process, so is there really that much difference? For me, yes, but just a little. I would rather have a bit more fat in the brisket in case it cooks too long. That would help it from getting dried out. It's not much of a reason, but for the nominal cost difference, I would buy a prime brisket every time.
As for Wagyu, for my money it's not worth the price tag. A Wagyu brisket is significantly more expense that a prime and almost 4X the cost of a choice brisket. The reason to buy Wagyu beef in the first place is to be able to taste all that wonderful fat. But, if it all, or most of it, renders out, then I just have a very happy smoker and no real difference in the final brisket. I say, save you money and invest in some more cool BBQ gear.
Dry Rub Texas Style
I live in Austin, Texas and I can tell you that Texans are fanatic about their brisket. It is THE go to meat at any respectable BBQ joint in town. For the record, in Austin, baby back ribs are way down there in the BBQ pecking order (but I love them anyways). Texans like to taste the meat and the smoke, not a bunch of sissy, namby-pamby, crybaby, yellow belly, pansy, cream puff, panty waste, mama's boy dry rub full of brown sugar, paprika, molasses and a whole bunch of other stuff that does not belong on brisket. To be fair, I like all that stuff on baby back ribs, but that's not the point. The point is that Texans like it simple, salt and pepper, that's it. Rub it in and show it some smoke. That is Texas brisket.
The Stall
Every brisket ever cooked will have its internal temperature climb steadily until it hits about 160˚F - 165°F. Then, it just stops, seemingly forever. It just sits there around 165˚F and does not move. Welcome to the stall. This is the mysterious point in the life of a brisket where the cooking temperature stops climbing until something burns off. Remember separating two or more mixed liquids in chemistry class? The temperature would rise and then stall at the boiling point of one of the liquids, then it would rise until the boiling point of the next liquid was reached. A brisket is kind of like that. The brisket will form moisture on the crust that cools the brisket as it evaporates. Clearly water does not boil at 160˚F, but the science is correct. It's not moving until the evaporation stops.
Resist the temptation to open the lid and peak. Resist the temptation to add more wood. You will just add 10 minutes to the overall cooking time every time you do. Be patient, it will break through. When it does and the temperature starts to climb, take the brisket out and wrap it up.
To Wrap or Not to Wrap, That is the Question
There are a two different opinions out there regarding whether or not to wrap a brisket when it comes out of the stall. I have tried both, and I prefer wrapped. The real reason is that a bunch of BBQ pit masters much smarter than me believe in wrapping a brisket with all of their soul. I figure if it's good enough for Aaron Franklin, it's good enough for me.
Foil vs. Peach Butcher Paper
A brisket can be wrapped in foil, a technique call the Texas Crutch. The foil basically steams the brisket and produces an end product a bit like a pot roast. It will taste fine, but it will be little looser that if you used butcher paper.
Many BBQ gurus, including Aaron Franklin and Steve Raichlen, now use peach butcher paper exclusively. The peach butch paper allows the brisket to breathe resulting in a better texture. Peach butcher paper is easy to find online. I bought mine at webstaurant.com.
Learning how to wrap brisket in peach paper is easy. Just lay two pieces down on a table with about a 6" overlap. Lay the brisket in one corner, fold it over, then fold both sides in and the roll up the rest. Place the roast back in the smoker in the same orientation that it was before being wrapped. Remember, you are not really smoking the brisket with the peach butcher paper wrap. Smoking is done and no additional smoke will penetrate the peach butcher paper, and that's OK. At this point, it's about preserving the remaining moisture in the meat, not adding more smoke.
It may not be conventional, but I add a bit of Wagyu beef tallow to both the brisket and the paper prior to wrapping. I think it helps keep it most and adds a bit of flavor.
Burnt Ends or Fatty Brisket, You Cannot Have Both
Most BBQ spots in Austin leave the point on the brisket and ask if you want lean or fatty brisket. That means do you want just the flat or part of the flat and point. This is also how most competition cooks cut their brisket. Well, that may be fine for them but not for me. I love burnt ends. To me, they are the nectar of the BBQ gods. I would buy just brisket points if I could. So, I ALWAYS separate the point from the flat after cooking and make burnt ends. I just can't help myself. My wife keeps telling me that the first step to getting well is to recognize that I have a problem.
Other Great BBQ Recipes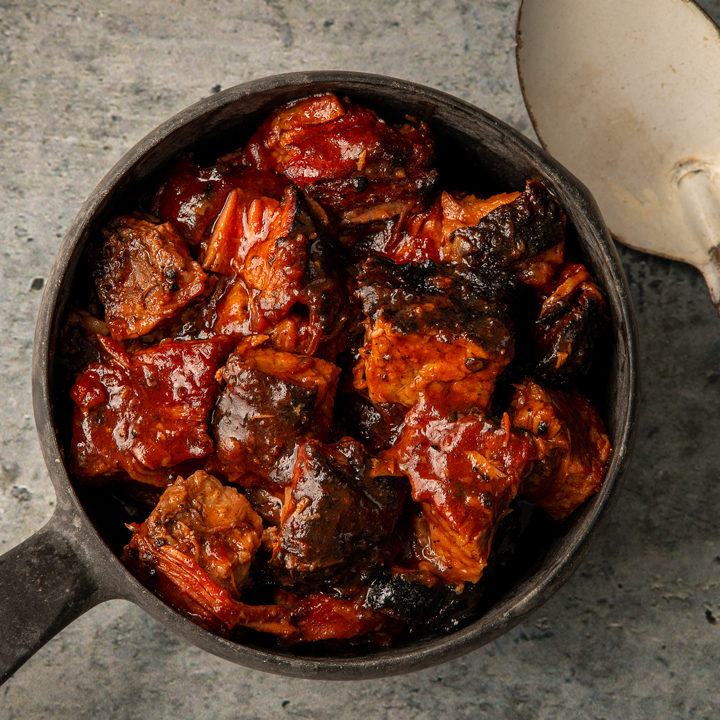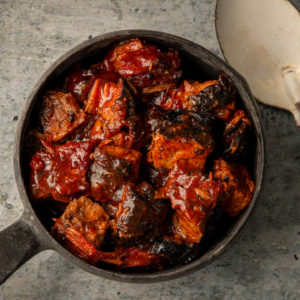 Smoked Brisket & Burnt Ends
Smoked brisket and burnt ends are the ultimate in backyard barbecue. Smoking a brisket does not have to be intimidating. It's actually quite easy and absolutely worth the effort.
Ingredients
12

lb

Packer brisket

1

tbs

kosher salt

1

tbs

black pepper

freshly ground

12

oz

barbecue sauce
Instructions
Preheat smoker to 250˚F - 275˚F. Trim the extra fat from the packer brisket.

Rub the brisket with equal parts of kosher salt and black pepper.

Smoke until the brisket reaches an internal temperature of 165˚F.

Wrap the brisket in butcher paper coated with beef tallow. Return the brisket to the smoker until the internal temperature reaches 202˚F (about two hours).

Remove the brisket from the smoker. Separate the point from the flap by gently inserting a knife between the two. The thin fat layer holding the two pieced together will be easy to cut through. Wrap the flat portion in butcher paper, then a few towels and place in a room temperature cooler to rest for two hours.

Cut the point into 1.5 - 2" chunks and place in an aluminum pan. Cover with your favorite BBQ sauce and return to the smoker, uncovered for two hours.

Slice the brisket and serve with BBQ sauce and the burnt ends, or, keep the burnt ends for yourself.
Nutrition
Serving:
6
oz
Calories:
753
kcal
Carbohydrates:
12
g
Protein:
94
g
Fat:
34
g
Saturated Fat:
12
g
Polyunsaturated Fat:
1
g
Monounsaturated Fat:
16
g
Cholesterol:
281
mg
Sodium:
1232
mg
Potassium:
1569
mg
Fiber:
0.4
g
Sugar:
9
g
Vitamin A:
66
IU
Vitamin C:
0.2
mg
Calcium:
35
mg
Iron:
9
mg