A Smoked Prime Rib Roast Reverse Seared for Incredible Flavor
Prime rib is a favorite roast for many special occasions.
A 35-day dry aged prime rib roast smoked low and slow is really special. This is so good!
This reverse sear prime rib recipe produces a roast that is both tasty and juicy. Smoking the roast first adds a lot of flavor and then the reverse sear locks in the flavor.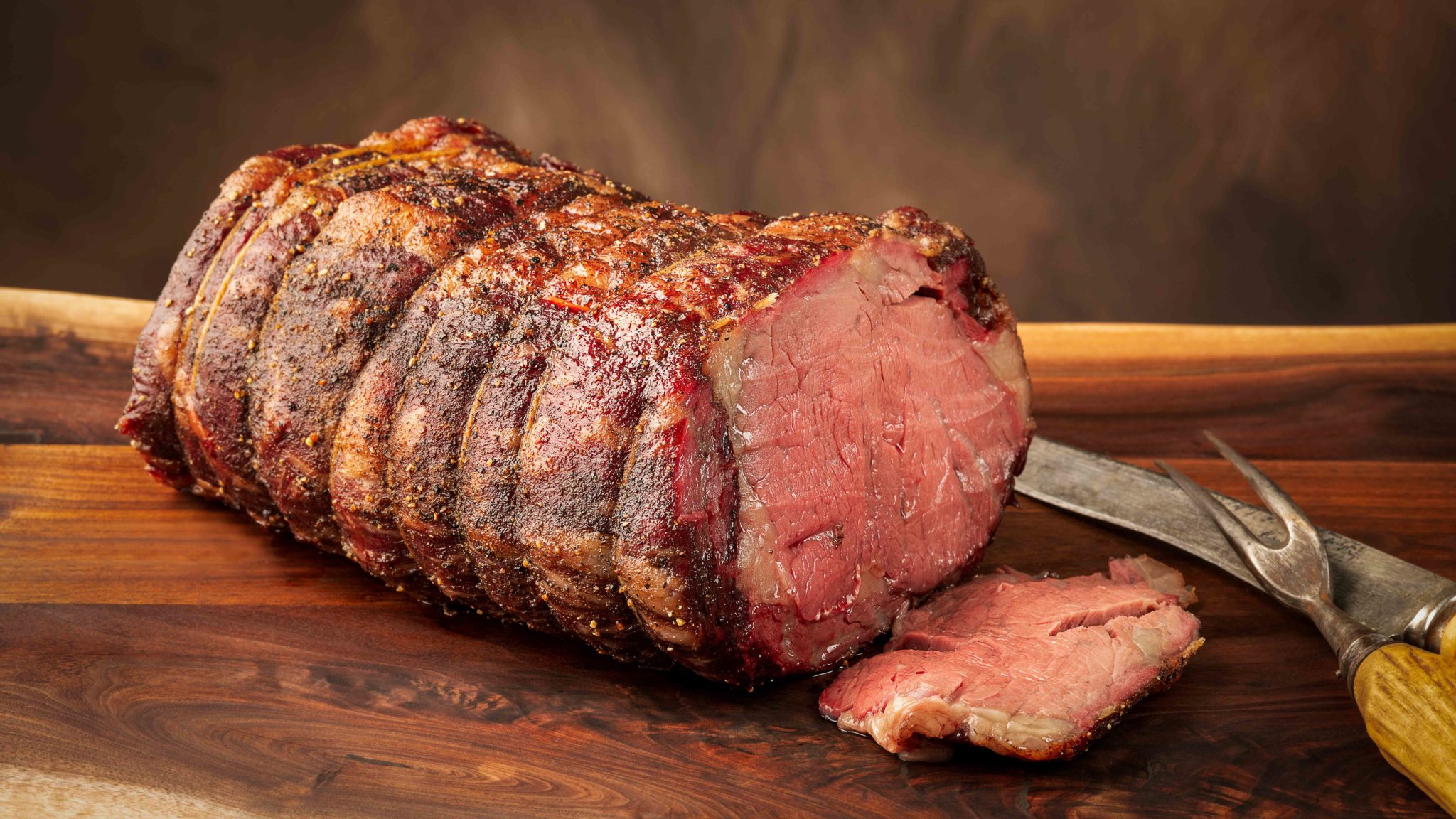 Where to Find a Dry Aged Prime Rib Roast
Dry aged prime rib was reserved for the restaurant industry and could only be found at high-end steakhouses for many years. Fortunately, that is no longer the case. Dry aged prime meat is now available online as well as many supermarkets and butcher shops. I live in Austin, Texas and my local market has dry aged prime rib roasts all year round. You can always dry age a roast yourself if you have enough space in your refrigerator. It is certainly easier to buy a roast that has already been dry aged and trimmed. The aging process produces a tough, dried out layer on the outside of the roast that is about ⅛" - ¼" thick and must be removed before smoking. I prefer to have someone else clean it up before I get it.
Can you Taste the Difference?
Is there really a difference between prime rib and dry aged prime rib? Oh, there is absolutely a difference. Dry aging removes some of the water in the roast and intensifies the beefy flavor. It also tends to tenderize the meat a bit so the overall texture of dry aged beef is also different. I always try to used dry aged beef for any special occasion.
Why Reverse Seared?
There is a bit of science to this. Use a reverse sear when cooking a roast in a smoker, but sear first or reverse sear if the roast is going to be cooked in an oven. The difference is the smoke. Searing burns and seals the very outer portion of the roast and that prevents it from picking up smoke flavor. That's why I smoke it first, then sear it afterwards. I want the roast to pick up a more smoke flavor. Since I did not use any wood chips in the smoker, only charcoal, there was very little smoke for the roast to pick up in the first place. There are pit masters who will say that a reverse sear is the only way to go because it produces a juicier, better tasting roast.
Trim It and Tie it Up
Any prime rib roast will likely need a bit of trimming before cooking. Remove any traces of silver, dark brown areas (from the aging process) or thick fat that will not render.
A prime rib roast is not round but rather somewhat flat. Cooking a prime rib roast that is flat will result in uneven cooking and the real possibility of over cooking. It is much easier to overcook a roast 3" across than one that is 6" across. If your goal is a roast that is medium rare, a flat roast will end up having a relatively narrow band of medium rare meat right down the center.
Reshape the roast into a round roast to get a cooked roast that will have a much larger medium rare area. Reshaping a roast is easy to do, just tie it up with some butchers twine and pull each loop tight. A round roast will also cook more evenly.
The result will be a round roast that will cook evenly.
Smoke it Low and Slow
Cook the roast at 250˚F for 30 - 40 minutes per pound to an internal temperature of 125˚F for medium rare. This roast was cooked inside a Kamado Joe over lump charcoal only. There were no wood chips or chunks added. For my family, a hint of smoke is all this roast needs. When I have cooked a prime rib with wood chips the resulting smoky flavor was over powering. My vote is to use good quality hardwood lump charcoal and nothing else.
Let it Rest Then Sear and Serve
Remove the roast from the smoker when it is done cooking and tent it with foil and let it rest for 15 minutes. While it is resting, reconfigure the smoker for direct heat at 500°F. Sear the roast over direct heat to form a nice crust, about 1 minute per side, 4 minutes total. It is important to let it rest the full 15 minutes. A roast that has not rested will leak out all of its juice when sliced leaving a bunch of medium rare bone dry meat. Be patient, let it rest and all that liquid will be reabsorbed and will produce a gorgeous, glistening and juicy roast. There is no need to rest it after searing, it has already rested. Slice it up and enjoy.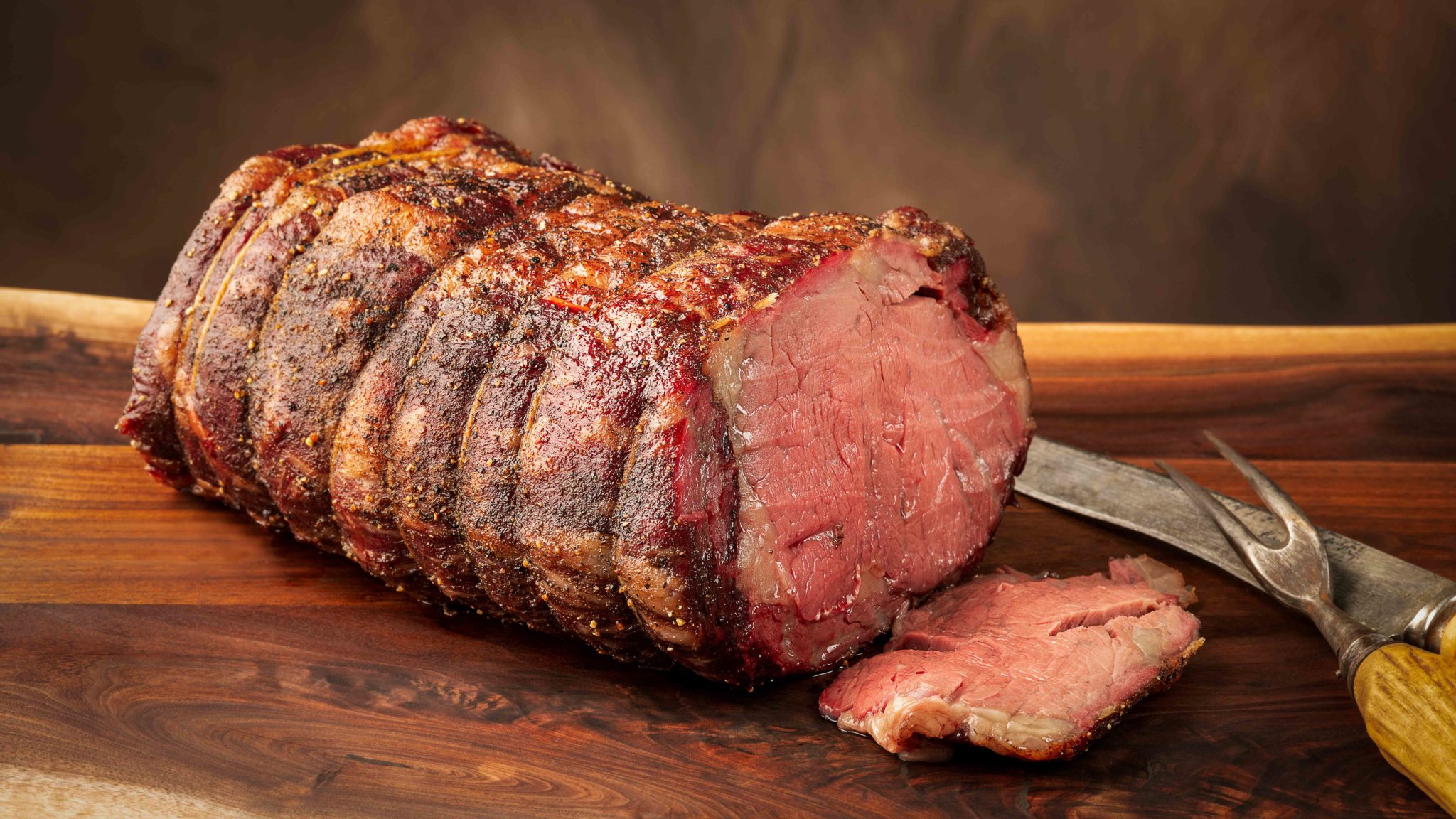 Other Great Roast Ideas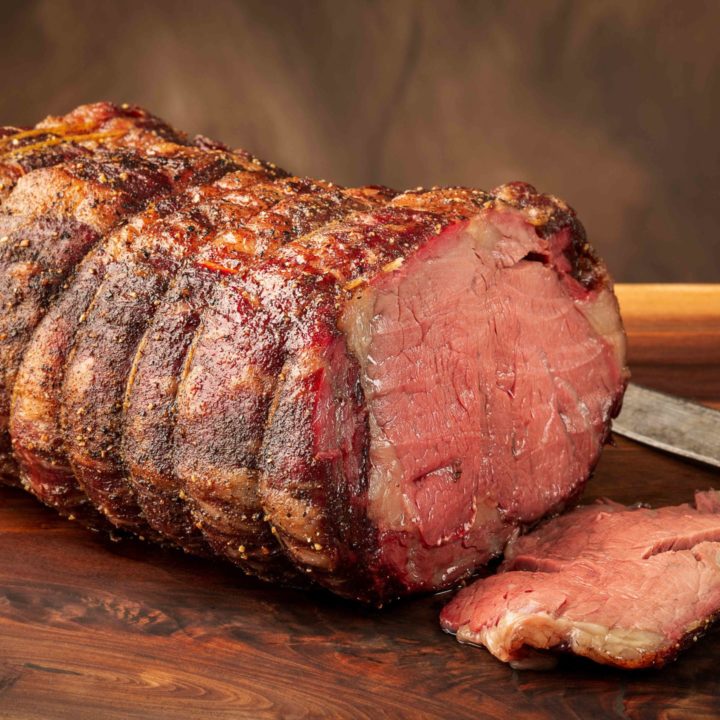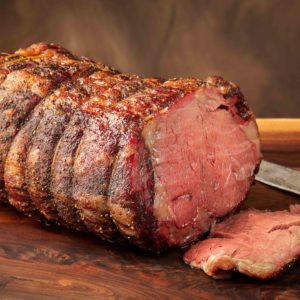 Reverse Seared Dry Aged Prime Rib
Prime rib is a favorite roast for many special occasions. This recipe featured a prime, 35-day dry aged prime rib roast that was smoked low and slow. So good!
For this recipe, I used a boneless prime rib roast that had been dry aged for 35 days. It was gently smoked low and slow over lump charcoal at 250°F to an internal temperature of 125°F then reverse seared after a brief rest.
Ingredients
5

lb

boneless rib roast

dry aged

1

teaspoon

kosher salt

1

tsp

black pepper

freshly ground

½

teaspoon

granulated garlic

2

tbs

canola oil

string

to tie up roast
Instructions
Select a prime rib roast from your butcher that has been dry aged 28 - 35 days. Trim off excess fat and any areas that appear dried out.

Remove the roast from the refrigerator 90 minutes before cooking. Tie 6 - 8 loops of string around the roast gently pulling the roast into a round shape.

Rub the roast with oil and season with salt, pepper and garlic powder. Do not season the ends of the roast.

Setup your smoker for indirect heat at 250°F using good quality lump charcoal. Place the roast on a raised rack over a sturdy jelly roll pan and cook to an internal temperature of 125°F for medium rare, about 30 - 40 minutes per pound.

Remove the roast, tent with foil, and allow to rest for about 15 minutes. Reconfigure the smoker for direct heat at 500°F. Sear the roast over direct heat to form a nice crust, about 1 minute per side, 4 minutes total. Slice ½" slices and serve with Au Jus, creamed horseradish and some popovers. Enjoy.
Nutrition
Serving:
8
0z
Calories:
565
kcal
Carbohydrates:
1
g
Protein:
50
g
Fat:
39
g
Saturated Fat:
13
g
Polyunsaturated Fat:
5
g
Monounsaturated Fat:
18
g
Trans Fat:
1
g
Cholesterol:
151
mg
Sodium:
397
mg
Potassium:
974
mg
Fiber:
1
g
Sugar:
1
g
Vitamin A:
17
IU
Vitamin C:
1
mg
Calcium:
14
mg
Iron:
2
mg