Tomahawk steak – A 60 ounce, double cut bone-in ribeye steak seared on a Tuscan grill inside a 900˚F wood burning oven. This is epic.
A Seared Tomahawk Steak is the Granddaddy of Steak
The tomahawk is actually a large, double cut ribeye, with the bone in. The bone is typically Frenched, meaning that excess fat and meat have been trimmed off the bone. The bone adds some flavor and protects part of the steak from the high heat of the grill. It also gives the steak the appearance of a tomahawk, hence the name. If you like a ribeye, give this a try.
Simple Seasoning
With a tomahawk steak, less is more. A little olive oil, salt and pepper is all this steak needs. The beefy flavor is intense and a little char from the sear completes the steak.
Show it Some Hot Heat
Sear this steak over direct heat. A gas barbecue would certainly work but I prefer the flavor and hint of smoke that comes from cooking it over coal. In the video, I cooked it in a wood-fired oven on a Tuscan grill that I made with some parts from my local hardware store. A few nuts and bolts and a replacement cast iron grate for some barbecue was all it took. I let the Tuscan grill heat up in the hot oven for about 10 minutes then pulled forward some of the hot coals from the back of the oven.
After carefully positioning the Tuscan grill over over the hot coals, I placed the tomahawk steak on the grill. Be aware that this cut has a lot of fat and it will cause a flare up. Watch your eyebrows. If you enjoy a good steak, this is worth trying.
Favorite Side Dishes
Some of our other favorite side dishes are: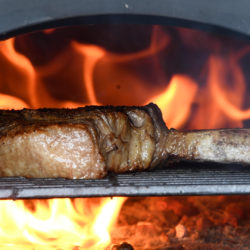 Seared Tomahawk Steak – How to Cook a Double Cut Bone-In Ribeye
Want to know how to cook a tomahawk steak at home? This is about grilling a 60 ounce, double cut bone-in ribeye steak, otherwise know as a Tomahawk steak, on a Tuscan grill inside a 900 degree wood burning oven. It can also be grilled over charcoal in a BBQ. This is epic.
Ingredients
1

each

Tomahawk steak

large

1/2

tsp

salt

1/2

tsp

pepper

freshly ground
Instructions
Setup grill for direct heat.

Brush both sides with olive oil.

Season both sides of the steak with salt and pepper.

Grill 3 – 4 minutes per side to desired doneness (suggest medium-rare).
Video
Nutrition
Serving:
8
oz
Calories:
314
kcal
Carbohydrates:
1
g
Protein:
30
g
Fat:
21
g
Saturated Fat:
9
g
Polyunsaturated Fat:
1
g
Monounsaturated Fat:
10
g
Cholesterol:
92
mg
Sodium:
466
mg
Potassium:
408
mg
Fiber:
1
g
Sugar:
1
g
Vitamin A:
24
IU
Calcium:
12
mg
Iron:
3
mg